3 strategies to measure and improve customer retention on Shopify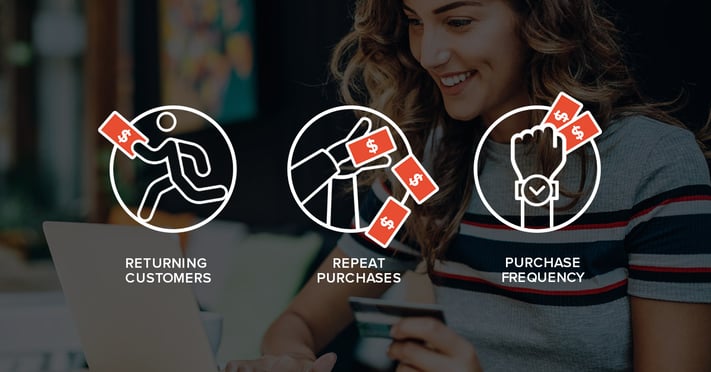 This is a guest post by Ramon Bez. Ramon is the Content Marketing Manager at Compass, a partner of Bold Commerce. If you're interested in learning about our Bold Partner Program, you can find more details here.

If you attend one of Amazon's corporate meetings, you're likely to find one seat empty at the conference table. Jeff Bezos, the company's CEO, informs attendees that they should imagine that the empty chair is occupied by the customer: the most important person in the room.
Bezos has also demanded thicker carbon boxes to ship all Amazon packages, even though there were no problems with the ones being used at the time. He wanted customers to reuse the boxes for other purposes, keeping Amazon's brand visible in their homes for a longer period.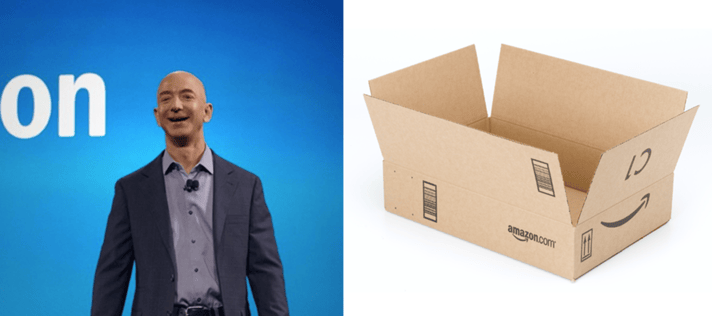 Jeff Bezos, Amazon's CEO, and his extra sturdy carbon box

Such anecdotes about the iconic CEO illustrate his relentless pursuit of one important metric: Customer Retention.
Bezos's data-driven focus on customer retention has led him to take risks and innovate.


""We are comfortable planting seeds and waiting for them to grow into trees,"" says Bezos. ""We don''t focus on the optics of the next quarter. We focus on what is going to be good for customers.

I think this aspect of our culture is rare.""

Though it's rare, an outsized focus on customer retention is not unique to Amazon. Some of the most profitable companies today, such as Facebook, Apple and Zappos, focus most of their work on the customer experience to make sure they come back for more.
It's surprising, then, to learn that so few eCommerce entrepreneurs follow in Bezos's footsteps. Most spend the majority of their time and money acquiring new customers rather than keeping them happy.
This hurts online store profitability as it increases the pressure to bring in new customers. Often, these companies are losing them as quickly as they're acquired, like a leaky bucket.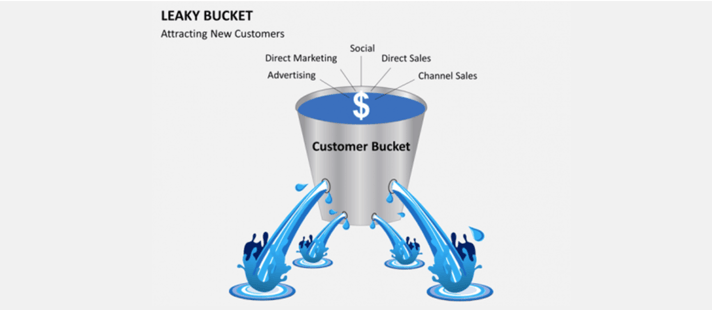 At Compass, we pay extra attention to retention-related metrics. In this article, we'll explain the three most important metrics for eCommerce Retention Rate and show some easy, actionable ways to improve them.


1. Returning Visitors
Returning visitors refers to the percentage of shoppers who return to your website after their first visit. A high rate is an indication that they had a good experience and came back for more.
How to measure it: Google Analytics displays a graph showing a percentage of returning users in the Audience Overview report. Compass benchmarks your returning visitors with companies similar to yours and gives you a color-coded graph showing how much you need to improve if you want to be among the top stores in your industry.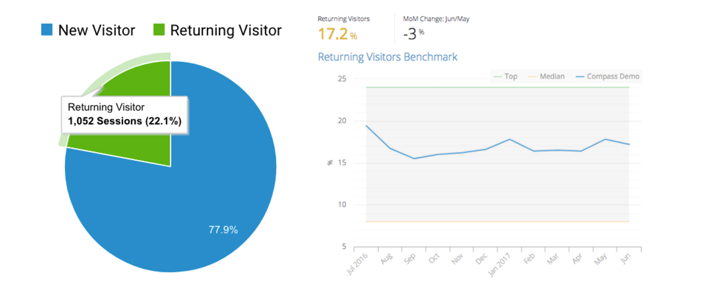 Google Analytics' Audience Report on the left, Compass' Benchmark report on the right.
How to improve it: Our studies show that top-converting online stores use Retargeting to display ads about their products to visitors who have just visited their stores but haven't made a purchase yet, to bring them back to their stores using Adroll or Facebook's Retargeting pixel.

Related Reading: How to Set Up a Subscription Box Business and Make Recurring Revenue
2. Repeat Purchases
Repeat purchases indicates the percentage of people that come back to buy from your store at least twice. Customers who make more than one purchase are (obviously) more valuable to your store than one-time shoppers.
How to measure it: You can export your customers into a spreadsheet and then sort it to verify how many of your customers made more than one purchase. Or you can sign up with Compass. In two minutes our system calculates your repeat purchase rate automatically and delivers a graph below, benchmarking your numbers against similar stores.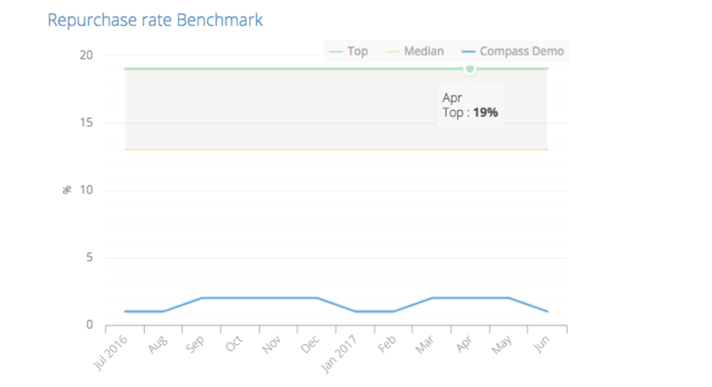 Compass's Benchmark Report.
How to improve it: An easy way to increase repeat purchases is to set up a subscription purchasing model. When customers subscribe, receiving orders regularly without having to make a payment each time, you remove friction and increase repeat purchases automatically. Companies that have high retention are more successful because their Customer Lifetime Value increases. Try it out yourself: You can easily install Bold's Recurring Orders app, a subscription service that will help you increase your repurchase rate.


3. Purchase Frequency
Purchase frequency measures the time it takes for customers to buy from you again. This is important because the longer it takes for someone to buy a second or third time, the less likely they'll return at all.
How to measure it: You can export your orders into a spreadsheet and calculate the average time difference between two orders from the same person. Or you can sign up with Compass and get a calculation like the one below in two minutes.



How to improve it: Email marketing is the easiest way to encourage customers to come back to your store. Re-engage customers that haven't purchased in a while with "We Miss You" emails.


Conclusion
Companies like Amazon are profitable because they're obsessed with customer retention. Pleasing their customers is not only a nice thing to do, but a great financial investment. Satisfied customers return more frequently, increasing Customer Lifetime Value and profitability.
Follow the three metrics above closely and implement an outstanding customer service process alongside it. No marketing tactic is more rewarding and profitable than going the extra mile for your clients.
To measure and benchmark the eCommerce metrics above, plus thirty more, sign up with Compass today. It's free and requires no technical knowledge to install.