Why your eCommerce store needs Snapchat NOW

Snapchat is the new Instagram which was the new Facebook
Do you remember when Facebook started? How about Instagram? When these platforms first took off, everyone and their cat (literally) had accounts. But now, fatigue is starting to set in.
Instagram's growth was down 88% in 2015 and Facebook's post reach hit an all-time low last November. But according to the latest projections from eMarketer, Snapchat is on track to expand its active US user base by 27% by the end of 2016 to nearly 59 million users. That means Snapchat now has more users than both Twitter AND Pinterest! Not only that, but Snapchat has more than 10 billion video views per day, and its 100 million daily users are spending an average of 10-25 minutes on the app daily.
But what IS Snapchat?
Before we get into the details, let's back up for a second and take a closer look at what Snapchat actually is.
Snapchat is a mobile app that allows you to take pictures or 10 second videos and share them in real time. Users can send their 'snaps' directly to one of their followers or add it to their 'story' which is available to all of their followers for 24 hours. To dress up your snaps, you can add lenses, stickers, drawings, text, or use one of the infamous filters to entertain your followers. And you can chat too! People can respond directly to your snaps, which is a great tool to gauge interest.
And on top that, it's really fun. :)


I still don't get it!
The same things that are drawing users to Snapchat seem to be the very things that are scaring business owners away. Snaps only show for a few seconds to a maximum of 24 hours, which can be a hard concept to get used to. There's also no way to know how many followers you have. Users have to go by how many views their snaps have garnered in order to get any sort of metric.
It's also not the most user friendly experience the first time you open the app. There are no 'instructions' and Snapchat leaves its features to be discovered by the users themselves. In fact, they encourage it! But many of the new features being released are starting to turn the tables for marketing your brand.

Now's the time to become an Early Adopter
The larger question still remains: why should my business be using Snapchat?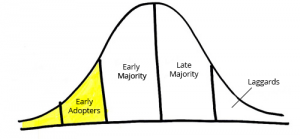 Snapchat is all about creating content and showing the world your creativity, or in the case of business owners, showing off your brand. Interactions with your followers are authentic, real, and because snaps appear in real time, relevant. So much of life is curated these days and that often gives a false sense of reality. That's why the instantaneous nature of Snapchat is so refreshing!
Snapchat is giving brands the authenticity that people are craving: and let's face it, people want to do business with people they like. If you're using it correctly, Snapchat is handing you that ability on a silver platter. Not only that, but Snapchat is STILL on the rise and users haven't felt any mainstream burnout yet, so if you start now you have the ability to grow your following organically and become a major player among your peers.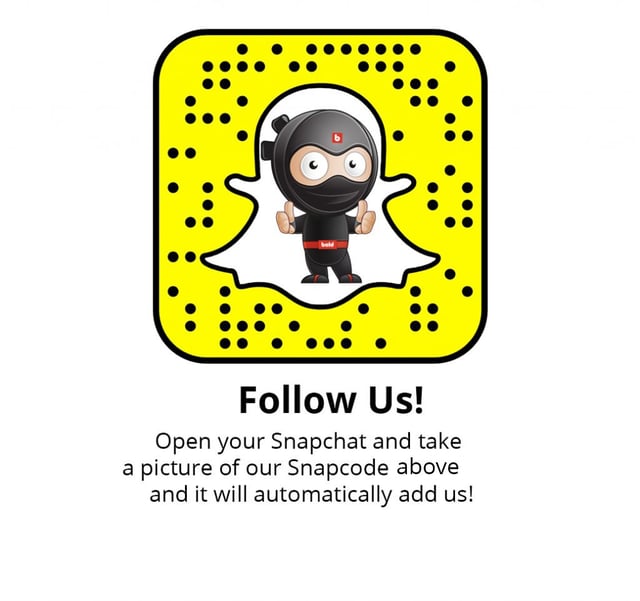 Let us be your guide!
Check back every week in August and follow along to find out how Snapchat works, how to increase followers, and some awesome tips and tricks on using it for business too! And don't forget to follow us on Snapchat at 'boldcommerce' or by snapping our QR to the left!

That one time Shopify let us take over their Snapchat
Our awesome partners in crime, Shopify, let us do a Snapchat Takeover (more on that coming soon) last Thursday! We downloaded our snaps and put them in a pretty package for you below: let us know what you think! And don't forget to follow along on our adventures, we're even going to be giving a sneak peak into some new job postings next week!