Announcing BrainTree Support in Recurring Orders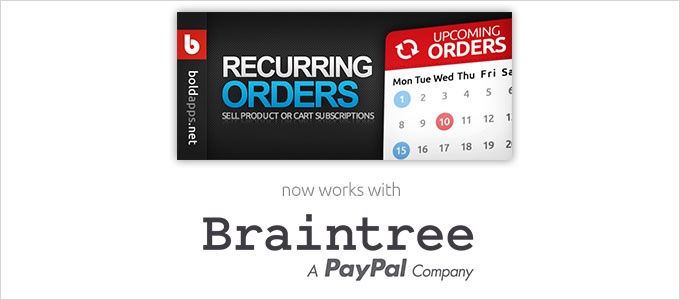 We're excited to announce today we officially added Braintree support to Recurring Orders! For those customers who are unable to sign up for Stripe because of where they live or what they sell, BrainTree is now an option.
Let me answer some of the questions I've been getting asked so you can decipher whether or not this will impact your store.
Does BrainTree offer better rates than Stripe?
BrainTree offers the exact same rates as Stripe - no more, no less.
Should I switch from Stripe to BrainTree?
If you've been using Stripe up until now with no issues, there's no reason for you to switch to BrainTree.
Where is BrainTree available?
You can find a list of supported countries here.
What are some of the differences between using BrainTree and Stripe?
The biggest difference is how we process our 1% transaction fee. You can get more details here.
If I haven't start using Recurring Orders yet, what should I use - Stripe or BrainTree?
We highly suggest you use Stripe if you can. It's easier to setup, less complicated to use and is extremely reliable.
Does BrainTree equal Paypal support?
Not exactly. BrainTree is a subsidiary of Paypal, which means a lot of their services have been integrated, but for the time being, if you use BrainTree in Recurring Orders, customers won't be able to checkout using a Paypal account. However, this is temporary and will be added in the near future.
How do I setup BrainTree?
We have a helpful walkthrough guide available here. If you get stuck, don't hesitate to ask for help!
I'm happy using Stripe, does this affect me?
Nope!
Will you guys be adding more merchant services over time?
Yes, but due to the amount of work required to implement a new service, it will only be for services with significant demand.
If you have any other questions which weren't answered here, please reach out to me!