Announcing the Twitter buy button - Another great Shopify partnership

Twitter buy buttons are here!
Today, Shopify announced another amazing partnership. This time with Twitter! They've made it possible to add a buy button to your tweets, and made checking out a breeze. Check out the full announcement and a short video that shows off how easy it is here.
What you need to know.
If you're as excited as we are about this, you're probably wondering what else you'll need to do to get started.
First things first. Now this might be some bad news, so I hope I'm not ruining your day!
For now, this will only be available in the United States. There's still hope if you're not located there though. They've already started working with Twitter to expand this to other countries!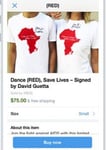 Next, They will be slowly rolling this feature out, so although it may not be immediately available to you, you can already add Twitter as a sales channel in your store settings to get ready for when it's live.
Once you have that set up, any product you tweet or have ever tweeted will have a buy button attached to it for customers to buy from. All they need to do is click the button, continue to the Twitter checkout, and complete their purchase.
That's it! It's that easy!
If you aren't on Shopify already, now would be a great time to get started! Shopify is the only eCommerce platform that has buy buttons and sales channels with all 3 of Pinterest, Facebook, and now Twitter. If you want to sell through social, you need to be on Shopify.