Case Study: Glam Seamless
It was midway through 2011 when Alexandra Cristin graduated college. Although she had studied Marketing and Business Administration, she very quickly realized she didn't want a traditional job. She saw people all around her in New York City going to work every day at corporate offices, and she knew in her gut that kind of life wasn't what she wanted.
Long before going to college, Alexandra had worked as a plus-sized model and had developed a love for the hair extensions that were part of the process used to take her from girl next door to glam. She loved them so much, she adopted them as part of her everyday look.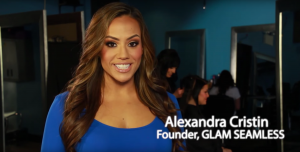 It occurred to her, maybe she could actually sell them to others who had the same passion for extensions that she did. Some quick research showed Alexandra there was a market for extensions online, so she decided to take a leap and start a small business. She didn't have a business plan or any investors, she just wanted to sell a few products she used and loved.
Little did she know, four years later, she would have a staff of five and her business would be pulling in more than $1-Million a year.
The growth of Glam Seamless hair extensions has exceeded her wildest dreams, and she says Bold's Managed Services (a suite of services that includes eCommerce SEO, social media, webmaster and Conversion Rate Optimization) deserves a huge amount of credit for her rapid success.
THE PROBLEM AND THE SOLUTION
To start, Alexandra signed up with Shopify, the world's most popular ecommerce platform, to build her online store. But before she could launch, she had to find the specific products she wanted to sell. She was very picky about the quality of extensions she would sell; if she wouldn't wear them herself, she wasn't prepared to offer them to customers.
She was also intent on using ethically sourced products, which made locating the right ones even more challenging. She hired sourcing agents who helped her find the right products to offer, testing out dozens of suppliers before she found something she was happy with.
Even those initial steps were uncharted territory for Alexandra, and every new decision was a learning experience.
"Owning this business has been like getting an MBA. I had no idea about manufacturing, selling, SEO or any of the other important things that go into running a business," she says.
Another thing she admits she knew nothing about was web design and development. Although Shopify makes it incredibly easy for owners to set up their stores, Alexandra had ambitious ideas about how she wanted to grow her business, which included adding advanced technical features and making complex upgrades to her website.
She first worked with a few contractors who did web development, then when the projects became too big, she hired an agency out of California. That move, says Alexandra, turned out to be a disaster. She paid thousands of dollars to the agency but they weren't familiar with the Shopify platform and simply couldn't do the work she was paying them to do. Alexandra says several months and a lot of money were completely wasted.
That's what led her to Bold.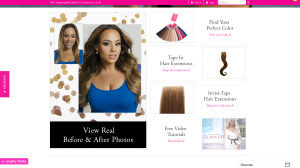 As a Shopify Plus user, she realized she needed to work with a company that had a strong knowledge of Shopify, particularly on the back end. She had already been using a number of Bold apps to power her store, so she was comfortable signing on with Bold for her web development and management.
She says that decision -- to work with Bold -- is one of the best decisions she's made since starting the business.
100% Revenue Growth Year Over Year
Alexandra says for the past four years, Glam Seamless has grown its revenue by more than 100% each year, and she says that never would have happened without Bold. She says she has received more than just web development and design with Bold, she got a total e-commerce strategy along with a fully developed support team.
And, she got all of that for less than the cost of having a full-time web development employee on her staff. She says by outsourcing the web development in this way, they've been able to increase sales while keeping costs down. Plus, she says it's a comfort to know that she has an entire team with Bold, including multiple developers, designers and a project manager -- instead of just one employee who might have a limited skill set.
One of the biggest projects the Bold team tackled for Glam Seamless was to entirely re-do the product pages on the website. Alexandra wanted to increase engagement with her customers on the product pages using video, based on an idea she had seen on the Saks 5th Avenue website.
She presented the idea to Bold, and the development team ran with it, taking the idea and making it a Glam Seamless branded version of what she had originally imagined. Now, customers have the opportunity not just to see pictures of the hair extensions, they can click a play button and see a video to get a better sense the colour and texture of the pieces they're looking to buy.
Alexandra says this feature alone completely transformed her website, and Bold was able to execute it in under six weeks with no issues at all.
Though she would love to continue that 100% revenue growth trend, she recognizes it's a hyper-growth stage and it can't last forever. Currently, she says they're focusing on perfecting their product as they work to have the best tape-in hair extensions on the market.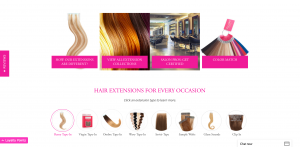 She says it's also a priority to keep their website on the cutting edge, which is what they're able to do with the help of Bold, making sure it's modern, easy to use, and most importantly, mobile-friendly.
"Having a partner like Bold really helps us sell more. It helps us on the user experience end to truly help our customers navigate the site, and purchase exactly what they're looking for," says Alexandra.
IN THEIR OWN WORDS
What if they hadn't found Bold?
Alexandra Cristin: "If we didn't find Bold, I can honestly say we wouldn't have had seen the growth we've seen in the past year. That's 100% the truth. We would have continued to work with different contractors on a part-time basis, and we would not have been able to have the growth or have all the new features we have on our website product pages. We would be behind, in the dust, if we didn't make this move.
We learned our lesson: if you have a Shopify store, you really need to go with a web development team that truly knows Shopify. Each platform is different; Magento completely is different than Shopify, for example. Whichever one you're using, it will be different than the others. Bold has that specialty of knowing exactly what we needed as a Shopify store."
What advice do you have for other store owners?
Alexandra Cristin: "Make sure you have all of the resources you need, even if you have to hire someone to help you. It will make all the difference for your business. For me, I know that I have absolutely no desire to learn about coding. I have no desire to find out how to fix things on my site. I'd rather outsource that. You have to really spend your time where you're good. If you're not good at marketing or SEO or web development, this is something you want to outsource. It doesn't mean you need a million bucks. You can absolutely work with companies on a small fee, to get your business up and running. But you do have to invest in your business to get help doing the things you don't do well at. You can hire someone and it will completely take those things off your to-do list, and it will help you improve your eCommerce site."
Ready to see the same results for your site? Get in touch with us to see how we can help, or check out some of our most popular Shopify apps: