Case Study: Natural State Wholesale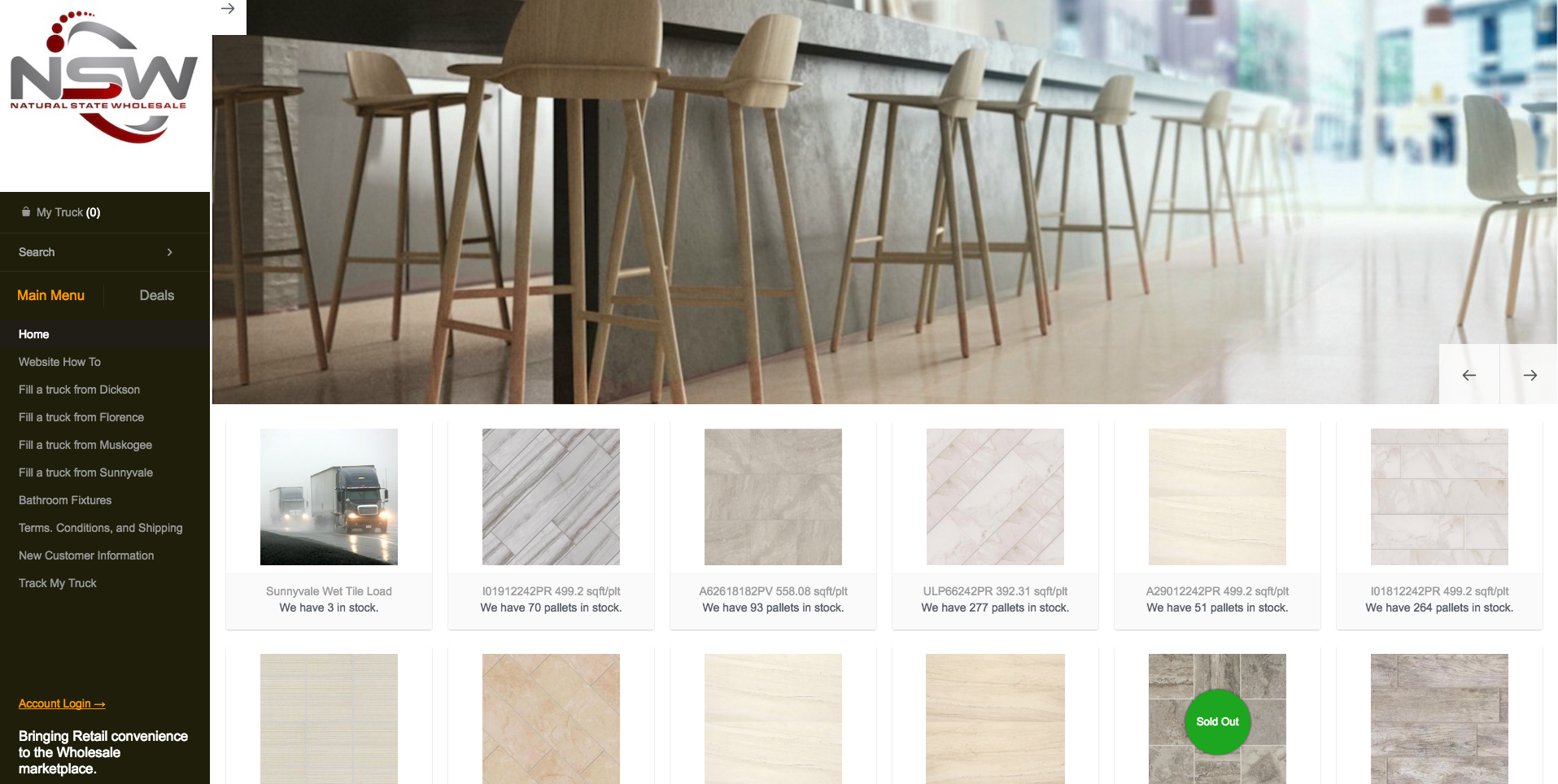 Deep in the heart of the American south, Cabot, Arkansas is a small city 30 minutes northeast of Little Rock. With a population of a little more than 25,000 people, Cabot wouldn't typically be thought of as a bustling commerce hub.
Try telling that to the eight employees working at Natural State Wholesale in Cabot, a building supply wholesaler with a primary focus on flooring tile, doing between $12 million and $14 million in sales annually.
NSW is the definition of bustling commerce -- well, ecommerce, actually, and they say it's thanks in large part to Bold Commerce and Shopify.
THE BACKGROUND
Natural State Wholesale primarily liquidates excess inventories. They sell a few different kinds of distressed building supplies including kitchen cabinets and bathroom fixtures, but their biggest seller is B-grade flooring tile.
Anything that goes through a manufacturing process can have a B-grade product. From flooring tile to toilet bowls, sometimes pieces come off the production line with a slight defect. Just like airlines don't intend to lose your luggage, nobody intends to produce B-grade products. Fortunately, if the defect on an item is just cosmetic and the structural integrity isn't impacted, the item can still be sold at a discounted price as B-grade.
When it comes to flooring tiles, the defect is often in the color where a run of tile might not be quite the correct tint. Or a couple of pieces in a run might be chipped. However, if the product is structurally sound, it can be sold as B-grade. In most cases, if you walked into a building with B-grade tile on the floor, you'd never know the difference.
NSW is the Master Broker for a flooring manufacturer called Daltile which produces between 60 and 70 per cent of all flooring made in the USA annually through its many subsidiary companies. Between three and eight per cent of Daltile's 700 million square feet of product ends up being deemed B-grade every year. NSW sells that tile at a rate of about 3 million square feet per month.
THE PROBLEM
For many years, NSW was Daltile's largest broker, with about 40 per cent of Daltile's pie. After 20 years of successfully working together, NSW struck a deal with Daltile to become their Master Broker. Other brokers would no longer be able to buy product straight from Daltile, they'd have to go through NSW. It was great news, though it meant a massive increase in inventory for them to manage with sales of around 600,000 square feet of B-grade tile per month coming from four different locations, with as many as 2000 SKUs.
(That's a LOT of tile!)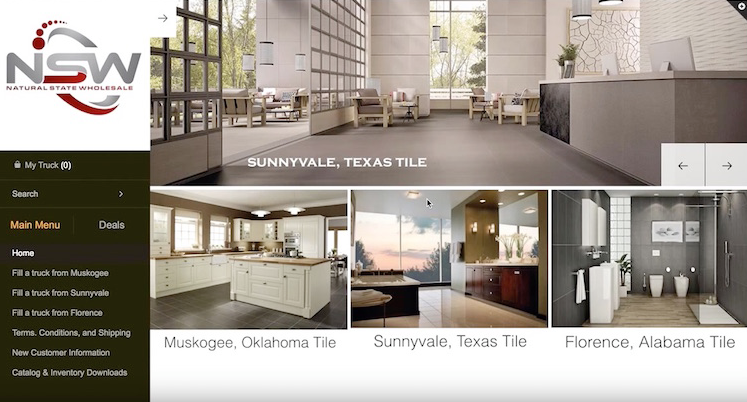 With the new setup, NSW Training & Marketing Consultant Rob Jennings says it became clear if they wanted to properly manage that inventory, plus grow business for both companies under the new Master Broker arrangement, they had to "build a better mouse trap."

He quickly realized the best way to accomplish that was to essentially become the Amazon.com of B-grade tile. They needed a system to manage their vast array of inventory as well as display and sell it online to other brokers and to independent stores. Shopify was quickly identified as the best platform available to do that.
After only a month, however, it became clear NSW's needs far exceeded what Shopify's free platform could accommodate. Because Bold is one of only a small group of Shopify Plus partners, Shopify pointed Jennings in the direction of Bold, thanks to Bold's strong reputation for coming up with effective solutions to unique problems, as well as Bold's superior customer support.
THE SOLUTION
Initially, Bold's Customer Pricing app seemed to be exactly what the doctor ordered; above and beyond managing their new and constantly changing inventory, Customer Pricing would allow NSW to have different price points for the same product depending on the customer or broker buying it.
Bold had the CP app installed within a day, but NSW soon realized they had too much going on for the off-the-shelf version of the app to manage. With such massive quantities of inventory changing on a weekly basis and NSW's needs for an unusual amount of customization, it wasn't long before they signed up as part of Bold's Managed Services, essentially putting Bold's experts on retainer to help run the back end of their online store.
Under Managed Services, not only was the Customer Pricing app customized to NSW's unique and demanding specifications, Bold actually rewrote the CP program so it would run locally on NSW systems instead of having to go through external servers, speeding things up tremendously.
NSW's website checkout was also customized to further speed up and simplify the process, making it slick and smooth for brokers and independent customers using the site.
Jennings says what NSW is doing is incredibly unique to Shopify, with their average sale in the range of $3500 - $4000, and sometimes as high as $8000 or $9000 at a time. He estimates they're pushing around $750,000 per month through the store. Thanks to Bold, he says they've been able to leverage the technology within the Shopify model to make it work.
WHAT IF THEY HADN'T FOUND BOLD?
Had they not found Bold, Jennings says they might still be able to generate the same level of sales but they'd need a huge number of employees to facilitate sales over the phone. And, he said, without having their inventory managed online, they would still be working from spread sheets which would become invalid as soon as anything was sold. Manual coordination is tricky and cumbersome, so having the inventory automated has been absolutely huge for NSW.

Plus, Jennings says the beauty of having Bold's Managed Services take control of the back end of the website is that they can spend more time just chatting with their customers, building relationships rather than always just talking business and pushing through orders. He says customer loyalty has improved because people using the website love how easy it is to browse product and purchase what they need. Jennings says it's just as easy as shoe shopping online, but instead of filling a cart with shoes, they're filling a truck with tile.
IN THEIR OWN WORDS:
CUSTOMIZATION
Rob Jennings: "If we had not stumbled across Bold, we might have wound up somewhere else. I can't imagine being somewhere else that would have a better process. We talked to a number of other companies about inventory management and how to do pricing. And most others that we talked to just didn't understand what we were trying to do. Or if we could get them to understand, they had no idea how to make it happen. But the Customer Specific Pricing program and how Bold was able to make it work specifically for us, it was a big connection for us and Bold."
CONSISTENT SUPPORT
Rob Jennings: "We were hooked up with Dylan Keenas in Bold's Managed Services department right from the start. The cool thing in working with Dylan is that we have the same guy we work with all the time, so if we come back a couple months later, we don't have to explain the process to someone new. By now, working together for quite a while, he has a very good understanding of our business model and how we operate. He gets our frustrations as well as our goals."
LIMITED DOWNTIME
Rob Jennings: "Dylan is very upfront with what his group can do and what they can't do which is good. He has managed us with Bold's developers to where we have never been without, we've always had something to keep moving. There's never been a time more than just a few minutes here or there that we were actually down. I would say it's 99.9% uptime with Bold. Sometimes he might say it'll take a week or two to get it developed and implemented, that's fine, we just run with what we've got until they update the next thing. It's a great system."
WHAT WOULD YOU TELL OTHER STORE OWNERS?
Rob Jennings: "Budget more for customization on the front end. One of the things you learn along the way when you start to get into custom stuff is, budget more because what you'll find out is the slicker you make this, the better it works for you, the more productive you are. And it's not just productivity, it's about efficiency. You can hardly buy efficiency with people but you can buy efficiency with technology. Budget more than you think you need on technology, because once you start to see how efficient it can be, you're going to want to keep going to the next level. We realized there is no limit on what Bold could do for us, it was just a matter of how much time it would take to do it, or how much money it would take to implement something."