Case Study: Spikeball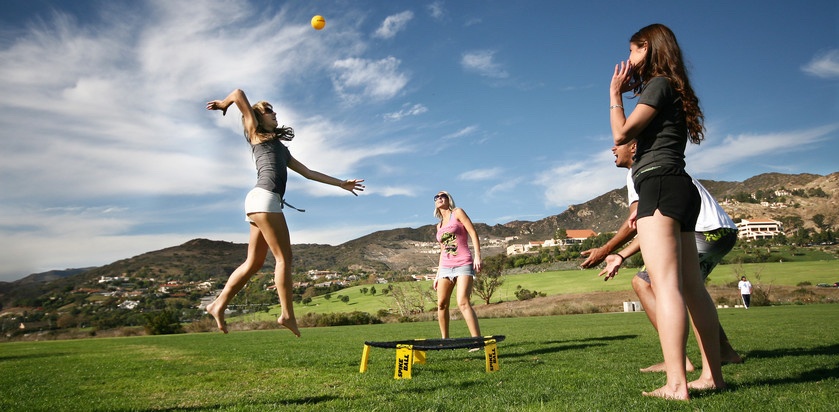 It was the middle of the 1980s when Chris Ruder's parents purchased a unique game from a toy store. It was a combination of two-on-two beach volleyball and four-square, and it became super popular among the Ruders' family and friends. But like so many cool inventions, the toy didn't get much marketing attention and after only a year in stores, it was discontinued. However, the Ruders' family and friends were enjoying the game so much, they kept using that same set.
Many years later, Chris and his own young family took a trip to Hawaii and, as usual, they took their round net game along with them. Playing on the beach, strangers would often walk up to them to ask what the game was and where they could get one of their own. They were disappointed when they learned the game wasn't being made anymore.
That sparked an idea. Instead of continuing to use their old duct-taped set, Chris decided to start a business and re-produce the game under a new name, Spikeball. The trademarks and patents had expired on the original product so they were free and clear to move forward with production.
At the start, around 2009, Chris was doing almost everything himself including fulfilling product orders out of his basement and going to the UPS Store late at night after putting his kids to bed to send the game to customers.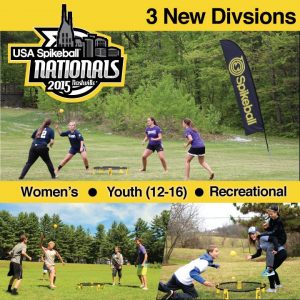 In 2013, Scott Palmer joined Chris and together, the two began ramping things up, significantly increasing marketing efforts and the visibility of the product. Fast forward to today, the company employs 13 people and they estimate as many as 1-Million people play their game, with more than 1500 ranked players around the world and more than 100 tournaments held in the USA last year.
Their goal is to make round net the next great American sport, and by the looks of their rapid growth in the past couple of years, they should have no problem getting there.
THE PROBLEM & THE SOLUTION
Chris and Scott knew early on they wanted to enlist expert help with Spikeball's online presence because their expertise was in the realm of marketing as opposed to designing and developing.
Originally, Spikeball was using Shopify to support its back end/shopping cart, and WordPress for the front end of its store. Essentially, you'd click About Us on the WordPress side, browse and buy products on the Shopify side. But they were the victims of several hacks of their WordPress site, and the time it was taking to upgrade and monitor security on WordPress just wasn't making sense. They knew they wanted to move away from WP but stay with Shopify and still have their site look exactly the same.
They enlisted Bold to step in and steer the migration as well as build the custom design they wanted (as opposed to using a Shopify template). When that migration went flawlessly, Spikeball decided to go all-in with Bold for future development and tweaking of their site.
Before they made the switch, they considered other platforms for hosting their site. They looked at Magento, NetSuite and Squarespace, among others, but quickly recognized Shopify as an industry leader with an incredible amount of resources. They also engaged with other development companies to see who could migrate the site; Bold was ultimately the most competitive, but also, had all of the apps, functions and features that Chris and Scott wanted to use. They saw an ability to grow with Bold in a way that didn't exist with the other options they had looked at.
Plus, outsourcing this work to Bold and Shopify meant they could do more without hiring more employees.
As soon as they signed on the dotted line, the migration began. Palmer says it took less than two weeks and they had zero downtime during the process. Everything ran smoothly from start to finish.
THE SHARK TANK EXPERIENCE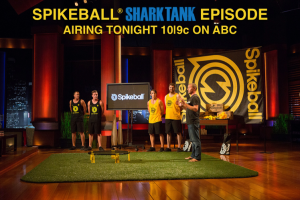 Not long after the website migration, Spikeball landed a coveted spot on the hit ABC show, Shark Tank.
It's a well-known fact that companies appearing on Shark Tank receive a massive surge in website visits after their appearance on the show, often times resulting in a major website crash. And even if their website stays online, many companies are unable to deal with the onslaught of visitors and sell out of their product or are unable to fulfill the orders that come in.
It was the exact opposite story for Spikeball. The company utilized Bold as a resource before the episode went on the air, with Bold conducting a comprehensive audit of the site to identify any potential issues. Then, on the day their episode aired, Bold team members monitored the Spikeball website throughout the evening to make sure if anything did happen, they would be able to get it back online quickly. Fortunately, Bold's technology allowed the site to stay online during the airing and in the hours after, when orders were flying in.
Spikeball is proud to say they fulfilled 100% of all orders they yielded from the weekend their episode aired, and they were able to actually fulfill them within 24 hours. Scott says Bold was critical in making sure they were prepared to handle what came their way.
(For anyone wondering, Spikeball did a Shark Tank deal with Daymond John for $500,000.)
IN THEIR OWN WORDS
What have you learned from working with Bold?
Scott Palmer: "You don't need internal resources to execute on stuff! When it comes to maintenance, innovation, and ongoing interactions with our site, thus far, we haven't had to have full time employees focusing on the site. We have Bold as a team.
Whenever I tell people about Bold I say, before considering looking for a full-time hire, look at bringing on Bold. Odds are, lots of things that could be done by that full-time hire, number one, can be automated. Number two, they can be managed and maintained by Bold, specific to Shopify.
For us, before we made the decision, a lot of education went into it. When we first signed up for the Managed Services, instead of using our first month hours, we decided we wanted to travel to visit the company. We visited Winnipeg for a couple of days, brainstormed on our site, walked through different apps that Bold offers. It was almost like an on-boarding orientation, and it was a great experience to be with the people who we would be working with. We are a remote team as it is, we don't have a permanent office and our employees live across the country. So for us, this was a natural fit and so far, it's worked out tremendously well."