What it means to be Bold
We had a lot of great things happen around here last week like awards, recognition, and an awesome Christmas party. All the excitement really gave us some time to reflect on what it means to be part of the Bold team. One of the biggest parts of working here is that we are a team, in every sense of the word. If you work here, then you're someone who knows how to work together, how to have each other's backs, and that the best ideas come from mastering those things and working hard.
Most of all, you're someone who knows how to give, and that was what was really on display last week.
Giving Credit
At the end of the week, we found out that our Directors were placed numbers 44 to 47 on Ace Burpee's Top 100 Most Fascinating Manitobans for 2015. This alone was amazing, and we were all really excited for them and their recognition. At the same time, we were so honoured to be mentioned in the same list as courageous people like Alyx Delaloye and Maria Mitousis, entrepreneurs like Kal Barteski, Amanda Buhse and Tom Jansen, and Sydney Deneka and givers like Atticus McIlraith and Karen Lizon & Jessica Boittiaux. It was a cool way to end the week, and they were so grateful for receiving the inclusion. But that wasn't the best part.
Not only did Ace pick up on this in his brief writeup, but one of the first things the Directors said after hearing about it was that this was more than recognition of only the 4 of them, it was recognition for every single person on our team too. They were so quick to share the spotlight, and share the credit with all of us, just like they always are with any milestone, achievement, or completed project.

Giving Money
We had our Christmas party on Friday, and to say it was fun would be a huge understatement. To start things off, as always, the Directors did way more than they needed to providing games, prizes, and presents for everyone there. There wasn't a single person who went home empty handed, and everyone was extremely grateful for how much they set up for us. But that wasn't the best part either.
This was the first year we were doing a 50/50 where the winner got half, and the rest went to a charity with the donation receipt going to another winner. By the time we were drawing tickets, the total had hit $1,200! So you can imagine everyone's surprise when the person with the winning ticket decided instead of keeping the money for themselves, they would donate the entire amount to charity instead without any hesitation.
Giving Gifts
One of the games we played during the Christmas party had the prize of new Apple TVs for everyone at that table. Safe to say, there were 8 extremely excited people when the dust had cleared and we had a winning table. The only problem was that most tables were made up of 4 couples, so there weren't quite enough to give them out to everyone that night. This was pretty easy to solve, and the Directors decided to just buy a few more, and hand them out on Monday. But like before, that's not where the story ends.
On Monday, the TVs came in, and after our big Monday morning meeting, one of the Directors went to hand them out to everyone who didn't get one on Friday. After handing them out, he had a few people to talk to before heading back to his desk. On his way back, he noticed one of the TVs at the desk of someone who hadn't won one. So wondering what was up, he asked the person sitting there. Turns out, one of the winners decided that this person and his kids would get more use out of it than he would, and wanted them to have it instead. He didn't want any recognition, or to make a big deal out of it, was just looking out for his co worker, and doing something awesome.
Giving Time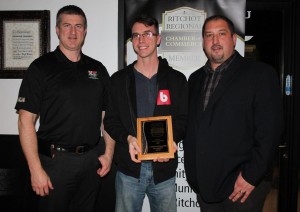 To wrap all this up, we also ended the week with an award presentation for the Ritchot Chamber of Commerce Corporate Volunteer Engagement Award. We were extremely grateful for the award since it not only validated all our hard work volunteering at Siloam Mission, Winnipeg Harvest, and working with the Wildlife Haven Rehabilitation Centre, it also made us reflect on how important giving back really is.
This all really comes back to an initiative that started when Bold was created. It's called the 1/1/1 pledge and it's something that everyone in the company starts off joining up for, but that eventually becomes more than just a company initiative. In this pledge, we donate 1% of our earnings, 1% of our time, and 1% of our products. If anything is clear from the above stories, it's obvious how big of an impact this pledge, and the culture at Bold has had on everyone who works here.
If you want to find out more about the 1/1/1 pledge and maybe sign yourself or your company up too, you can check it out here.
So during this season of giving and thanks, we're all so thankful for the awards, recognition, parties, gifts, and everything else we're fortunate enough to have year 'round. But we're even more thankful for the awesome people we get to work with, the Bold team we get to be a part of, and all the ways we get to give back to the people around us.