With a theme developer as successful as Pixel Union, you'll want to give their app a shot!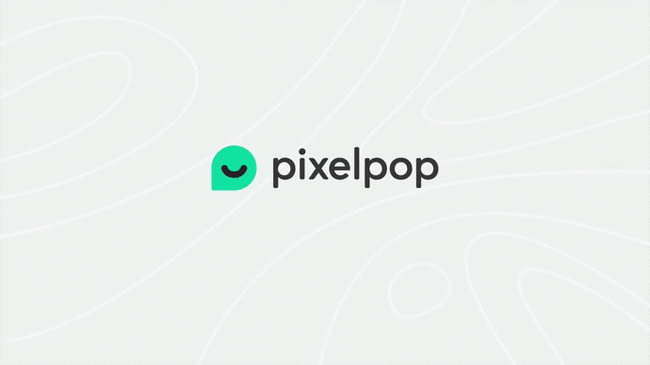 Pixel Union has released their debut app, Pixelpop, and here at Bold we're LOVING it! It's been helping our customers create beautiful popups, promos and banners that have been boosting customer engagement and driving conversions through the roof.
But let's take a step back. If you don't already know about PixelUnion, well, you should! They offer premium themes for Shopify and BigCommerce, as well as UX and design consulting for clients ranging from startups and budding entrepreneurs to the world's leading content and commerce platforms.
So, when we saw they had launched their very own app, we knew we had to try it out.
Conversion equation
One of the things we love most about Pixelpop is their focus on the business case. Their main goal is to help you increase your revenue and your average order value, and to send your conversion rates through the roof!
Increasing your average order value: there are a few different ways this can be achieved, one of them being to incentivize your clients with targeted pop-ups. Free shipping is a popular one! If your average order size is $35, set that threshold to $50 and have the app let your customers know when they're getting close to that amount.This will increase your conversion rate as well! Another option is product recommendations or product bundles. Set up the app to show product recommendations to related products or collections when someone visits a product page within a certain collection. Are they buying a new pair of golf shoes? Recommend golf gloves or balls to go with it, or show them a teaser for a golfing starter bundle.
Choose the perfect moment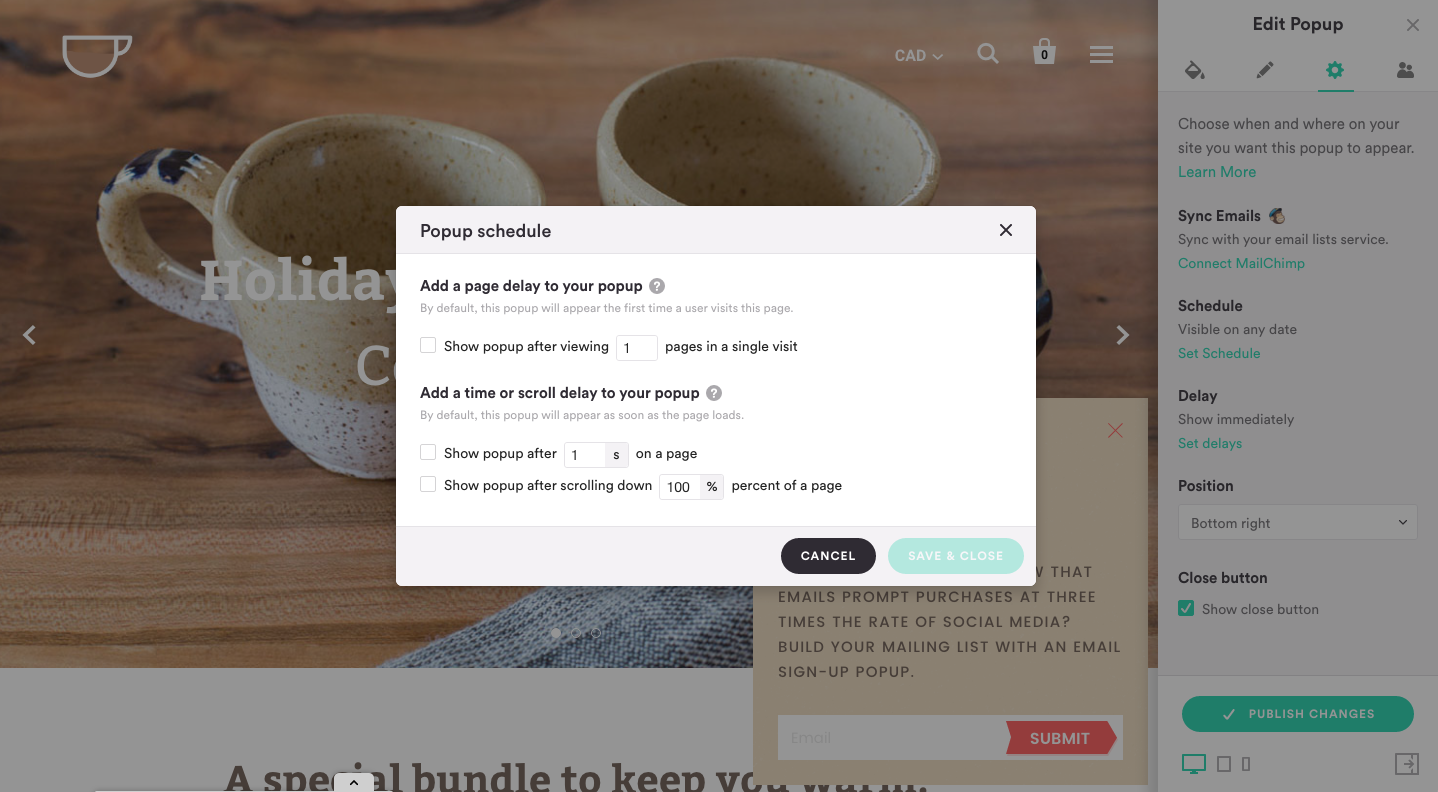 Timing is everything when it comes to popups. You want to engage visitors, not annoy them. You can time your pop-ups perfectly by setting them to appear after a specified amount of time your customer spends on your page, or after a specific percentage of the page has been scrolled. We love this option since your customers are already committed to the product they're reading about, and you can really target your promotions (like reminding a visitor about free shipping when they've scrolled through the product's page). You also have the option to set them to appear after a certain number of page visits (suggest a product bundle after they've visited four separate product pages, or give them a coupon code to prompt them to checkout).
Increase your ROI for social advertising
When you install Pixelpop, you'll get an on-boarding email introduction to help you grow and achieve your business goals, one of which is your ROI on social advertising. The app can be used to show popups to visitors coming from social campaigns and can alert your customers to active offers when they land on your homepage, or can be targeted to a group of pages, exact pages, or by collection. This helps reinforce the offer or messaging you gave people in your ad, and offers the most value without being bothersome to visitors that didn't see the ad. Reinforcing your message will improve visitor engagement, and you will see improvements in checkouts and pages visited!
For example: if you're running a 20%-off sale to your Instagram followers, when they land on your site from your Instagram link you can set a pop-up to appear thanking them, and reminding them which items are on sale. This popup won't be seen by visitors from other sources, so you can specifically adjust your message and offer to folks from social sources. You can also use this feature to show popups only to your 'VIPs' who are on your email list or click through from your newsletter. Make them feel special and they'll love you for it!
Automatic Mailchimp integration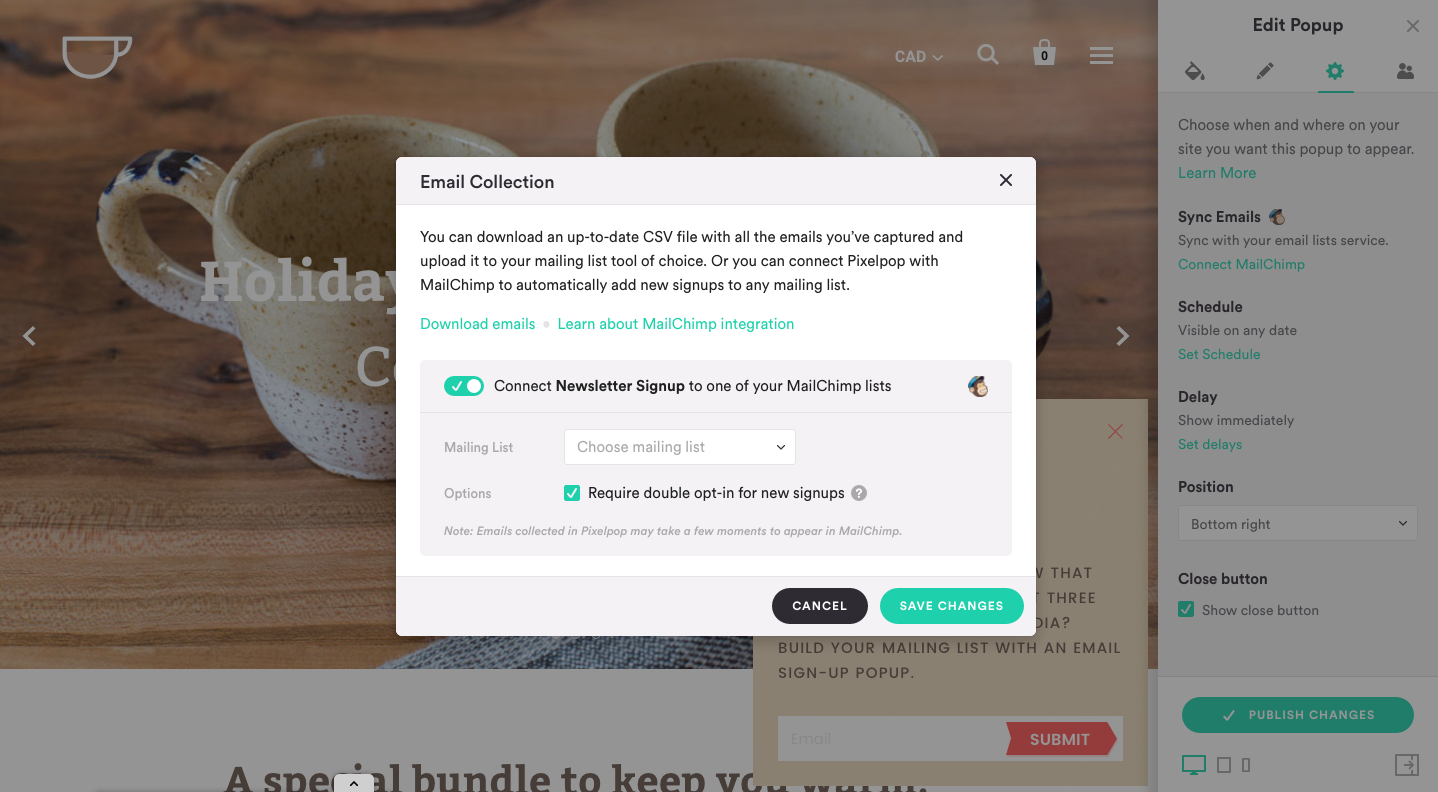 We love this one! A growing mailing list is key to successful marketing in ecommerce, and this app can help you in two different ways. You can easily set up an email capture pop-up asking for the customer to submit their email address to build your list of customers to market to in the future, or you can even use a full screen takeover offering a big first-time discount for subscribers.
After getting an overwhelming number of requests, Pixelpop just rolled out their newest feature: Mailchimp integration. So, now when your customers sign up to be on your mailing list, you no longer have to manually add the new emails to Mailchimp, the app does it all for you! You can also customize MailChimp's 'welcome email' to give customers a sweet discount or offer in their inbox, right when they sign up using your site's Pixelpop popup.
What about Google's new pop up guidelines?
You may have heard that in January, Google is changing its policy on mobile search results which can affect how your website is ranked. But don't worry, Pixelpop has you covered. Before January, Pixelpop will offer device targeting to ensure you meet their guidelines. The best strategy next year will be to set up a promo banner for mobile devices and a modal, card or takeover for desktop users, running them in parallel to ensure you're staying within Google's guidelines for mobile search.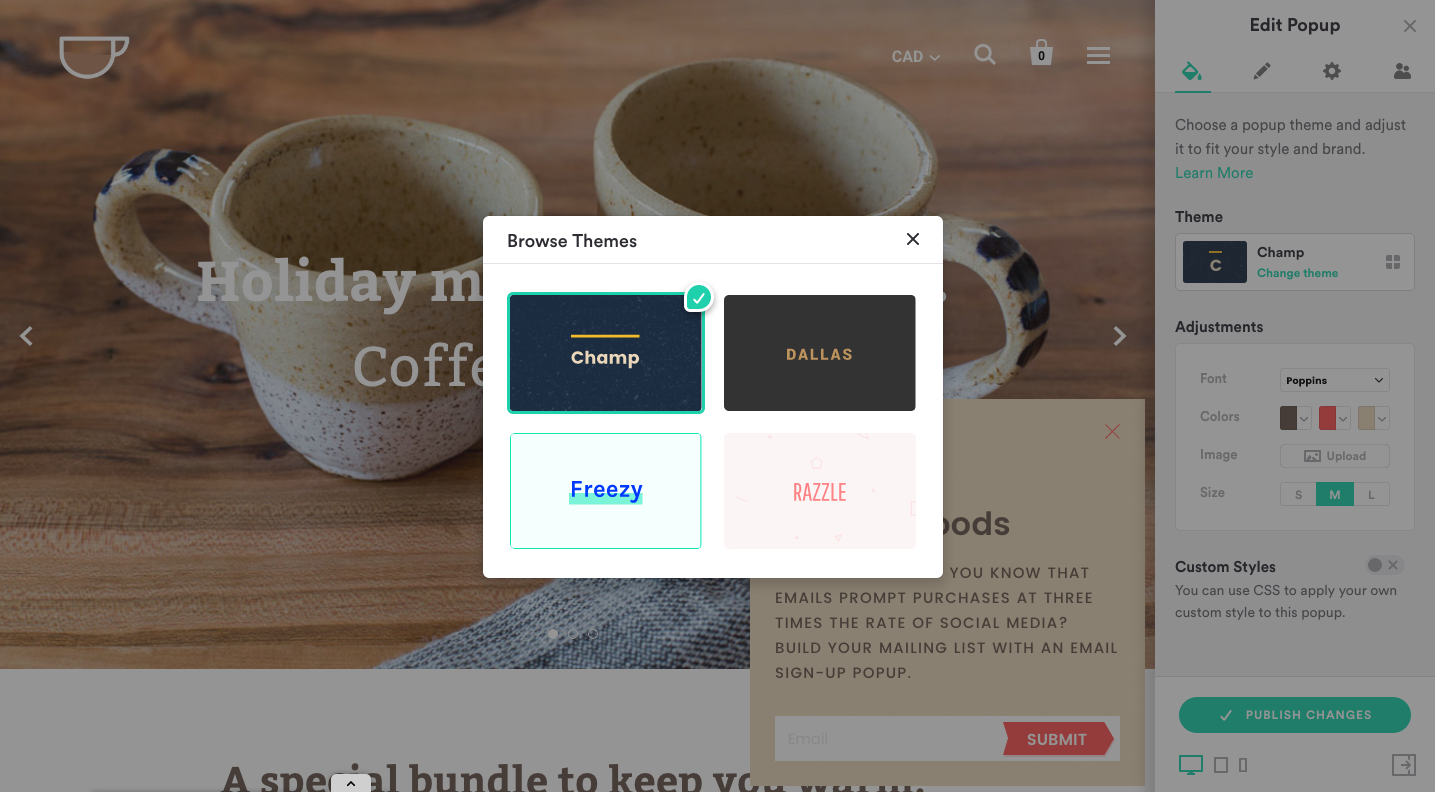 And on top of all that, our favourite part about Pixelpop is how easy it is to set up, and how straightforward it is to use! There's no need to know anything about coding, it looks professional with four popup shapes and six popup types, you can easily manage and track popups from your dashboard, and you have the ability to preview your selections live on mobile, tablet, and desktop.
We could go on and on, but instead we want to offer you the chance to try it yourselves right now. Pixel Union is offering you a FREE 60 DAY TRIAL!! That's four times their regular trial so you'll have loads of time to try out all the amazing features, and it couldn't have come at a better time with Black Friday less than two months away. And while you're at it, don't forget to check out Bold's apps to set up your amazing sales, then drive your conversions through the roof with Pixelpop: a match made in eCommerce heaven.