Show your good side this Giving Tuesday: how to collect donations on your Shopify store
Did you know that Black Friday weekend is the single biggest online sales event of the year? In 2010 Shopify store owners made $2.5+ Billion in revenue, and with some brick-and-mortar stores closing their doors on Thanksgiving to combat a growing global pandemic, this year is could be even bigger.
Making money is great, but did you know you can also use ecommerce to make the world a better place? People need support more than they need great Black Friday deals.
Why not get the best of both worlds by raising money for a charitable cause right on your Shopify store?
There's one more thing I want to talk about before we dive in to how to set up your Shopify store to collection donations.
It's called: Giving Tuesday.
What is giving Tuesday?
Image via: powerinn
That's right, in addition to Thanksgiving, Black Friday, Cyber Monday etc. there's now another "day" ecommerce merchants should be worrying about. Don't worry, this one's simple.
When does Giving Tuesday start?
Giving Tuesday takes place on the Tuesday following Cyber Monday, and this year it falls on December 3. Fuelled by social media and eCommerce, Giving Tuesday celebrates the start of the charitable season, when people are turning their attention to holiday and end-of-year shopping.
Let's look at some quick facts:
Since 2012 Giving Tuesday has generated over 1 billion dollars in the U.S.

In 2019, Giving Tuesday campaigns brought in nearly $511 million in online donations ($111 million more than 2018)

150+ countries participate in Giving Tuesday
This means that while people are spending a lot of money during Black Friday weekend, they are also giving a lot. Why? Because it feels good to give something back!
All over the world people are dealing with hardship. From poverty, war, and famine, to natural disasters like hurricanes and earthquakes, there are no shortage of people in need.
Some brands have truly championed the giving spirit by turning their Black Friday campaigns into massive charitable drives. Let's look at a few examples:
Image via: globalcitizen
Now that's a delicious offer!
British pie experts Pieminister pledged to donate all proceeds from "Black Pieday" to Shelter, a non-profit charity focused on fighting poverty and homelessness.
This campaign tied-in nicely with their broader "Little Act of Pieness" initiative, which gave away 18,000 pies earlier that year.
As a company who makes their "dough" feeding people, Black Pieday was a perfect fit for their brand and ended up being a huge success.
Here's another cool example:

Image via: oursocialtimes

Since 1986 Patagonia has donated 1% of all sales to the preservation and restoration of the natural environment. Last year they upped the ante and pledged to give 100% of Black Friday profits to grassroots environmental groups.
Driven by the hashtag #loveourplanet, their customers beat their goal of $2 million by five, raising $10 million dollars for environmental non-profits.
Which cause should you choose?
In the cases above, the charitable cause fits the brand story of the company — Patagonia is an outdoor apparel company so it makes sense that they would give back to the environment; Pieminister, a company that sells pies, is fighting hunger.
What will your company's cause be?
Try to choose a charity that relates to your product or business in some way. If you sell toys, consider donating to a children's foundation. If you sell health and wellness products, raise money for a mental health initiative.
That's not to say if you sell shoes you can't raise money for hurricane relief. If you are passionate about a cause and feel your customers will be too, go for it!
Whether you decide to jump on the Giving Tuesday bandwagon, or rebel against Black Friday for a good cause like the brands above, there's no wrong way to use the power of ecommerce to make the world a better place.
Use Upsell to collect donations
We have an app called Bold Upsell that was designed for upselling products when customers check out. It just happens to also be perfect for asking for, and accepting, donations as well! We've seen many merchants use it this way, and thought we'd encourage more to do so as well.
There are over 500,000 merchants selling on Shopify. Can you imagine the impact they could make if they all collected donations at checkout?
If this is something you're interesting in doing, we're offering Bold Upsell free for 14 days. It's easy to install and has helped thousands of Shopify stores increase their average order values.
Using this app, ecommerce store owners can now set up fundraising campaigns through their Shopify store, collecting donations for those in need. You can also choose to match donations made by your users, further increasing the assistance offered to the charitable organization of your choice.
In this post, we'll show you how to set up campaigns by accepting donations at the checkout with a simple pop-up that your customers will see when they go to check out.
---
Let's get started!
To show you how to make a donation, we will create a made-up campaign for American Red Cross hurricane relief. You can raise money for any cause you choose! You can also learn more about how to create a product on Shopify here.
Use the following settings:
Title: Donate to American Red Cross for Hurricane relief
Description: Submit your donation to the American Red Cross for Hurricane relief.
(The description will likely not be seen by customers as we're using this product in a pop-up only, to be seen later in the process).
Image: Many images of the devastation left by the hurricane's wake have been posted on social media and by various news outlets. We recommend using one of these photos for your product photo on Shopify. You may also be able to request permission from the American Red Cross to use their brand identity for a fundraising event.
Settings:
De-select Charge taxes on this product

(unless required by your region)
Ensure the inventory policy is set to Don't track inventory
De-select This product requires shipping
Variants:
Add a variant to allow customers to choose their donation amount.
The Option name will be set to Donation amount
Option values

can be set to amounts of your choosing, but we recommend

$2, $5, $10

and

$20

Set the prices for each variant to match their Variant name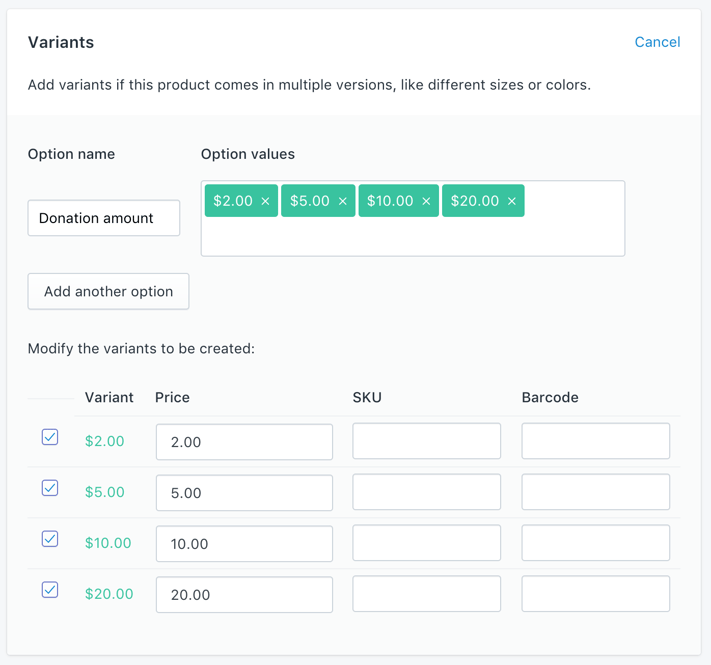 Set up the donation in Bold Upsell in 5 easy steps
Next, we'll create an Upsell offer to be displayed to customers when they press the Checkout button on your store. This is the best time for a call-to-action as the customer has already committed to a payment and hopefully won't mind adding a few more bucks.

First, log into the Product Upsell app from your Shopify admin.
1. Create a new offer
This step is pretty straight forward. Use this tab to manage your current offers or create new ones later.
2. Give the offer a name
This is internally facing, so it doesn't have to be anything fancy. Give it a name that you will remember later in case you want to go into the offer and edit it.
3. Select when you would like the offer to trigger

In this case we are selecting Before checkout. The reason is, if we select Add to cart, every time a customer puts an item in their cart it will ask them for a donation. You can imagine how that would get overwhelming fast. Remember, we are only targeting customers who are ready to complete a purchase.
4. Give your offer a title and description
This is different than from step 2 — your customers will actually see this title. The description is your chance to better explain what your offer is all about. Use compelling language that you think will move your customers to make a donation.
If you would like to only have the donation request appear for certain products, use the bar below to select the items you would like to feature. For this example, we are going to leave it blank and allow the offer to occur on any purchase.
5. Set conditions
Here you can set conditions such as a date range and cart value threshold. For this example we have set the date range to run from the Wednesday before Black Friday up until the Wednesday after Giving Tuesday. We will leave the cart price, because we want it to show up for any purchase.
Depending on your average order size, you may decide to set a minimum price for this offer. For example, customers might feel awkward if they are being asked to donate $10 on a $5 purchase.
Click the "Save" button at the bottom of the screen and you are finished. Your request for donation will now show when customers try to check out. Just like this:

That's how easy it is to raise money for a charity of your choice over Black Friday weekend and Giving Tuesday! All you need is a Shopify store and the Bold Upsell App.
A community is defined by how it offers its hands to those in need
To help merchants accept donations from the hundreds of thousands of customers that purchase from Shopify stores on a daily basis, we're offering Bold Upsell for 14 days free of any charges.