Add a gift wrap option to your Shopify store in 3 easy steps
Looking for an easy way to increase the average order value on your Shopify store? One of the oldest tricks in the book is to add the option of gift wrapping to a product. Amazon has been doing it for years, and more recently it's become a fairly common option on just about any online store, especially around the holiday season.
Here's how it works: when a customer goes to finalize their purchase, they are asked if they would like to add gift wrapping for a small charge. The value of the order is increased by a few bucks, and the customer gets to add an extra touch of personalization to their purchase. It's a win-win!
In this post, we'll show you how to easily add paid gift wrapping to your store with the use of our Product Options app in three easy steps.
How to add a gift wrap option with Product Options
Using the Product Options app for Shopify, you can easily add a gift-wrapping checkbox on every product page that allows customers to have their package wrapped and shipped for an additional fee.
Let's look at a step-by-step guide on how to set up gift wrapping (for a fee) on our Shopify store with Bold Product Options.
Step 1: Create an option set
An 'option set' is a group of products that will have a particular option applied to them. In our case, the option is gift-wrapping and we'll be applying it to a fidget cube that we want customers to be able to purchase as a gift.
To start, log into the Product Options app through your Shopify admin. Click "Create/Edit Options" on the home screen, and then "Create Option Set."
Give the option set a name, and select the products that will be included within it. These are the products that will have your gift wrap offer listed on the page. In this example store, we selected a fidget cube to be included in the set, but you can pick multiple products, or even an entire collection.

Step 2: Create an option
Next, create an option that will appear next to products included in the option set.
Give the option set a 'Name', 'System Name' (only used internally, so you can keep track of your options), and 'Description.' The Name and Description will be shown to the customer on the storefront, so be sure to accurately describe the gift wrapping offer to customers.
The 'Type' of option will depend on what product you're selling. In our case, we'll use a checkbox so that customers can add gift-wrapping to their order in a single click. Other options might include a Radio Button that allows them to select "With Gift Wrapping" or "Without Gift Wrapping", or a text box that can include a special gift message.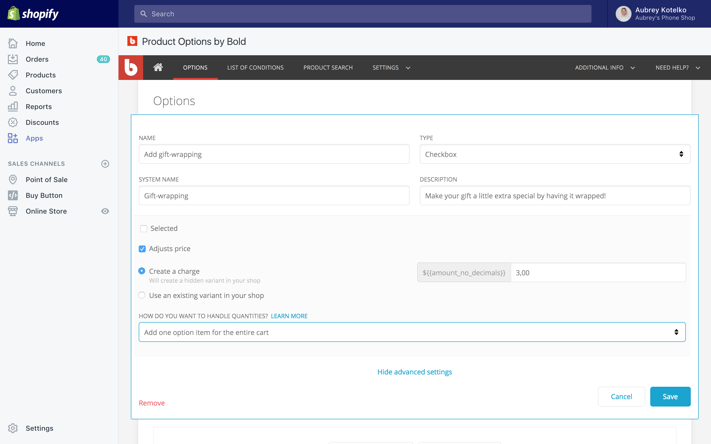 To actually include a price increase with the offer, you'll need to use the Adjusts price checkbox. This will show a panel with several options.
You can either choose to Create a charge (which will create a hidden product on your store that can only be added by having the option selected) or Use an existing variant in your shop (useful if the product already exists on your store, such as a set of batteries).
Quantities can be handled in a number of different ways:
Option quantity matches product quantity: A separate charge will be added for every individual item in the customer's cart.
Customer can choose option quantity: The customer can choose how many of the "option" they'll receive (and be charged accordingly).
Add one option item per product in cart: The customer will be charged once for each product, no matter the quantity of the specific product.
Add one option item for the entire cart: The customer will only be charged once for the option, no matter how many different products they have in their cart.
In our case, we'll choose Add one option item for the entire cart since the gift-wrapping charge is the same no matter how many products they choose.
After this has been filled out, save the option item and option set.
Step 3: Test the gift wrap option on your storefront
Now that the option set has been saved, make sure to test it on the storefront to make sure that it looks great and works properly.
Navigate to one of the products on your storefront that had the option applied. You should see the upsell in-line on the product page, next to the Add to Cart button (the placement may vary dependent on your theme).
Click the option (in our case, I'll select the checkbox) and add it to the cart. On the cart page, you should see the option name next to the product that was just added, along with the additional price next to the cart total.
Problem solved!
Way to go! You just created a super simple gift wrapping upsell that will be shown right next your chosen products, leading to a boost in sales.
Let's look at an example in action
Wooden Cork is a great example of a Shopify merchant using the Bold Product Options app to add paid gift wrapping. As you can see in the below example, they ask $9.99 for a card and gift wrapping, or $4.99 for a card only. What a great way to potentially add ten dollars to every purchase, while making the gift extra special for whoever is receiving it!

Need the app?
Product Options allows you to offer unlimited customizations on products and has a ton of great features, like conditional logic to display/hide options based on the customer's selections, edit-in-cart functionality and colour/image swatches. You can try it out free from the Shopify App Store.
Let us know in the comments what products you're pairing to your awesome gift wrapping offer.