On-page SEO for eCommerce: How to optimize your online store
Did you know...
Up to 28% of consumers begin product discovery with a search engine.
And 95% of consumers click on organic listings when they search on desktop.
Fact is, Search Engine Optimization (SEO) has the highest ROI of any eCommerce marketing campaign. Organic traffic is the best kind of traffic: free and recurring!
SEO for eCommerce websites is something you need to be thinking about if you truly want to grow your online store.
Don't believe me?
I've seen SEO increase an eCommerce site's traffic by as much as 1780% in a few short months!
If your site isn't optimized for search, you're leaving traffic and money on the table.
In today's guide, you'll learn everything you need to know to optimize your online store today. I'll walk through it step-by-step so you can implement all these changes in the next 2-3 hours.
Let's get started!
5 simple steps to on-page SEO for eCommerce
Whether you just started an online store or you've been running for a while, SEO is an eCommerce best practice you need to be, well, practicing!
There are just 5 steps to optimal on-page SEO for eCommerce:
To show you how to actually do everything, I'll be performing all these steps for The Smoothe Store, a client of mine and a Bold app user.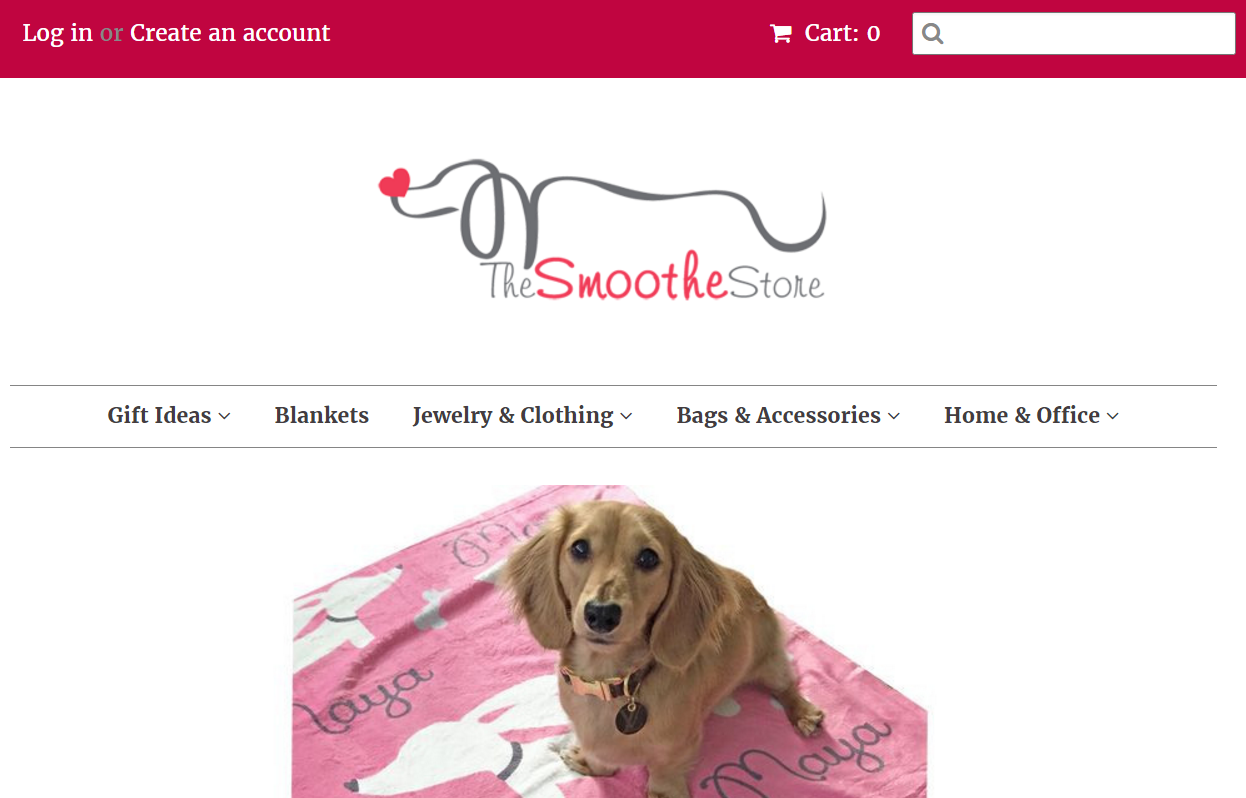 Now, eCommerce SEO starts with keyword research. But...
What makes a good keyword?
Before we dive into the steps, you need to understand how to choose great keywords.
We don't want to spend weeks on SEO only to find out we're getting traffic that doesn't convert. So read this section first.
In a nutshell, we're looking for two things:
1. Keyword difficulty (KD)
How hard it will be to rank in search results for that search term. You want to find keywords that have a low KD.
2. Search traffic
How often people use a certain keyword — you want to find keywords that get a lot of search traffic.
BUT (and that's a big but), that doesn't mean just any keyword will do. Your keywords must also be relevant and have a high buyer intent.
What do I mean by that?
Let's go through our example with The Smoothe Store. They sell dachshund gifts, so their main keywords are around things like blankets, accessories, etc.
These types of keywords have a high buyer intent, meaning the person searching for them is probably looking to buy something.
You don't have to guess at buyer intent - you can find out buyer intent by looking at the cost per click (CPC) for your keywords.
A high CPC correlates with a high buyer intent!
This is because in order to succeed with paid ads, businesses need to make more than they're spending. If they're spending more than they're making, they'll stop buying ads, which will equalize the price over time.
In the end, the higher the cost, the more money a business is making when someone clicks — which means a higher conversion rate!
You can see CPC using SEO tools like Google Keyword Planner (GKP), SEMrush, or Ahrefs. I prefer Ahrefs because it gives the most data and can be used for all five of the steps in this guide.
Just plug in your keyword(s), then look at the CPC (or "suggested bid" on GKP):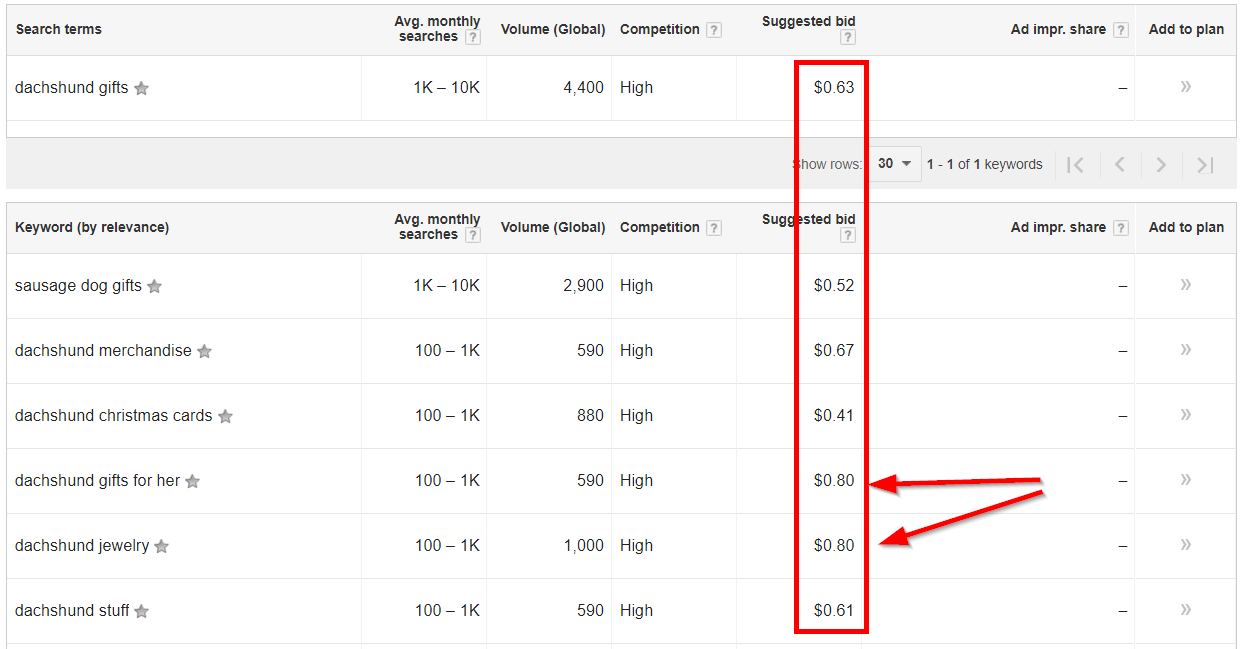 "Dachshund gifts" has a CPC of $0.63, while "dachshund gifts for her" and "dachshund jewelry" have a CPC of $0.80.
This tells me that the latter two terms convert higher than the first, because people are willing to spend more money on it. (But there's lower search volume.)
Note that the CPC of your industry's keywords may vary wildly. It could be as low as $0.01 or as high as $100. What matters isn't the specific number, but that number's relationship to the other numbers.
So if most of your keywords CPC is $2, but you see one at $3, the higher cost one has a greater buyer intent, and thus a higher conversion rate. Typically, that's what you want (assuming it isn't too difficult to rank for, but more on that later).
Pro Tip: Install the Keywords Everywhere browser extension to find, well, keywords everywhere. It will show you the search volume, CPC, and KD when you look at Google (among other places):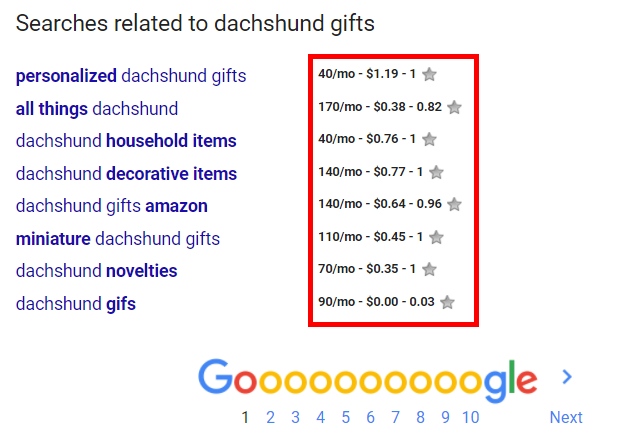 One last note: Don't just rely on SEO tools to tell you KD. While they have a good idea of how difficult it will be to rank, they're not perfect — always check the actual search results to see things like:
How high the competition's domain authority (DA) is
How well optimized the pages are for their keyword (more on this in the optimization section)
The overall quality of the competition (i.e. well-written, good design and usability, good resources and images, etc.)
If the KD is low, the traffic and CPC are high and the eyeball test is good, it's a good keyword!
Now that you understand what makes a good keyword, it's time to actually do your research.


---

The Truly Ultimate Guide To 10x Your Shopify Store
In this guide we show you how to 10X your Shopify business through website design, SEO, marketing, customer service and more. Plus learn about which apps you can use to skyrocket your growth!

---
Step 1: Keyword Research
For keyword research, you have three main tools at your disposal:
Amazon
Google
Ahrefs
Let's start with Amazon. Around 55% of online shoppers begin their search on Amazon, so they must have a good handle on keywords. Plus, people search in Amazon in order to buy, so there will naturally be a lot of high-buyer intent words.
Using Amazon for eCommerce keyword research
Amazon is a stupid easy way to find awesome keywords. They have everything categorized for you already!
Start by plugging in a word that's part of your offering. For example, if we type in "dachshund", we get some ideas:


Take note of all the keywords you find in a Google Sheet. I'll start one here:


Note: I'm using Ahrefs to find search volume and KD. You can also export all this data for easy sorting of hundreds of keywords, which makes finding the gold nuggets really easy. Check out this guide if you want to learn how.
Buuuut... rather than digging through hundreds of keywords on Amazon with this method, you can use the Amazon Keyword Tool. You get 3 free searches per day, and it scraped hundreds of results, giving you tons of juicy keywords: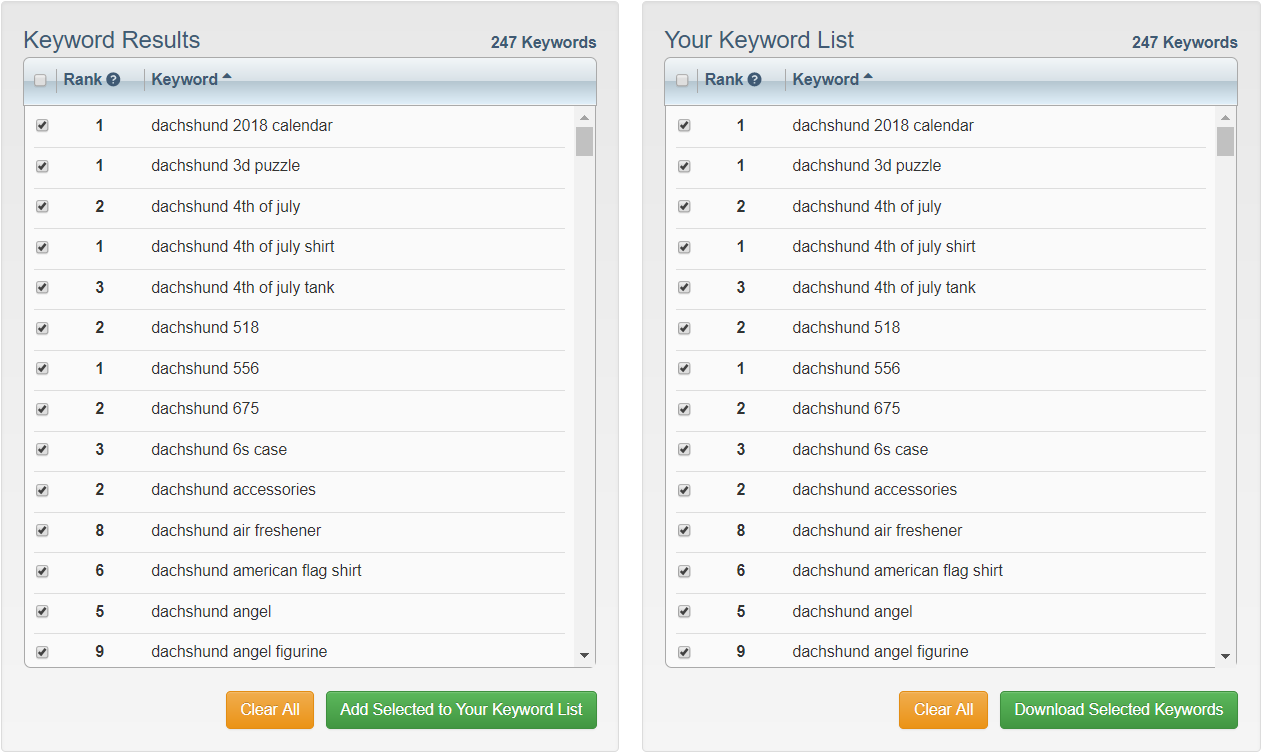 Personally, I like to download all the keywords then run the CSV file through Ahrefs to find the winners. However, you only get so many keyword searches per month on the lowest plan, so you may need be a little more picky.
Alternatively, you can run the CSV through GKP to get volume estimates and CPC, but not keyword difficulty. (Holy acronyms!)
At this point, you should have enough product keyword ideas for everything you sell. However, we still need keywords for your category pages. (You may have found some winners already, but we'll make sure you do in this next step.)
Using Amazon to find category page keywords
Amazon has very deep, thorough category pages. For this step, simply dive into the category pages for the products you sell and look for a good fit.
To view all of Amazon's category pages, hover over "Departments", then scroll down to "Full Store Directory".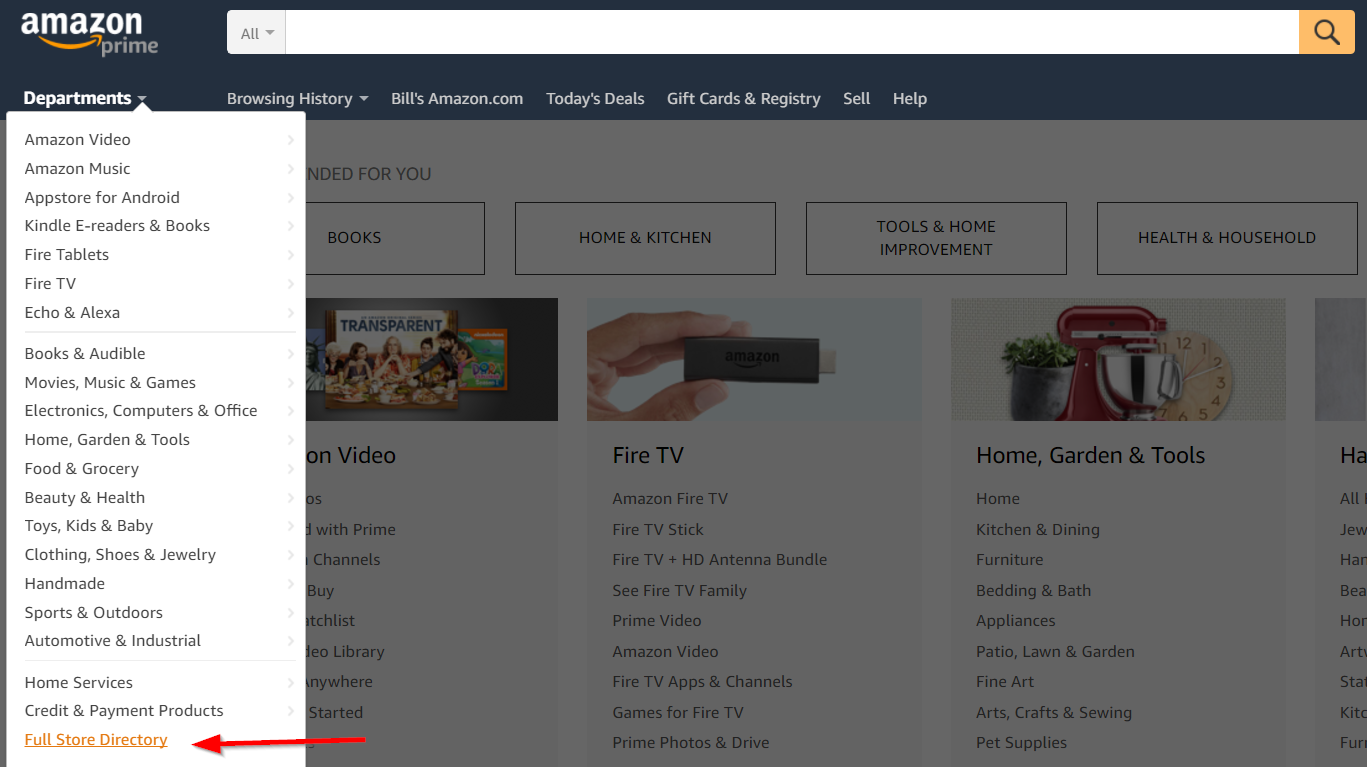 Now find the category that fits your products. over "Departments", then scroll down to "Full Store Directory".
Now find the category that fits your products.
(Note: If you have a highly niche product or one that fits in many categories, like Dachshund gifts, you might not find a category for it. In this case, we'll look at competitor's sites and our previous keyword research to define category page keywords. I cover this process in the next section.)
Here's an example:
Let's say you sell home decor, like wall signs. You could go to "Home, Garden & Tools" -> "Home" -> "Home Décor" -> "Home Décor Accents" -> "Decorative Accessories" -> "Decorative Signs".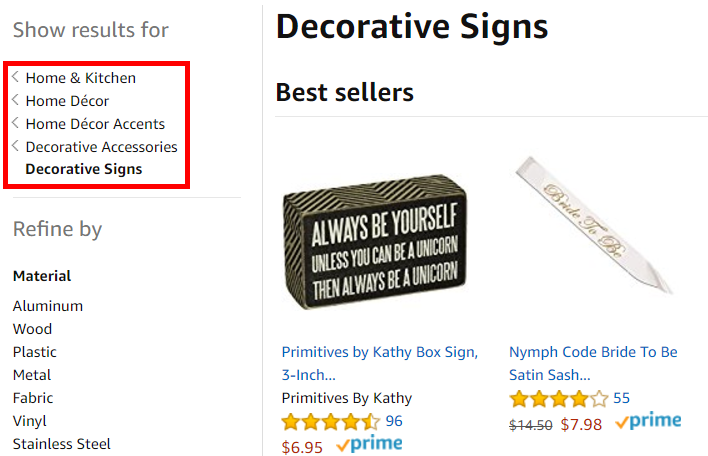 This process of drilling down categories is part of a system called "breadcrumbs", which are important for SEO — basically navigation chains that make your site easier to use. You can read more about breadcrumbs here. (I'll also discuss it further in the section on site navigation and structure.)
Now, the concern here is that these category page keywords are either too broad or too difficult to rank for.
To find out, plug them into Ahrefs or SEMrush to get an idea of the difficulty — but don't forget to eyeball the search results yourself as we discussed above.
If they are too broad or difficult, your next best option is to spy on your competition.
How to spy on your competitor's keywords
Spying on competitor's keywords is one of the easiest ways to determine category pages...
If they're optimized for search.
If not, you could be optimizing for crap keywords. That's why it's important to look at the stats of competitor's keywords yourself before blindly following the competition.
That said, let's look at an example.
Hop over to a competitor's site and look at their category pages. (You can find your competition with Google — I have faith in you.)
Here is one of our competitors: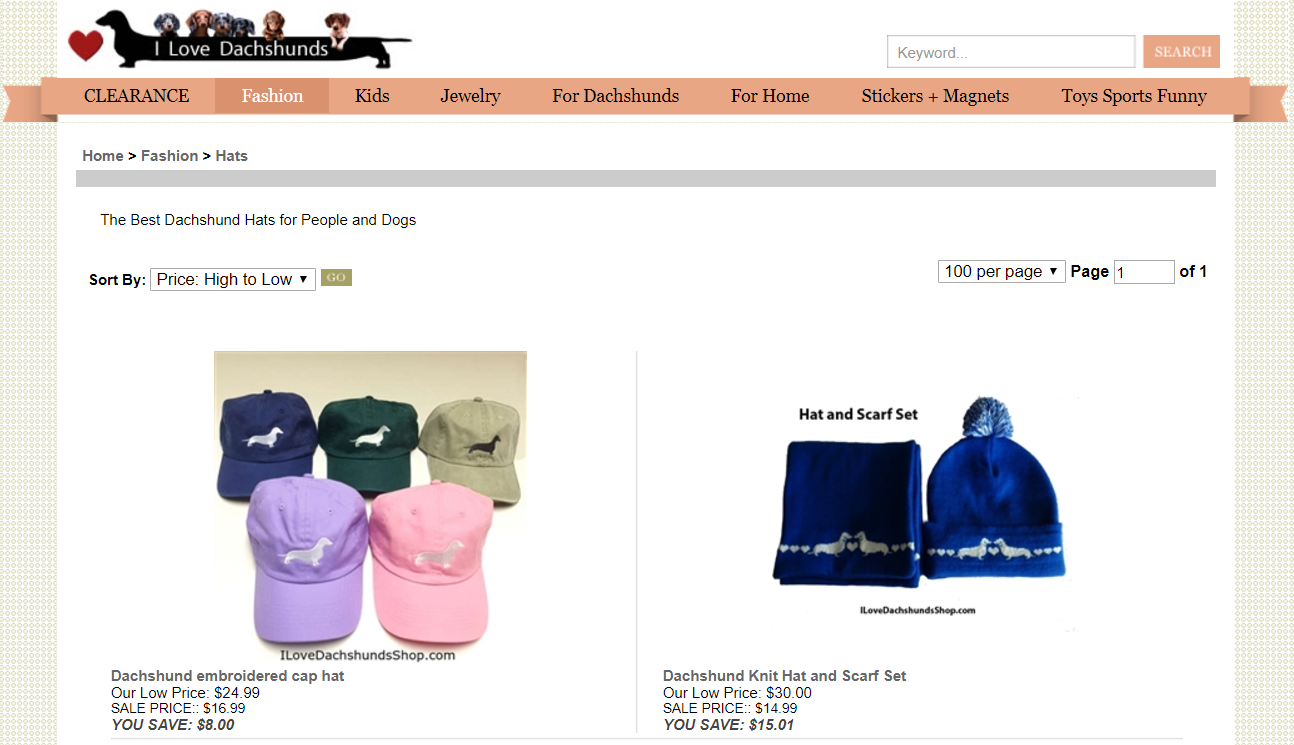 Looks like they're using breadcrumbs. However, their category pages aren't well optimized.
How do I know?
They're using generic keywords like "hats" and "fashion" (which are too difficult to rank for)
Their URL isn't user- or search-friendly (more on this later)
They have no unique content on their category pages (more on this later as well)
In other words, they're not a good source for keyword ideas.
This is actually a good thing — they're ranking the highest of all our competitors despite improper SEO. That means it should be fairly easy to beat them just by following the rest of the steps in this guide.
If you find someone who is a good source for keywords, you'll see category pages with keywords similar to the ones you saw on Amazon. From there, get their volume, difficulty, and CPC to determine if they're a good fit for your own pages.
Now you should have an excellent list of keywords! The next step is to filter these keywords down to the absolute best.
Choosing the right keywords from your list
This is the final step in your keyword research. You should have a few hundred, if not a few thousand keywords at this point. Obviously, they're not all winners.
So how do you sort the winning keywords from the losers?
First, sort your sheet by search traffic.
You want to see where the biggest potential bang for your buck is. You can do this in Google Sheets by turning on filters, then filtering the volume column Z-A.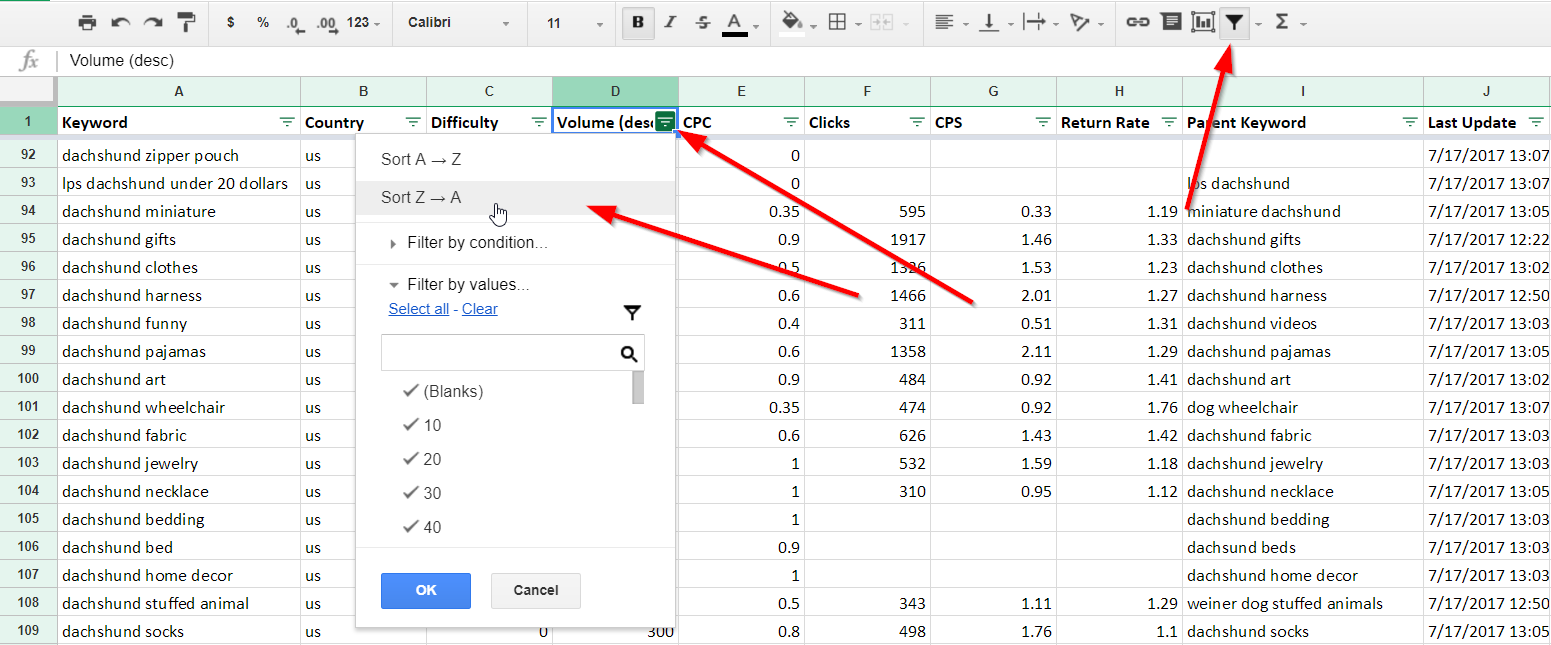 (Note that you'll see "0-10" before your highest number in this case. The "-" screws things up a bit because it left-aligns the numbers. No matter - just scroll down to the highest number after those.)
I can't give you a traffic number to aim for because the volume in different industries varies wildly. Instead, look for the keywords that have proportionally higher traffic compared to the others, just as we did with CPC.
Now you know what's worth going after. Or do you?
Remember: Search volume alone isn't enough to warrant choosing a keyword.
We also want keywords and phrases that have a low KD (preferably under 20 in Ahrefs, unless you have a high domain authority) as well as high relevancy and buyer intent.
Here's an example:
I found a great keyword around dachshunds that gets 1,800 searches per month... "dachshund miniature".

But, the difficulty is at 23 (not insane, but not easy either) and the CPC is only $0.35. Most importantly, if we look at the search results, we see dog breed information...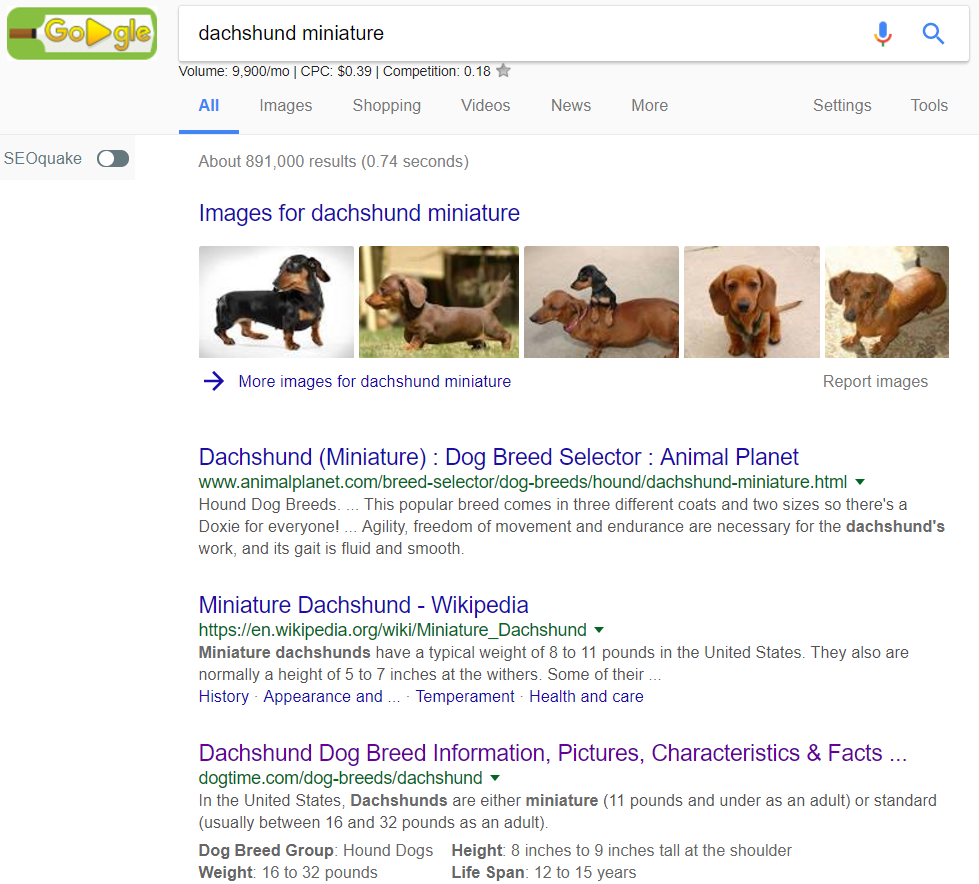 ...which has nothing to do with selling gifts.
(That said, it could be useful for content marketing, but more on that later.)
Instead, I like the keyword "dachshund clothes", which has 900 search volume, a KD of 0, $0.50 CPC, and highly relevant search results. Perfect!
Do the same for your other keywords. Dig through them, looking for the "wieners" of the bunch (hah! get it?).
Once you've chosen your golden keywords, it's time to perform on-page SEO for your product and category pages.

Step 2: Optimizing your product and category pages for search
Give yourself a pat on the back — you completed the most difficult part!
This step (and all the steps that follow) will be much shorter than step 1 because once you know the right keywords, everything else falls into place.
So, if you skipped or skimped on step one, go back and give it a serious effort. You'll thank me later.
Now, let's start with on-page SEO for your category pages, since you (hopefully) have fewer of those than product pages.
On-page SEO for category pages
On-page SEO is simply a matter of putting the right keywords in the right places. You have the right keywords, so here are the right places:
1. In the URL.
Putting your primary keyword in the URL (and making the URL readable and friendly) is simple and improves search rankings.


2. In the title tag (H1).
The title tag, or H1 tag, should have the keyword in it as close to the beginning as possible, like this:


3. In body copy.
This is where things get a little trickier. Most category pages get straight to the products with no introduction - which isn't good for Google.
You should aim for at least a 300-word intro with your keyword included at least 2-3 times. (But don't stuff it in there - make it flow and look natural.)
Here's an example (although we're going to change this to make it longer and include the "s" at the end of gift):

4. In image alt text.
Since Google can't read images, they rely on alt text to know what it's about. This also gives you another spot to include your keyword on the page, and gives you a shot at showing up in Google image results.
Unfortunately, The Smoothe Store doesn't have an image banner on their category pages (yet). But here's an example from Bath & Body Works:

Note that it doesn't have to be that big - it can be a simple small banner across the top instead.
Pro Tip: If you suck at design and need banners made for you, you can hire someone on Fiverr or submit a proposal to 99 Designs. Personally, I like to use Canva to create all my designs!
5. In the meta data.
While including your keyword in your metadata (the gray text that shows up in your search listings) hasn't been shown to directly impact rankings, it can improve click-through rate, which has been shown to improve rankings.
This is because when you include your main keyword in the metadata (AKA description tag), Google bolds it in the search results:

Bada-bing, bada-boom. You're done! Easy-peasy, right?
Now just do that for all of your category pages. Next up: Product pages.
On-page SEO for eCommerce product pages
I won't relist all the steps you just took above. Basically, do everything you just did for your category pages, with 2 major differences:
You don't need a banner image (since you have product images)
Instead of writing 300 words, I recommend reaching 1,000 words (at least on your 10 top sellers)
The reasoning for this is simple:
The top pages in Google tend to be long-form content of at least 2,000 words.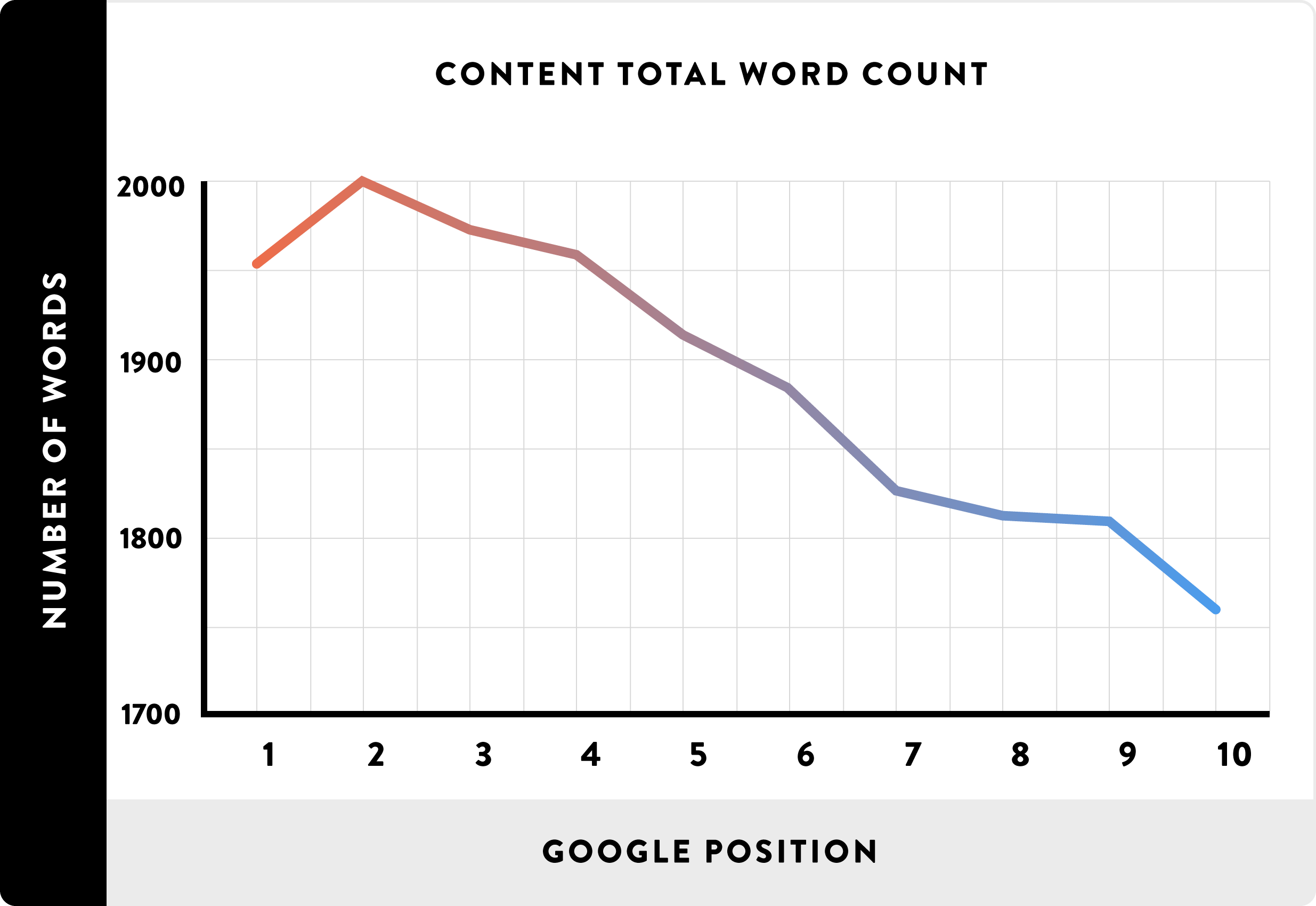 This is because Google is primarily a research tool. So, when a page has a lot of information, Google thinks it has a better chance of containing the answer a searcher is seeking.
(This also helps you include LSI keywords, which I'll talk about in a second.)
So if the top pages have 2,000 words, why do I recommend 1,000?
Two reasons:
Writing a 2,000-word description for any product is a pain in the ass
Reviews make up for that 1,000-word deficit!
Product reviews boost eCommerce SEO. Plus, they increase conversion rates. If you're not collecting reviews, get a review plugin and start prioritizing them!
If you need help, here's a guide to writing killer product descriptions that sell.
To speed up the process, here's a format you can use for all your descriptions: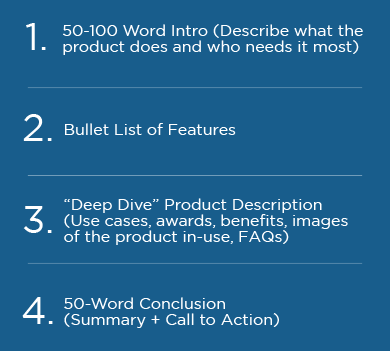 To pull everything together (and give you some more tips), here's an infographic on optimizing your product pages by Brian Dean: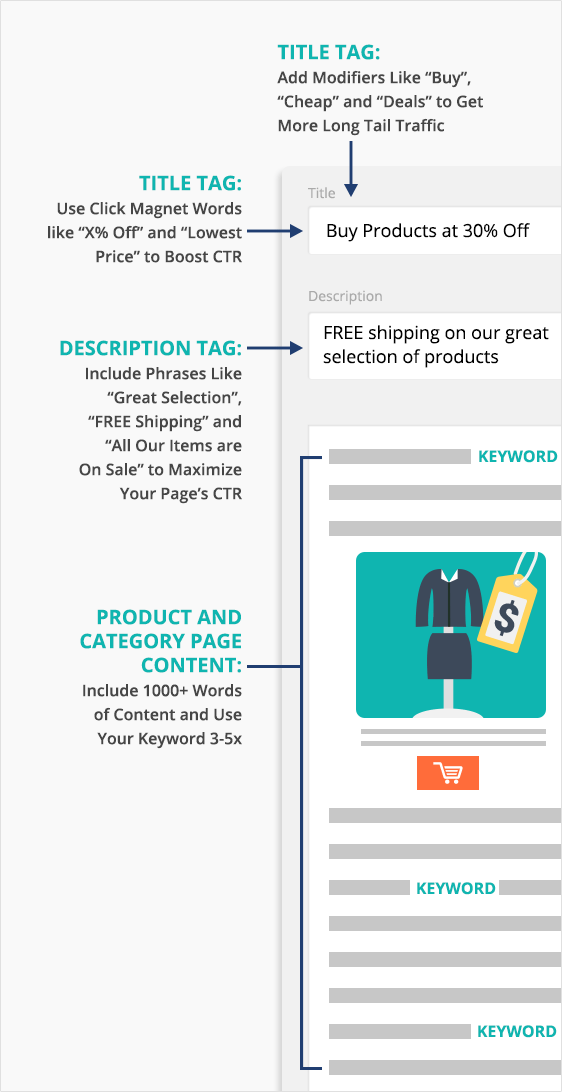 Notice his tip about using modifiers like "Buy", "Cheap", and "free shipping", etc. Great idea!
Pro Tip: Be careful of including social media sharing buttons on your product descriptions. While they can improve your traffic and sales in some cases, they can also distract the user from buying.
Oh, and I promised to cover Latent-Semantic Indexing (LSI) keywords.
Don't freak out - LSI is just a fancy way of saying "keywords Google views as synonymous to your main keyword".
For example, "dachshund", "wiener dog", "doxie" and "sausage dog" are all LSI keywords. They mean basically the same thing, or are at least closely related.
To find LSI keywords, you can just type your main keyword into Google and look at the auto fill suggestions...


...and look at the related searches at the bottom of the page.
You can also use LSIgraph.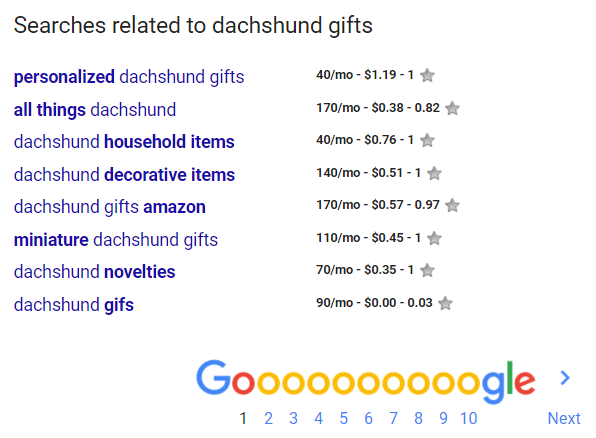 You can also check out Amazon listings for your product. For example, when I look at this Blendtec blender on Amazon, I notice a whole slew of LSI keywords: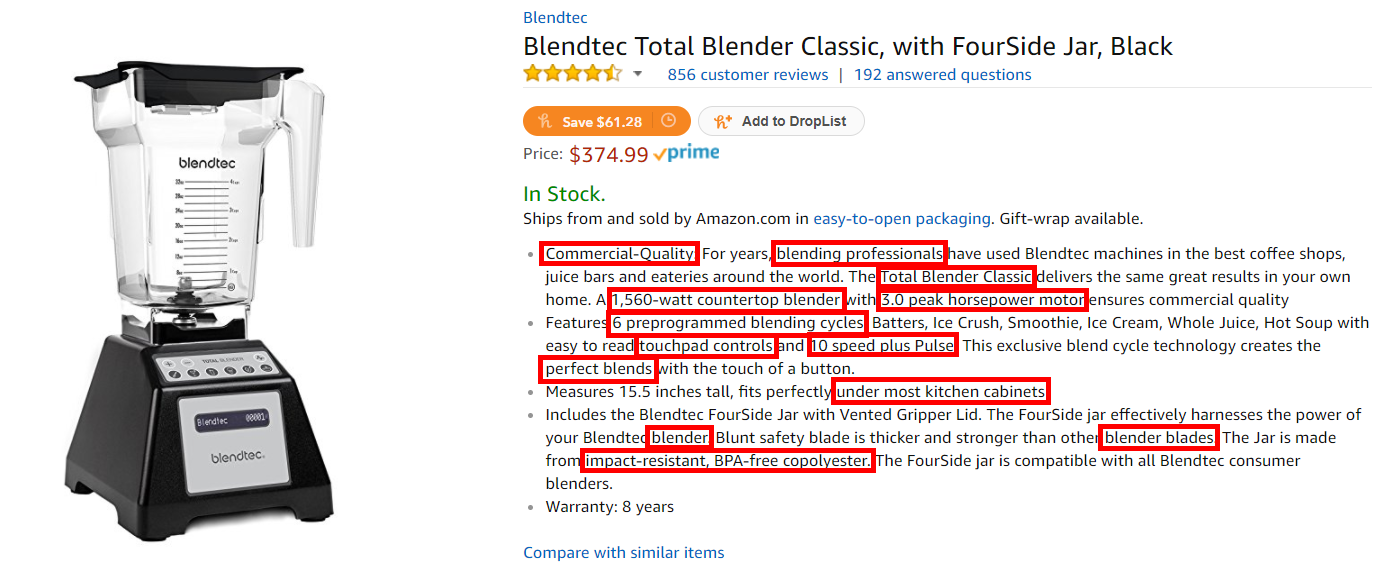 So find out your similar keywords, add them to your product pages, and start ranking better for everything!
Pro Tip: If you have a competitor that outranks you, use the same process on their site. Look for the LSI keywords they use describe their product.
Finally, just repeat this process for all your products.
I don't mean to say that like it's no big deal. I know this can seem like a daunting task - and it is - so I recommend you work on 10 per week, starting with your most popular products.
Alternatively, you can always hire a writer to do it for you!
Pro Tip: Make sure you have top-notch product images as well. While this won't directly impact your SEO, it will have a dramatic effect on your conversion rate.

Step 3: Improving your site structure and navigation
Once you've optimized your category and product pages (or got tired of drudging through them all), it's time to tighten up your site navigation and architecture.
Actually, you could do this step before step 2 if you wanted to. They're both equally important to SEO, so if you skipped step 2, feel free to jump in here!
This process is pretty simple, really. It comes down to the two golden rules:
Every page should be 3 clicks or less from any other page
Make everything simple and scalable
More on those rules later - for now, let's look at what NOT to do.
Example of how NOT to set up your eCommerce site's architecture
Here's an example of a site that breaks the two golden rules: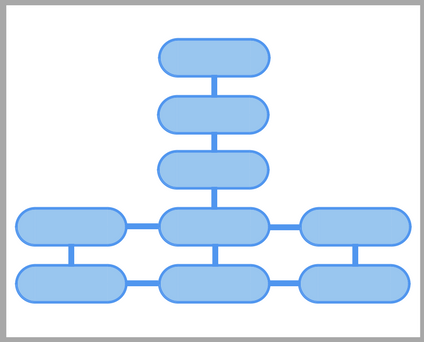 What's wrong with this picture?
For one, it's not simple. There is no logic to where something goes.
Second, it's not scalable. To add anything, you'd need to add another layer and reorganize category pages.
But most important for SEO, it's far too deep. For most eCommerce sites, the majority of the site's link authority (PageRank) will reside on the homepage.
And when you have a "deep" site architecture, that authority is diluted by the time it reaches your product and category pages.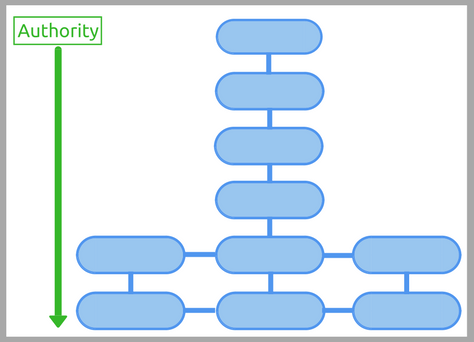 In this example it takes 5 clicks to reach the first product page. As I mentioned above, you want all products to be three clicks or less from your homepage.
Pro Tip: If your site already has a poor architecture, don't start moving pages around until you've consulted with an SEO expert. They can help you ensure old pages redirect to new pages. When done right, you can make huge changes to your site's structure without losing significant search traffic.
Example of an SEO and User-Friendly eCommerce Site Architecture
Now that you know how not to set up your site, let's take a look at an example of a well-optimized eCommerce site architecture:


As you can see, authority is properly passed from the home page to the category and product pages without getting too diluted. This concentrated authority helps these pages rank in Google and increases indexation (read this piece on crawl budget to learn more).
As it happens, The Smoothe Store has a decent site structure. You can get to any of their category or sub-category pages right from the home page: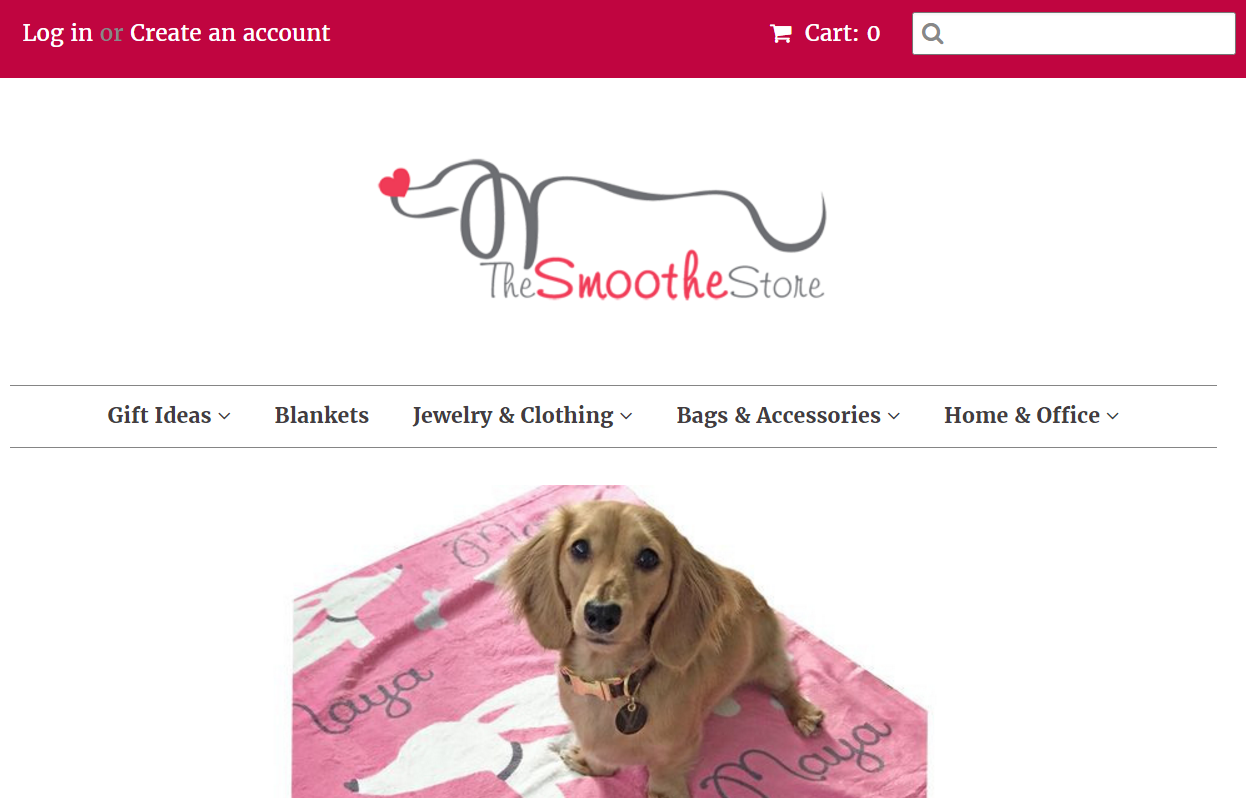 This is great for SEO and for your users — it makes it easy for them to find the products they're looking for.
And that's about all there is to eCommerce site structure.


Step 4: Perform a technical SEO site audit
A technical SEO site audit is a process where you scan your website for:
Broken links
Thin and/or duplicate content
Problems with your title and/or description tags
Missing alt text
An eCommerce SEO audit really isn't as difficult or complicated as it sounds. There are several SEO tools that can help you out:
It's a matter of preference. Personally, I use either Screaming Frog or Ahrefs because I pay for them already and don't need another tool.
However, I've heard SEOmator is really easy to use for beginners, so that's probably a good option.
Once you've crawled your site, just fix all the errors — remove or replace broken links, add image alt text, beef up thin content (pages with less than 250 words), and fix any problematic metadata.
A note on duplicate content: eCommerce sites can often be the victim of insane amounts of duplicate content due to two things:
Search pages
Category pages with lots of options (color, size, price, etc.)
This is because these pages can create thousands of URL variants for the same or highly similar category pages...
Which means Google has to then index those pages, causing massive duplicate and thin content and eating up your crawl budget (see the article I shared in the last section to learn more about crawl budget).
To fix this problem, check out this guide. (Be warned — it's pretty in-depth!)
You've (hopefully) completed your audit. But we're not done with technical SEO, yet!
Next up:
Use internal links to boost your product and category pages
Internal linking simply means linking from one page on your site to another.
This helps in two ways:
Easier navigation through your site for users
It passes some page authority from one page to another
Luckily for you, eCommerce sites naturally have a strong internal link structure in the form of navigation, related products sections, and category pages.
However, there's more you can do:
If you have a high-ranking page (like a blog post — more on content later), linking from that page to your category or product pages will improve their ranking!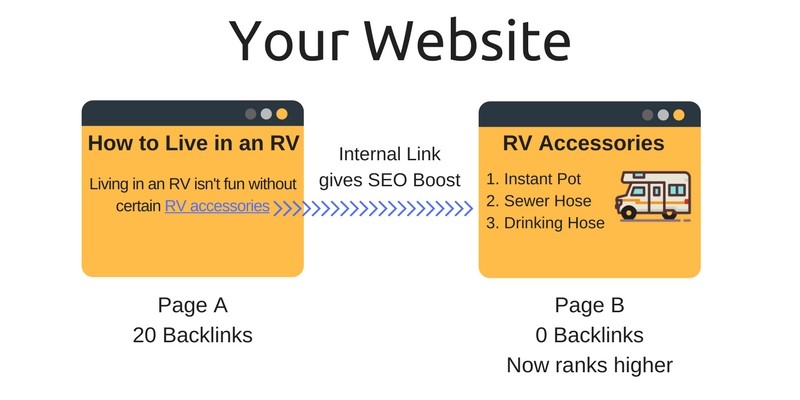 For example, let's say you have a blog post that's generated a lot of backlinks (more on backlinks later as well). You also have a product page that ranks #5 in Google for a high-converting term (like "dachshund gifts").
You'd want to add a keyword-rich anchor text link from that post to your product page.


Rinse and repeat! Then...
Implement product review schema to get rich snippets displayed in Google
You've probably seen Google's rich snippets, like star reviews or pictures next to their listings:


You can get those for you own site!
Well, increase your odds, at least.
Rich snippets work by giving search engines (like Google or Bing) deeper information to display. You send them this information using Schema markup — a piece of code you pop into your HTML.
The easiest way to do this is by using Google's Structured Data Markup Helper.
Here's exactly how to use this awesome tool and quickly implement Schema markup:
First, head over to the tool and choose "products" from the list of options.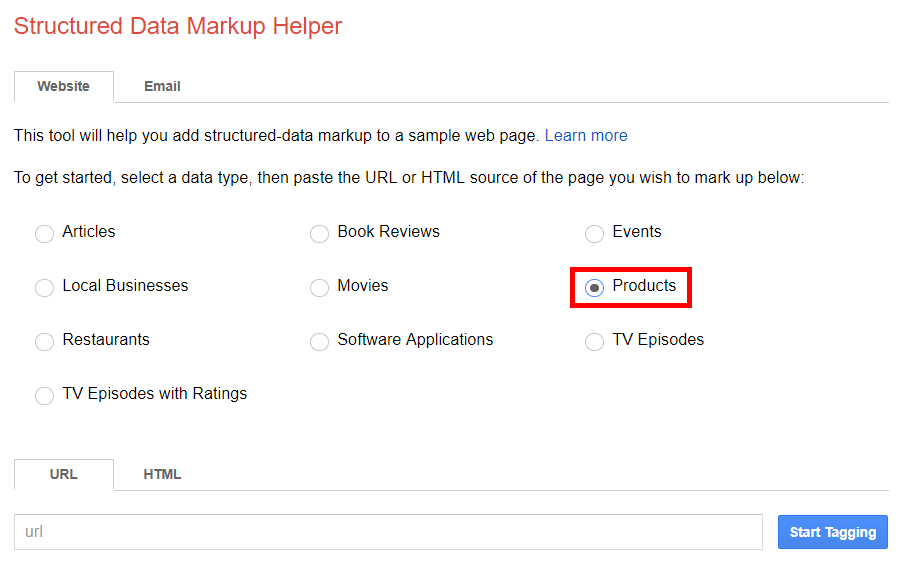 Next, find a product page on your site that has reviews and ratings on it. This can be a single reviewer, or multiple user reviews.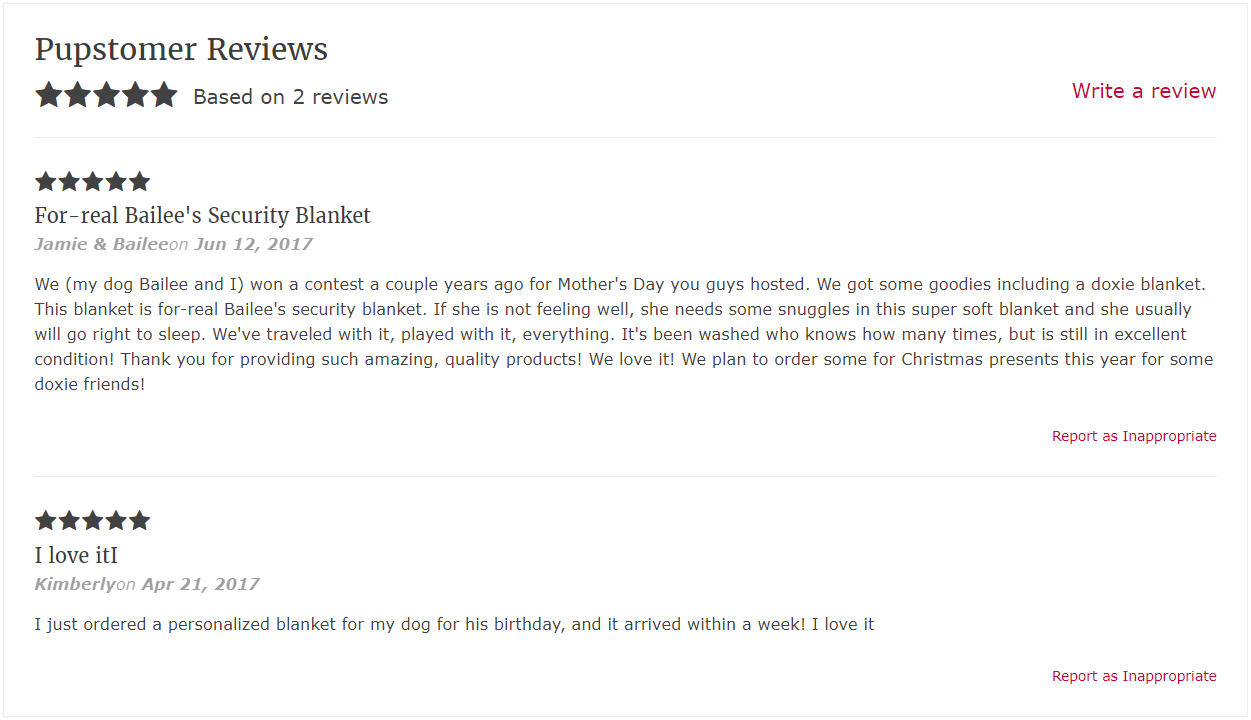 Paste the URL of that product page in the URL field and click "Start Tagging".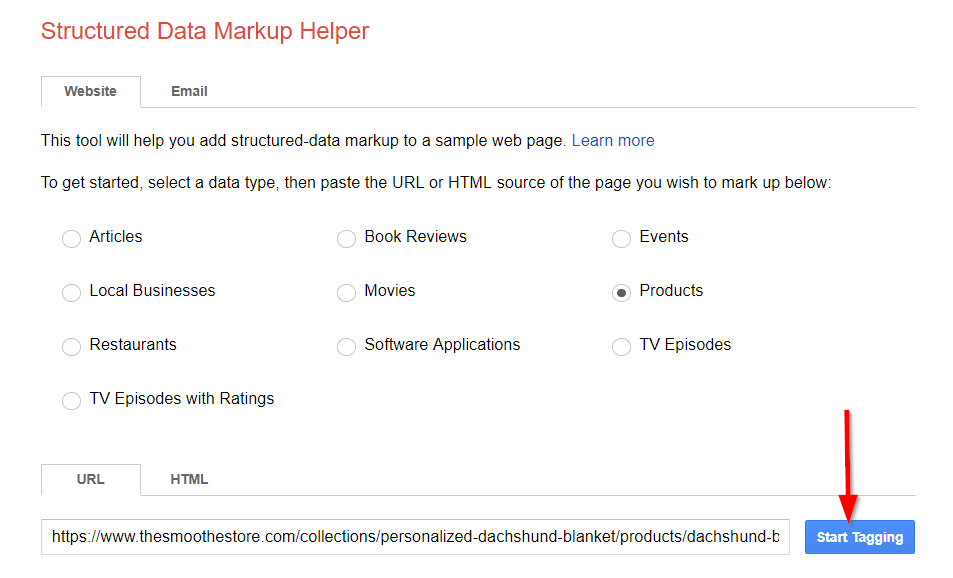 Then highlight the section of the page you want to tag. In this case we're going to focus on product reviews and ratings.
If your product was reviewed by a single person, choose "Review". Then highlight the name of the person who reviewed the product, the date of the review etc.
If multiple customers reviewed the product, highlight the number or star rating and pick "Aggregate Rating".
Finally, highlight the number of reviews and choose the "count" tag.
When you're done, click "Create HTML".
You can either copy and paste this new HTML into your page or simply add the new Schema markup to your existing HTML.

Next, use Google Search Console to double-check that your Schema is implemented correctly.
Head over to "Search Appearance." Then choose "Structured Data".
Here you'll see the Schema markup Google has found on your site and if you have any errors.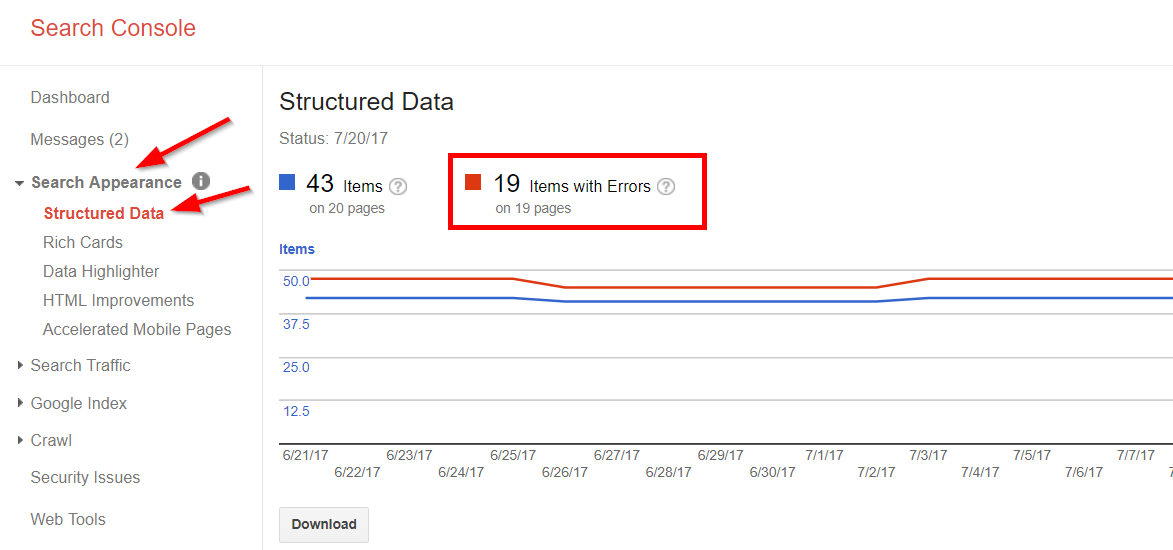 For additional help on structured data, check out Neil Patel's article.
Pro Tip: You can totally skip this entire process by installing the JSON-LD for SEO Shopify app. It's a one-time fee of $69 and automates it for your entire store. Don't worry about going through thousands of pages — this does it for you. It's a no-brainer.
Finally, there's one last piece to perform for technical SEO...
Boost your site's speed
Did you know that for every second your site takes to load, you're losing 7% of your conversions?
Or that 40% of people will abandon a site that takes longer than 3 seconds to load?
Site speed matters — especially on an eCommerce site.
To check your site's speed, just plug your URL into a tool like Pingdom.


So how do you boost your site's speed?
There are plenty of ways, but the best are these:
Get a better hosting provider (I'd spend at least $50 per month)
Compress large files, such as images
Install a caching plugin (if you're using Shopify, this is built in)
Here's a guide to help you with all these things.
And that's that! Give yourself a quick pat on the back - you made it through the technical SEO section.

Step 5: Monitor your results
Now that you've done all the hard work, it's time to sit back and watch.
Within a few days to a few months (depending on your crawl budget and your site's domain authority), you should start to see some significant increases in search traffic.
Aside from compulsively checking your Google Analytics all the time to see if your search traffic goes up, you can use Ahrefs to monitor your site's organic rankings.
They even give you a dashboard to see whenever your keywords move up or down on the search results:

Of course, just because your site is properly optimized, doesn't mean it will magically beat all your competition. Google has many other ranking factors, and the two most important are:
Content
Backlinks
Link building is a major part of SEO, and is necessary no matter how well optimized your product descriptions are. But you'll learn more about that in the next section...
Conclusion & Next Steps
Congratulations on making it all the way through this guide — it's a monstrous 4,700-word post!
By now you have a complete understanding of on-page SEO for eCommerce. If you followed the guide, your site is completely optimized and ranking as best it can.
Or is it?
Like I said — content and link building are the two most important ranking factors. Particularly for eCommerce websites.
If you want to continue to climb the search results, I encourage you to consider eCommerce content marketing. It's the easiest way to increase your rankings in as short a time as possible (after optimizing your site).
Good luck - and please share this article if you found it helpful! :)
Have any questions or eCommerce SEO tips of your own? Share them in the comments below!