Our 7 best tips to get more product reviews and boost your sales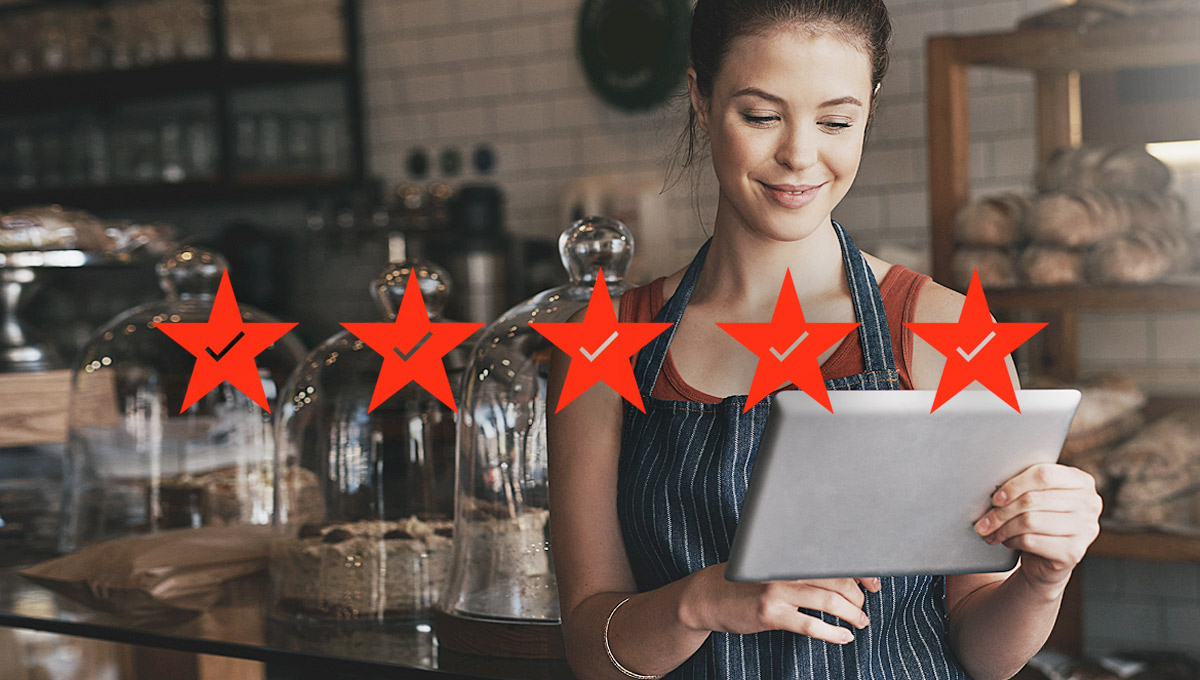 Product reviews are the secret sauce of conversions.
Get this: 88% of consumers trust reviews as much as personal recommendations.
That's not all…
Customers spend 31% more with a business that has "excellent" reviews.
If you aren't using product reviews, or aren't getting raving reviews, that needs to change. Now.
But don't worry if you haven't been up on your review game.
In this guide, I'll teach you how to get amazing 5-star product reviews without slaving over a computer or bribing your customers with crazy offers.
Let's get started.
7 tips to get more reviews
Getting product reviews isn't really that difficult. It just takes a few tweaks to do it the right way.
You'll probably see these tips and immediately think, "Yea, that makes sense. I can do this!"
And in case I didn't hit it home already, trust me - you need product and store reviews.
Customer reviews are one of the best marketing strategies out there. And not only do they increase conversions, but they can also be used in Facebook ads, give you an SEO boost, and increase your customer lifetime value.
But there's one thing you need to do if you ever hope to get more reviews...
1. Make the ask
How can you hope to get any reviews if you don't make the ask?!
This sounds simple, and perhaps even silly, but there are so many stores out there that have reviews, but don't ask for more. You should be asking everywhere you can.
For example, Beard Brand has a big, bold "Write a review" button on every product page.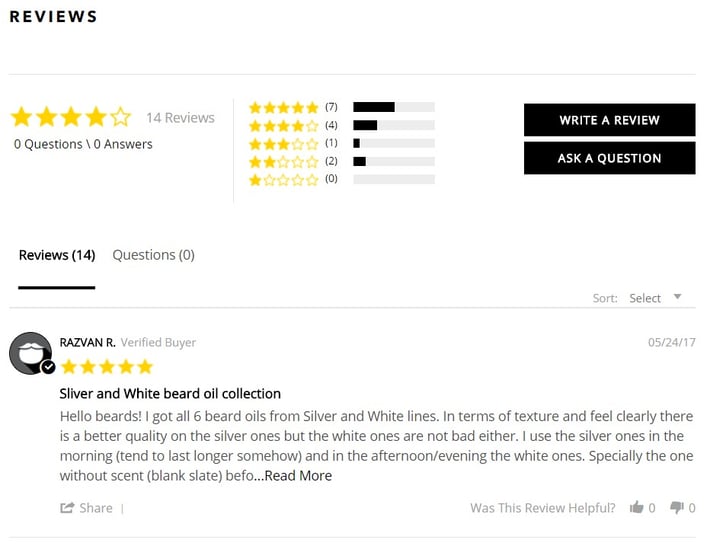 If you don't already have this feature, you can get it by installing the YotPo Social Reviews Shopify app. Their app is nice and clean, with a great user interface.
2. Go mobile and make it stupid easy
One of the biggest obstacles to garnering user reviews is making the process too complicated.
Rather than making users go through multiple steps, make it a simple one-click process. Don't even make them log in.
Also make sure your customers can leave reviews on their phone. Over half of all reviews left using YotPo were written on a customer's mobile device.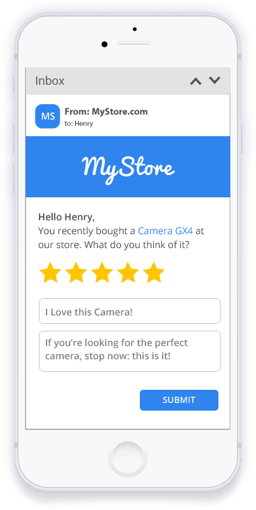 See how simple the above email is? Henry can just click his star rating and leave his review right from the email. That's powerful.
Speaking of email...
3. Send a post-purchase product review request
According to YotPo, post-purchase emails are the #1 way to get reviews, with an average customer response rate of 8.1%.
This is because customer reviews are usually sparked by a moment of inspiration or excitement - by an experience.
Your best bet to be in that experience is with an email sent within seven days of a purchase. This ensures they've gotten the product and it's still fresh in their mind.
Pro Tip: This is also the perfect opportunity to ask for an upsell! If a customer loved your first product, chances are they'll be interested in buying a second.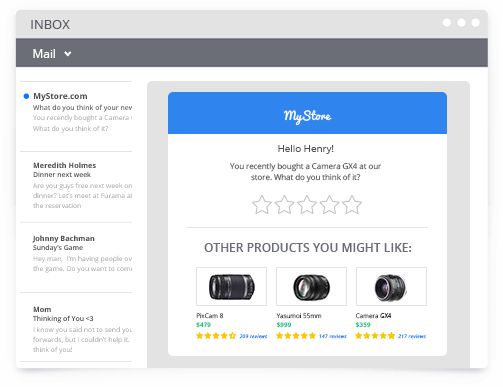 This will also increase your customer lifetime value.
The more actions a customer takes with your brand (like buying, reviewing, engaging with you on social media, opening your emails, etc.) the more they'll tend to spend with you.
Ryan Deiss, co-founder of Digital Marketer, calls this "bouncing your customers around." He encourages you to get your customers to whitelist your email, follow you on social media, and re-opt in to multiple offers. All this bouncing around builds trust.
But there's one big question… which product do you ask for a review on if your customer orders multiple items?
4. Ask for reviews on the right products
If a customer orders three things, you shouldn't ask for a review on each item. It will kill your chances of getting any review at all.
Instead, a neat trick is to ask for a review on the most expensive product.
Products that are over $100 get almost 10% more reviews than products that are under $30.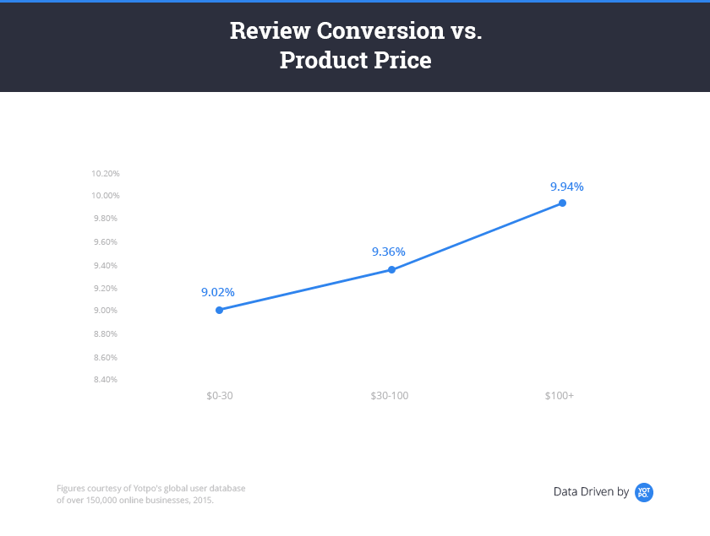 People are more likely to review something they spent more money on. They're more invested in it, both with cash and emotion.
However, there is one caveat to this rule of thumb...
5. Don't neglect your other products
You need reviews across all of your products, not just your best sellers. Having a ton of reviews on some products and none on others will hurt you, not help you.
If your customer purchases one product that's expensive and one product that barely has any reviews, ask them to review the one with no reviews.
It's also important to get general site reviews on top of product reviews. Site reviews build trust in new visitors who are deciding whether or not to buy from you.
Now, to increase your chances...
6. Show your customers some love for showing some love
Any time a customer leaves a review for you, they're doing you a huge favor. You should reward them for that.
Discounts, freebies, and social mentions are some of the ways you can give back. Especially social mentions - they're free and work great because you're boosting your customer's ego. What more could you want?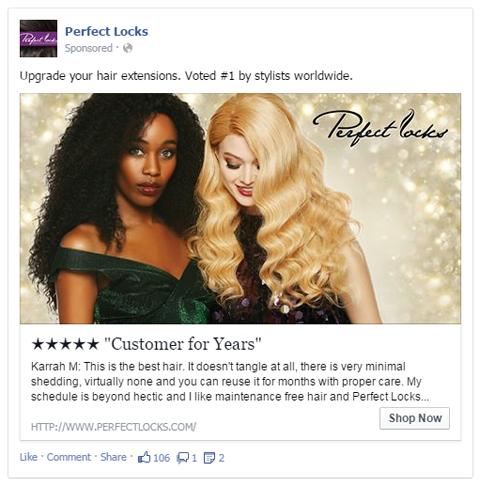 Karrah M is sure to feel flattered if she sees this! (Personally, I would have tagged her for maximum effect.)
You can even do a double whammy by giving your customers another discount when they share the review. Heck, build it into your loyalty program and turn it into a game - the more they share, the more points they get!
7. Have a good product and provide great service
In the end, getting reviews is going to be impossible if your product or your service sucks. In today's highly competitive world, you can't afford either.
Providing excellent customer service requires a certain set of skills. Hone them. Master them. Teach them to your employees.
Do whatever it takes to leave a massive positive impression on your customers. They'll return the favor with tons of reviews, free word of mouth, and loyalty. It really is that simple.
But now what?
Next steps: What to do with your new reviews
Now that you have some sexy reviews, your work isn't over. There's more to be done!
If you really want to get the most out of your hard-won reviews, I highly recommend taking these steps to ensure you get the most value from them.
Here are your three next steps:
Step 1: Respond to your reviews
One of the best parts of customer reviews is the social aspect. These are real people talking about real experiences with your products. So talk back to them!
Look how Amy's Restaurant handles this customer: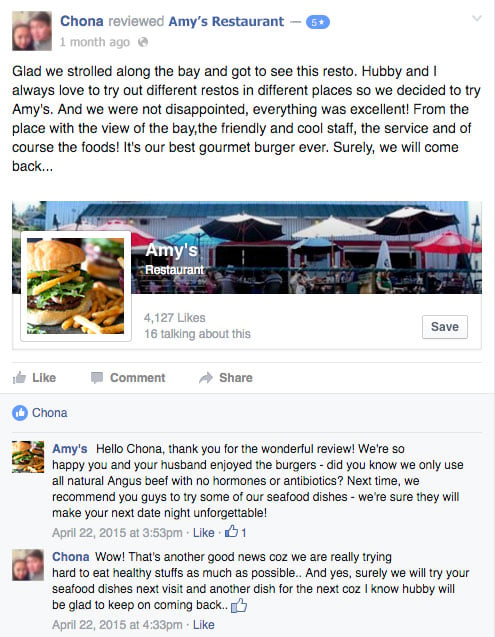 They said thanks and gave them a recommendation, which built a bond between them and their customer, increased the likelihood, and made them look good to anyone else reading the comments.
In fact, not only is responding the polite thing to do, 92% of consumers now read online reviews. Which means if you respond, they see that too.
But what if the review isn't positive?
Step 2: Fix any negative reviews
If the review is negative, that's even more reason to respond! In fact, you should never let a negative experience go - always work to immediately fix the situation.
You should be happy when you see a bad review. Why?
Because negative reviews give you a chance to turn a hater into a lifelong customer! They also show review readers that you're willing to quickly resolve any bad experience, furthering the chance that they'll buy from you.
Look how this Honda dealership handled a complaint: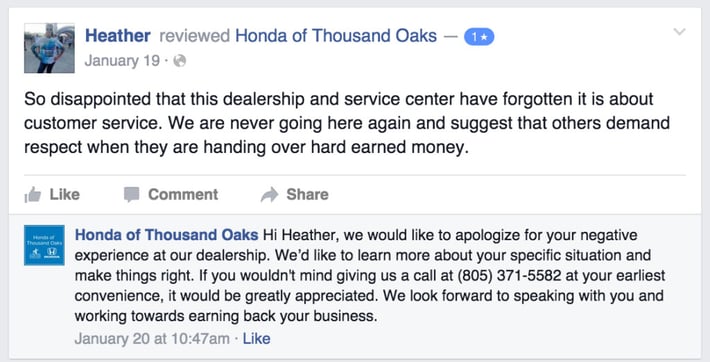 While this isn't the greatest response, it does get the job done. The important things to consider here are:
Always apologize - never put the blame on the customer.

Give them contact information.

(They didn't do this) Explain how you will handle the situation to make it right.
But most of all, unlike Honda's response - try to sound human and show empathy. People want to talk with other people, not scripts.
Pro Tip: After solving a customer's complaint, ask them to submit a new review! You can turn bad ratings into 5-stars if done right.
Now you only have one step left!
Step 3: Display your reviews in your ads
Facebook introduced the ability to display user generated content in your ads a little while back. It's awesome, and I highly recommend you use your cool new reviews.
In Social Media Examiner's guide to using reviews in your Facebook ads, they lay out three solid pieces of advice:
Choose the right review - preferably a positive one that tells a personal story.

Craft compelling copy and don't mention the review in your post - let the image speak for itself.

Focus on setting up the right

ad targeting options

.
And there you have it - you've got a compelling Facebook ad using other people's content.
A few final words
User generated reviews are one of the easiest, most powerful and affordable ways to market your brand and your products.
All you have to do is keep it simple, provide awesome service, and, most importantly, don't forget to ask!
Finally, if you want to make the most of your reviews, don't forget to integrate them with Bold's Product Upsell app and your loyalty program.