The 11 best eCommerce blogs to follow in 2018
Wanna know the secret to massive success?
Constantly learning and pushing yourself to step up your game.
One of the best ways to do that is by following the best eCommerce blogs on the internet. The wealth of free information these eCommerce marketers are pumping out is staggering!
I'll let them do the talking.
The 11 best eCommerce blogs
Here's how we'll do this: I'll list each of the 11 blogs you should follow, along with two or three of their best blog posts you can get immediate value out of.
We've found everything from marketing blogs by real eCommerce business owners to Google Analytics specialists, Facebook ad gurus, and more. All to help you grow an eCommerce business.
Let's get started!
#1: A Better Lemonade Stand
A Better Lemonade Stand is run by Richard Lazazzera, an ex-Shopify marketing guru and long-time eCommerce fanatic.
If there's one thing I absolutely love about Richard's blog, it's the design. His whole site just looks so darn sexy. He uses great modern designs for all his images.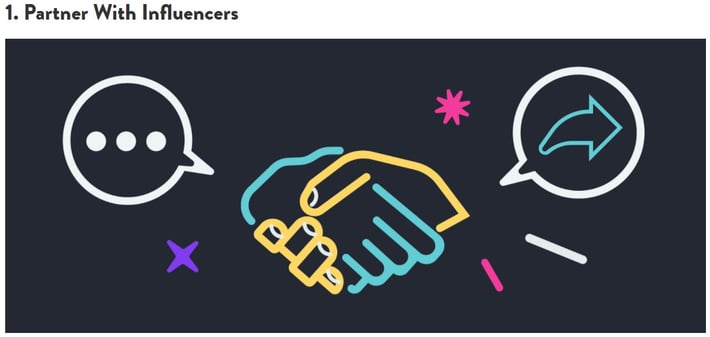 But more than that, I love how helpful his posts are. I mean, they're packed full of raw value and actionable step-by-step advice.
Here are some of my favorite posts to help you run an online store:
#2: Shopify
Shopify is probably the biggest eCommerce platform in the world right now. They've revolutionized the way people sell things online.
What I like about Shopify's eCommerce blog is their diverse coverage of nearly every retail business topic imaginable, from site design to online marketing, product selection, and more.
I also love that almost every other blog on this list has written a guest post for Shopify at one point or another. They have some of the best online retail minds in the world writing for them.
Rather than listing a few posts (they have literally thousands), I'll just leave you with one post that covers their best:
#3: Shopify Plus
Shopify Plus is Shopify's sister blog targeting more advanced eCommerce marketing tactics. In fact, they're targeting enterprises, not small to medium businesses who just started selling online.

If you're making the big bucks (at least seven figures), you can learn a lot here. They want to take you to eight figures and beyond.
Here are a few great reads:
#4: BigCommerce
Shopify isn't the only eCommerce platform out there. BigCommerce is their biggest competitor.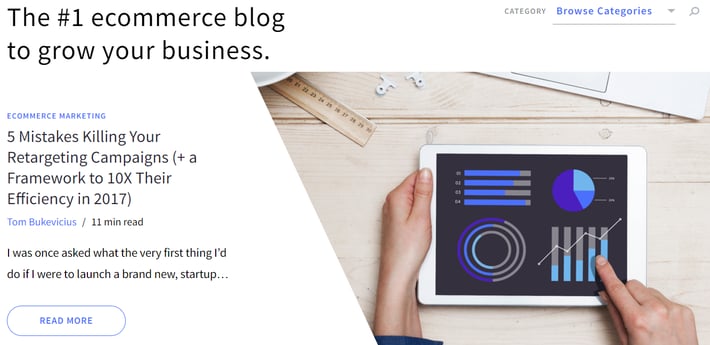 While I feel many of the BigCommerce blog posts aren't quite as professionally executed as Shopify's, they do have a lot of great content worth reading. They're still one of the best eCommerce blogs to follow! Especially now that Tracey Wallace is heading their eCommerce marketing blog efforts.
Here are a few of their best blog posts:
#5: SaleHoo
SaleHoo is primarily a supplier directory. While they've had a blog for a long time, they've really started stepping up their game recently.
(I should know - they hired me to write for them! ;) )

Their blog focuses heavily on dropshipping. They have a complete guide to dropshipping and discuss the pros and cons of tools like AliExpress, among others.
Here are some good reads:
#6: Traffic and Sales
Traffic and Sales is run by Felix Thea, host of the Shopify Masters podcast, and it's all about helping you improve your conversion rates.
Felix's blog is still fairly young and doesn't have as much content as many of the other blogs on this list, but it's still a great place to find practical info.
The main advantage to Felix's articles are that they're different than many of the other things out there. He seems to be diving into different topics than what the bigger blogs are covering, so you get a different angle on things.
Here are his most popular write ups:
#7: eCommerce Genome by Compass
The eCommerce Genome is Compass's online retail blog.

Because their main product is an eCommerce dashboard that allows you to see your data and benchmarks, many of their posts are data-driven. Which is great, since it's better to make decisions based off proven data than hunches.
Some of their most popular include:
#8: Practical eCommerce
Practical eCommerce is a publication created by Kerry and Joy Murdock in 2005. Its mission is to "provide down-to-earth articles and commentary to help ecommerce businesses."

Like Shopify, Practical eCommerce covers almost every topic under the sun and includes experts from all over the world.
Like the name suggests, they also provide a lot of practical tips for practitioners. If you're willing to put in the work, their articles can really move the needle in your business.
Here are a few posts I love:
#9: ReferralCandy
Our partners ReferralCandy run a mean blog (in a good way)!

These guys are all about (you might have guessed it) getting more referrals. Which is great, because referrals are basically free customers. And high lifetime value customers, too!
Start with these articles:
#10: eCommerce Fuel
eCommerce Fuel is a stellar blog run by Andrew Youderian, a long-time eCom-obsessed store owner. He's run several shops, including Trolling Motors, which he actually sold for $200k and mapped out the whole process.

Again, the reason Andrew made it to this list is because his advice was hard-won. He has the experience of running six and seven figure stores, and coaching others to do the same. His articles and guides are mapped out with screenshots and all the little details so you don't miss a thing.
As an added bonus, Andrew and his team also run an eCommerce podcast! So you get the best of both worlds.
Here's the best of eCom Fuel:
#11: BoldCommerce
We saved the best for last! ;)
In all seriousness, Bold is making a big stamp in the world of eCommerce blogging. We're putting out one or two powerful posts per week, backed by real-world examples, data, and interviews with hundreds of other online store owners just like you.
Here are some of the best articles we've written so far:
And there you have it! The 11 best eCommerce blogs on the web. These publications are the best resources for online retailers to learn and grow.
Selling online isn't easy. You need to learn how to start an online store, how to build your website, how to source products, how to run Facebook ads, how to install Google Analytics, and other eCommerce best practices...
But these top eCommerce blogs share the best digital marketing and growth hacking tips on the web. So start learning!
Did we miss anyone? What are YOUR favorite blogs to help grow your online store? Let us know in the comments!