Tips to maximize your eCommerce customer service
Customer service allows you to hit the hearts of your followers.
And any good brand shouldn't just have customers… they should have followers. Brand advocates, even.
You get that by providing the absolute best customer service possible.
Just take a look at this example by Sainsbury: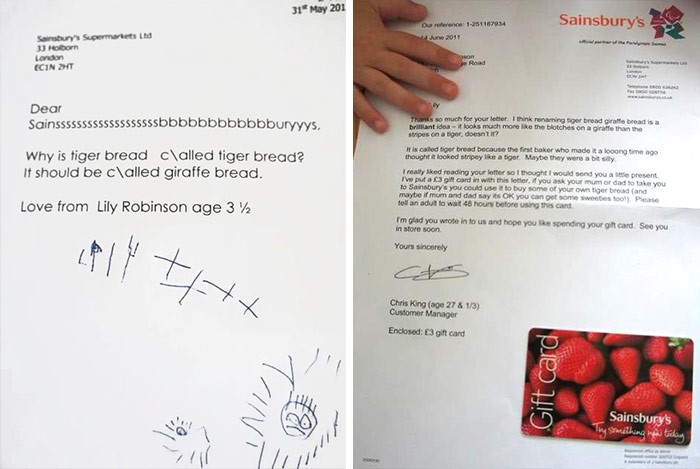 Click here to see an enlarged version
That simple letter to a girl that couldn't spell landed them publicity on dozens of sites. It got them back links for better SEO and more social media followers.
But most importantly, it got them brand advocates. People resonated with it.
And that's just one example. Great customer service has the power to multiply your eCommerce brand in ways you can't even imagine.
Let's see how you can do the same.
1. Keep it stupid simple.
The KISS method of doing things even applies for eCommerce customer service.
You don't need to offer email, live chat, social media, and phone support right from the get go. It's just too much to handle, even if you have helpdesk software.
Instead, you should focus on one or two channels and get really good at them before you add anything else.
Typically, that means email and social media. (Since you already have email and social media accounts.)
And how do you use them as effectively as possible?
2. Set up a knowledge base.
A knowledge base is an area of your site dedicated to customer service.
They're full of answers and tutorials you can send customers to help with common questions and problems. They save you time by having a pre-created answer and help you train new customer service reps.
For example, a FAQ page is part of a knowledge base. According to Braveen Kumar from Shopify, an FAQ page can:
Alleviate purchasing anxieties that your product page copy doesn't directly address.

Relieve some of the burden on customer support by publicly answering common questions.

Improve SEO and site navigation.

Earn trust by demonstrating product expertise and explaining your business model.

Delight customers by creatively answering their questions.
Deathwish Coffee created an awesome FAQ page you can take a look at for inspiration: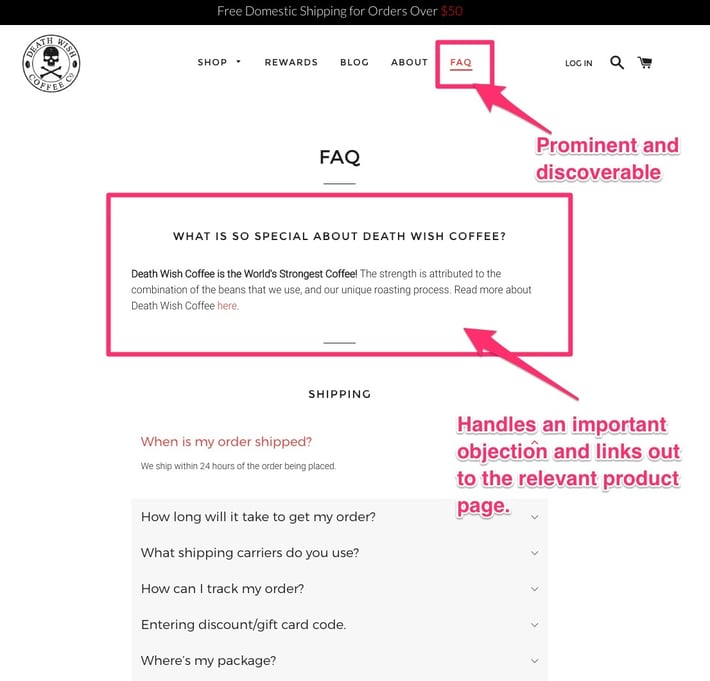 Check out Shopify's full guide to creating eCommerce FAQ pages here. They cover everything from finding the right questions to keeping SEO in mind for your page.
3. Use tools to automate your customer service.
Automation is a tricky beast.
On one hand, it can help you become super-efficient and frees up your time to focus on more important things, like marketing and growth.
On the other hand, it can come off as inhuman, robotic, and down-right annoying. People don't take well to being automated…
...unless they don't know they're talking to a robot!
That's the power of intelligent automation.
How do you do that?
In his guide to customer service automation on Groove, Brian Gladu explains how you can integrate your email provider with Zappier to send an email to customers when they repeatedly view help documents on your knowledge base.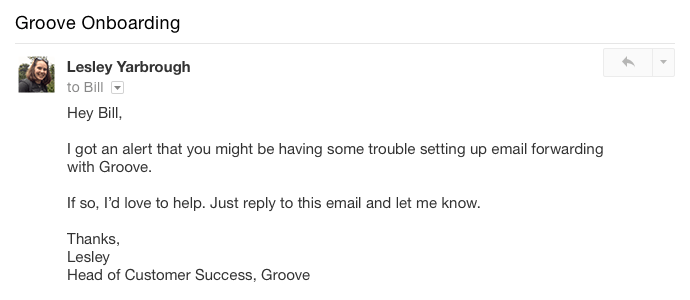 Side note: Kinda weird that their example happens to have my name. Small world, right? :)
The great thing about this is that you engage with customers who may have not found the help they were looking for, and would have left if you didn't reach out to them.
And you did it automatically, without lifting a finger.
That's only one of the ways Brian discusses in his guide. He also talks about how to create an intelligent onboarding email sequence, automate support request followups, and more. Definitely worth checking out!
4. Get good at social media.
It's 2017, people. Social media isn't going away.
According to Statista, roughly 81% of the U.S. population is on one form of social media or another.
And get this:
A study by Bain & Company found that when companies engage and respond to customer service requests over social media, those customers typically spend 20% to 40% more with the company.
WOW! That should be reason enough to get good at this.
But how do you get good at social media customer service?
I'll hand it off to Groove's writer, Len Markidan, to help answer that question.

"You don't actually have to stare at your social media feed all day (as tempting as that may be) to know when your customers need help," Len explains in his guide to social media customer service best practices.
"There are some very useful tools now that will alert you when you get mentioned.
They range from free search tools like Social Mention…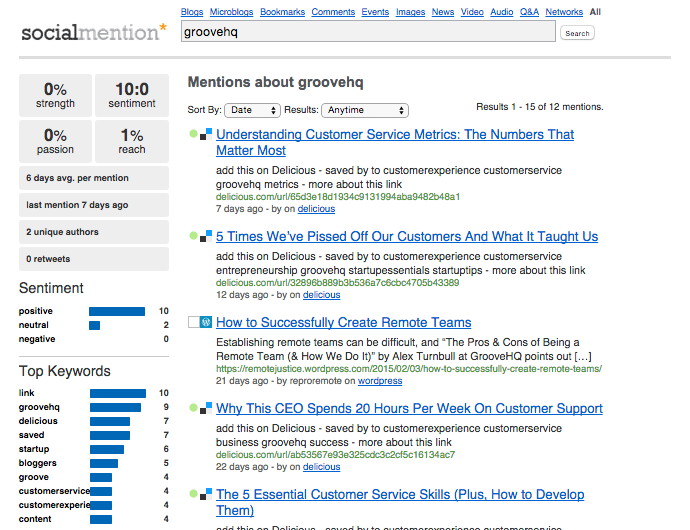 To full-featured paid products like Mention.
These tools can help you stay on top of when and where your product gets mentioned so that you can respond to your customers. They're great for marketing, but just as important for customer support."
Len goes on to explain how to best use these tools, what tone of voice to use, and how quickly to respond to messages, among other things. Another must-read if you're serious about support.
5. Use live chat.
Live chat software has quickly cropped up as a "must-have" website feature.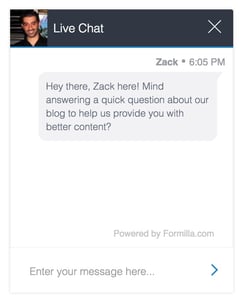 And that's partially true… 42% of customers selected live chat as their preferred method of receiving customer support. That's higher than any other support method
You can also use live chat to get customer feedback, engage with your customers, and close sales. It's pretty versatile.
While you certainly should use live chat if you have the bandwidth, don't use it if you don't have time to commit.
Why? Because 60% of people hate waiting longer than a minute for a live chat reply.
Is that to say you have to answer every message within a minute?
No, but you definitely can't keep people waiting. I'd wait to install live chat on your site until you're ready to be around, or you've hired someone to watch it when you can't.
If you want some help getting going with your live chat skills, check out this guide to handling customer service scenarios.
6. Consider offering phone support.
Phone support seems almost archaic today.
But, it still has a lot of benefits. You get to talk directly with your customers, which gives you an opportunity to learn about them. Plus, it's fast and it can help you upsell or cross-sell items.
So, should you make the commitment and open your line? Or should you stick to text communication?
Andrew Youderian from eCommerceFuel has some insight on this conundrum:

"Especially early on in a new business, there's no better way to understand your customers than by talking to them directly. You'll learn all sorts of things about them through casual conversation that would never come up in an email.
[However], it's expensive, it's hard to outsource well, and you have to deal with low-value calls.
...Instead of investing in phone support that isn't scalable, I've invested heavily in creating an extremely detailed website with tutorials, pictures and in-depth product descriptions to help shoppers make informed decisions.
I do, however, have a phone number for business clients, as they're more likely to order in bulk. And if we have regular customers call us on this business number, we're happy to help/accommodate them via the phone."
Overall, it seems Andrew believes phone support is something everyone should try at least once. However, unless you sell really expensive products, it's probably not necessary over the long run.
Instead, once you've learned enough about your customers, focus on creating amazing product descriptions and building a solid knowledge base.
7. Create explainer videos.
Part of any good knowledge base is a slew of explainer videos.
An explainer video is exactly what it sounds like - a video that explains what your product is, how it's used, and what it does.
Here's a cool example by FridaBaby:
Obviously, this is really more for complicated or new products that people aren't sure what they do. If you sell something like socks, you probably don't need to invest in a video like this.
(Unless they're, like, smart socks with bluetooth capabilities or something.)
What I like about Fridababy's video is:
It explains a complex problem clearly and simply.

It touches on pain points (not wanting to spread germs and not wanting boogers on you.)

It puts a few cool ideas in there that you may not have known (like the fact that your baby can't breathe out of it's mouth or that the regular bulb things are insanitary. OK maybe if you're a mom you'd know that, but I didn't.)
Creating an explainer video can make customer service easier for you by simply having less people asking questions. You just answer them in the video, or direct people to the video who ask about it.
So how do you create an explainer video?
Fridababy's was made by Demo Duck. I don't know their prices, but it looks like high-quality work.
Alternatively, you can go somewhere like UpWork or Fiverr to have it done.Just watch out for anyone with poor reviews.
Or, if you feel like tackling the project yourself, you can use a tool like Animaker.
And that brings us to the end of our tips!
Conclusion
eCommerce customer service is the one thing that can set you apart from your competition without costing you a cent.
Great service can earn you lifelong customers and brand advocates, less customer churn, and more closed sales.
It can also get you PR mentions and improve your SEO, if you really dig into the details!
If you're ready to commit to five-star support, take time to hone your customer service skills. As with everything, practice makes perfect!
Off to you - what has customer service done for your eCommerce business? Are you going to implement one of the features we talked about after reading this? Let us know in the comments!
And if you enjoyed this post, please take a moment to share it so we can help spread the eCommerce wealth. Thanks for reading!