Top eCommerce trends to look out for in 2017 and beyond
Want to grow your sales this year (and beyond)?
Then you can't afford to rest on your laurels. You need to have your wits about you, and be quick to react to the ever-changing eCommerce landscape.
Just think about how much you have to gain:
Retail eCommerce sales amounted to 1.86 trillion dollars in 2016, and this number is set to grow to 4.48 trillion dollars in 2021. That's an insane opportunity right there - it's practically a goldmine waiting for you to dig in!
How do you capture that market share? By paying attention to eCommerce trends - and being an early adopter rather than a laggard.
These days, it's not good enough to have a nice-looking storefront and an optimized checkout page. These are simply your basic necessities that enable you to build a revenue-generating business.
If you're serious about taking your business to the next level, you need to look at the top eCommerce trends, and use them to fine-tune your strategy.
Here are the top eCommerce trends of 2017.


#1: Mobile traffic overtaking desktop traffic
In 2016, mobile web usage overtook desktop usage for the first time; it's been growing steadily ever since.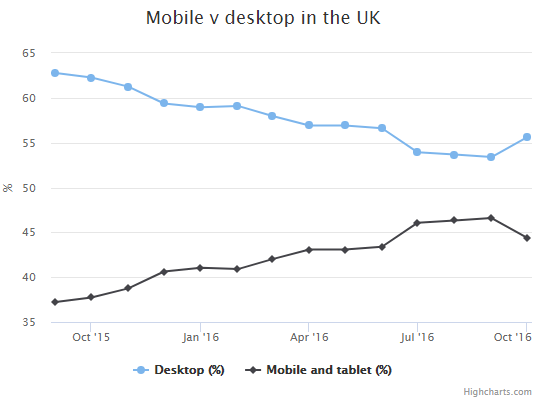 Screenshot from Telegraph.Co.Uk.

This doesn't mean you should completely abandon ship and jump headfirst into a mobile-only strategy, however. Global eCommerce conversion rates are still significantly higher on desktop (4.14% in Q2, 2016) as compared to on smartphones and tablets (1.55% and 3.56% respectively).



Screenshot from Smart Insights.

What does this mean for merchants like you and me?
Firstly, you need a mobile-responsive eCommerce store. (It's 2017, guys. You can't afford not to do this.)
Secondly, people are browsing on-the-go, but return to their desktops to complete their purchases. Think about how you can make this process easier for them.
Some ideas include:
Configuring a bookmark function on your site so that shoppers can "save" certain items
Using automated email campaigns to trigger emails to shoppers, reminding them that they haven't checked out the items in their shopping cart
(If you need some inspiration, check out this link for 11 ideas to stop abandoned carts.)


#2: Predictive analytics
Predictive analytics sounds like a big, scary concept - but don't get overwhelmed just yet. In a nutshell, PA is basically just accumulating information about your shopper, and using it to predict what other items they might purchase.
Sounds familiar? If you've ever shopped on Amazon, or rated a movie or television series on Netflix, you'll have witnessed predictive analytics in action.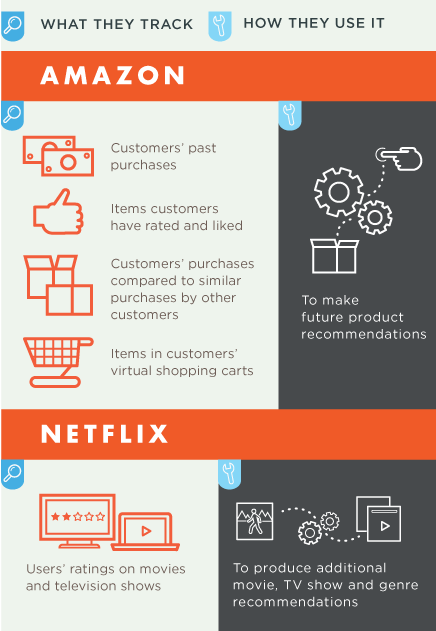 Image from ConversionXL.com.


Amazon takes into account the items you've bought, the items you've rated highly, and the items you've added to your shopping cart (in addition to other info!) to come up with product recommendations. Simple, right?
But predictive analytics isn't just about predicting what type of products your customers might like. There are many other applications, such as…
Predicting average basket size
If you know your shoppers' average basket size is roughly $100 or more, you can recommend items that match or exceed this value to maximize revenue!
Let's say you know that the majority of customers become inactive after 60 days. Before this time period is up, you can email your customer with a special coupon code to incentivize them to re-purchase.
You can use predictive analytics in many other ways, as well.
If you're wondering how much predictive analytics tools cost, you're looking at a minimum of 4 digits. (Trusted platforms include Lattice, Alteryx, and Attivio). It's not cheap, but it's worth it, because you'll be able to increase your revenue significantly.
Here's an example:
In this case study, an education portal used by 30% of college-bound high school seniors dipped their toe into the world of predictive analytics using a predictive advertising system to better match their promotions to their existing traffic. This resulted in a 25% increase in response rate, which translated into (drum roll please)…A whopping $1 million of ad revenue every 19 months.
PS: This was done with only ONE application of predictive analytics. Imagine how much more they (and you!) can earn if you use predictive analytics in multiple areas of your eCommerce business.


#3: Personalization and customization
Personalization and customization are two different things, so let's start off with personalization first.
The thing about these eCommerce trends is - a large majority of store owners know this is something they should work towards achieving, but it often gets waylaid in the presence of day-to-day operational issues. (I know - shocker!)
Some eCommerce store owners give the excuse that their customers are highly private people who don't like to reveal personal information… which is, in most cases, not true.
According to one study, 57% of online shoppers are perfectly fine with providing personal information - as long as it is for their benefit. Also good to note: 77% of online shoppers would trust businesses more if they explained how they use personal information. (This can be easily done using a pop-up, a one-liner explainer, or any other format).
How do you get started with personalization? One easy way to do so is to simply ask your shoppers what they're interested in, like how fashion brand Selfridge's does it.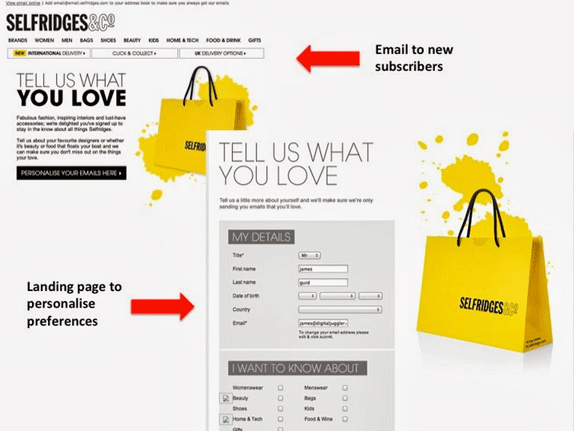 Image from Investpcro.com.

Once you have this information, make sure you only send your subscribers emails about the topics/products that they are interested in.
You can also personalize your shoppers' experiences by showing them a personalized banner on your store during their birthday, like how Gap does it in this example: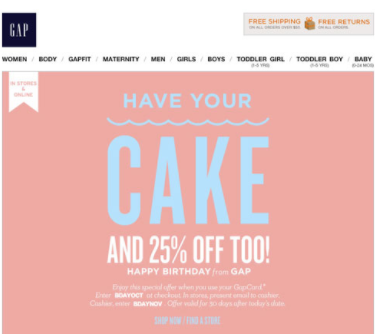 Image from Gap.com.


One last pro-tip when it comes to personalization:
Don't assume that your customer is a certain gender just because he/she bought products catered to that gender. These customers might be purchasing a gift for a friend - and if that's the case, you'll look really silly sending them product recommendations for items that aren't suitable for them!
One easy way to avoid this gaffe? Just make sure you include a "gender" field together with your newsletter sign up form.
What if you don't have a formal sign up form, and you simply auto-subscribe all your customers to your newsletter unless they opt out? In that case, use a landing page like how Selfridge's does. In this landing page, segment your categories by gender - so it'll be "male fashion" and "female fashion" instead of just "fashion", and so forth.
Now, onto customization...
As people become more savvy shoppers, their priorities change. As do their thought processes.
It's no longer: Does this product work well? Is its price reasonable?
It's now: Does this product look good? Will it get me Likes on my Instagram feed? Will I be expressing my personality and individuality with this product? If I show up to a party with this product, can I be safe in assuming that no one else will have the same item?
I'm exaggerating, of course, but you get the drift. No one wants to be that woman who showed up to work in the same dress as her co-worker. In fact, 25-30% of online shoppers are interested in purchasing customizable items.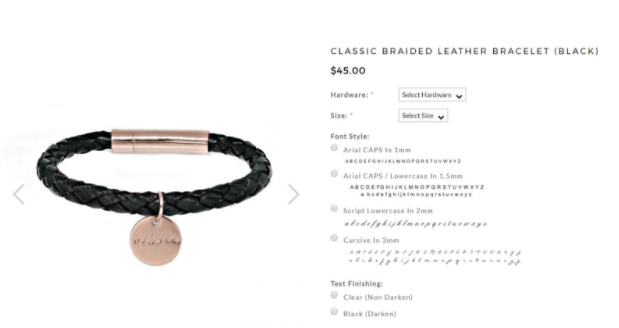 Image from MienLabel.co.


Want to start offering customizable items on your eCommerce store? Here are several things that you need to know about customization. Firstly, customization doesn't mean offering your customers a blank canvas. Do not do this - this isn't an adult art class where you're challenging your customers to explore their artistic side.

Instead, customization is done by offering your customers a simple, pared-down design template as a starting point. By giving them a template to work with, you're reducing friction and making the design process easier. Bonus: production will also be easier on your end!
For example - when people want to customize their Nike shoes, do you think the good folks over at Nike ask them to sketch out a design, send this to their manufacturers, and cross their fingers and hope that the end product will turn out halfway decent? Of course not!
Instead, here's what they do:
Shoppers start the design process with a specific model of their choice. Based on that, they can change the color and material of the base, the color of the mid sole, the color of the swoosh, the type of laces, and more.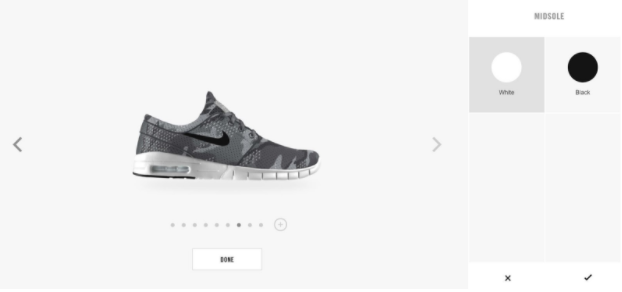 Image from Nike.com.


Secondly, don't be afraid to charge more for customizable items. Here's why:
The process of customizing a product alone - regardless of whether your shopper even adds it to his or her shopping cart - generates emotional attachment to the product in question. Because your shopper is "involved" in the design process and has influenced the end result, he or she is likely to develop feelings of "psychological ownership" towards the product.
Basically, this item isn't simply a product anymore. It's now an extension and reflection of your shopper's identity - one that he or she will be willing to pay a premium for.
Last but not least, make sure you make it as easy as possible for your shoppers to share their creations with the world!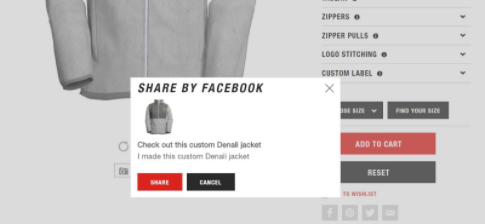 Screenshot from TheNorthFace.com.


Even before the product is purchased, give your shoppers options to share their designs via social media and email, similar to what The North Face has done in the example above.
(Just be wary of putting share buttons on your product pages - this could potentially harm your conversion rates. Test them with and without these buttons to find out for yourself.)
Once your shoppers purchase and receive their product, encourage them to share as well. This can be done by uploading pictures with branded hashtags, posting videos of the unboxing process, or leaving reviews on your website - also referred to as "User-Generated Content" or UGC.
Here are a few advanced sharing strategies:
If you want to incentivize your shoppers to do the above, adopt a "cashback" scheme whereby you refund them 5% of the price they paid when they share their purchases on their social media channels. This can be done with a loyalty program.
Also: don't let all this UGC go to waste. Repurpose them and include them in your Facebook and Google ads, or use them as social proof on the product pages on your website. This can help you increase conversion rates!


#4: Same day delivery
According to statistics, 53% of US shoppers are more likely to make an online purchase if the store offers same day delivery. In addition, 62% of shoppers are willing to pay a premium for this service.

It's all about instant gratification these days. The more you cater to your group of shoppers who want it now, the more you'll earn. So start looking into working with couriers that offer same day delivery, such as Fedex and UPS!

#5: Serving Asian markets
The eCommerce market in the US has been growing pretty consistently (at around 10% annually) for the past decade or so. It's not doing badly, by any means, but it can't hold a candle to the eCommerce market in Asia.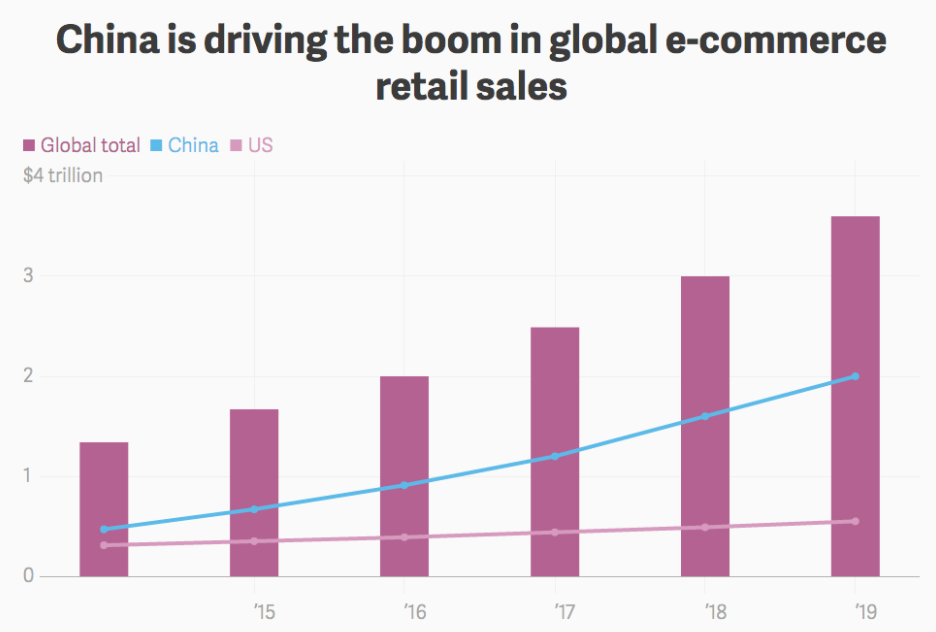 Image from SmartInsights.com.


More specifically, China is the market to watch. In the past few years, eCommerce in China has really taken off - and expert forecasts expect their total eCommerce sales to double between 2017 and 2019.

Just in case you were wondering, that's $1 trillion dollars worth of additional sales, all within three years. If you're not already offering international shipping, now is a good time to start.

Pro Tip: If you have the resources, you might also want to consider setting up a China facing website, and localizing this website for customers from China.
#6: Subscription businesses
We're not just talking about Software as a Service (SaaS) or Platform as a Service (PaaS) businesses. eCommerce merchants, too, can capitalize on this eCommerce trend by offering their physical products on a subscription basis.
One example? Dollar Shave Club, which sells individual razors or starter sets, as well as replacement cartridges on a monthly basis.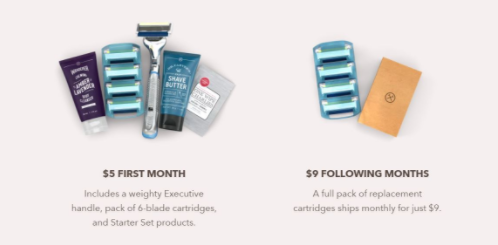 Image from DollarShaveClub.com.


The premise behind Dollar Shave Club is simple - but the amount of success they've achieved in the short amount of time that they've been around is astounding:
In 2012, founder Michael Dubin launched the company. In 2015, the business was worth $615 million. In 2016, Unilever bought over the company, with the deal reportedly involving over $1 billion in cash.

Eager to jump on the subscription bandwagon? If you're an eCommerce merchant who sells consumable or perishable products, it's fairly straightforward to come up with a subscription model to test the waters. Consider using an app like Recurring Orders.
Bear this in mind, though:
When you're working with a subscription model, it's tempting to focus all your efforts on increasing your conversion rates, and subsequently, your bottom line. That having been said, it's also important to work on your retention strategy, as well as constantly fine-tune your products.
Why is that? You've already spent a certain Customer Acquisition Cost (CAC) to acquire your paying customers. If your customers churn, you're going to lose out on this cost, as well as all the potential revenue that you could have made from them.
This goes way beyond your next sale - we're talking about your Customer Lifetime Value (CLV) here, which is likely to be thousands of dollars (if not more).
So, in essence: Subscription-based models are a great way for eCommerce merchants to grow their business, but if you're looking to go into this, be sure to focus on the sustainability, rather than your short-term profits.


Some parting words
The eCommerce market is indeed growing rapidly, but you're not entitled to this growth (and the increased profits that come with it) unless you put in the necessary hard work.
There's no need to be overwhelmed - simply start with the more straightforward things on this list (such as making sure your eCommerce site is mobile-optimized!) and work your way up to the bigger-ticket items.
At the same time, remember to allocate a specific amount of hours of your work week to focus on these strategic decisions mentioned in this post. It can be easy to get caught up in the day-to-day running of your business and neglect looking at the big picture, but that's a sure-fire recipe for disaster.
Remember to work on your business, not just in your business.

PS: Once you've made your way through some of the action steps in this post, consider focusing on your on-page SEO. You could be missing out on hundreds or thousands of free traffic!
If you enjoyed this post, please take a moment to share it so that others may benefit from it as well!