Bold's 2015 Year in Review
Of all the things 2015 taught us, the biggest one is that a lot can happen in just one year. We all thought 2014 was a big year with new staff, big projects, and lots of milestones (
check out last year's post
), but now that we're at the end of 2015 it's really become clear just how much more happened this time around.
New People Everywhere
---
We Grew... Again!

You might remember this line from last year:
Yes, you can work here, but you have to be pretty awesome. We've scaled up our team this year with no signs of slowing down, so if you think you can help us out, send in your resume and your foosball skills demo video and we'll see what happens.
Well we weren't lying! In 2015 we added an extra 31 people to the team! That's a lot of talented foosball players under one roof. In all honesty, so much of our success is because of the people we get to keep adding to our team. Without all of them, everything else that happened this year wouldn't have been possible.

C-level Hires

Jody Rzyhak as our new CFO

Kevin Hnatiuk as our new COO
Speaking of adding more people, we made some pretty significant additions this year too with our first two C-level hires. We added Kevin Hnatiuk as our new COO and Jody Rzyhak as our new CFO. Not only have they fit in perfectly, they've already made a huge impact helping us continue to grow and improve.
Expanded the Old Office
Since we're still on the topic of growth, you might remember last year we talked about expanding into a new office. Well pretty soon after we did that we started running out of space again and ended up adding the unit beside the old office. After more renovations, we ended up with a second large office that we could keep growing in! (Still full of beer kegs, arcade machines, a full kitchen, and a whole lot more)

Bold Commerce
---
We Released Even More Apps!
A year in review wouldn't be complete without looking back on all the apps we created for Shopify:
New apps:
Partner Dashboard - More on this one later
Recurring Orders - Easily offer subscriptions in your store and start earning recurring revenue
Marketplace - Let people sell their products on your store
POS App Sales Manager - Run all types of sales on Shopify POS
Loyalty Points - A easy to set up and use online loyalty program
Recurring Memberships - Special access, box of the month, and recurring payments all in one
Hypno Cart - Increase your sales by up to 600%
Significant App Optimizations - Improvements all across the board
Out of beta:
Order manager - Bulk actions, custom statuses, order merging and so much more
Recurring Donations - Let's people make one time or recurring donations at your store

Hit a Major App Milestone
It's not every day (month, or even year) that you get to celebrate major achievements, but this year we got to have a little party when we passed a major milestone in app users. We're always working on growing and improving, but it's also nice to celebrate the successes along the way.
10 Billion Web Requests Processed
With all the fun stuff we do around here you might think there's hardly any work getting done, but it's quite the opposite. On any given day, you'll see plenty of people buried in their computers, doing all the heavy lifting to create new apps, optimize old ones, or chip away at our next big project. But we're not the only busy ones around here! Those apps we love to talk about? They didn't take a day off in 2015 and have the numbers to back it up. 10 billion web requests is as big as it sounds. That's a whole lot of Upsell windows, Quantity Break tables, and Recurring Order subscriptions happening!
Launched Our Partner Program
Part of our growth and success has to do with all the developers, designers, bloggers, and everyone else out there who work with our clients and recommend our apps. So this year we decided to start showing them our appreciation by launching our new Partner Dashboard. The short version is that now any time they recommend our apps, or refer custom work to us, they get a percentage of what we charge. Truly a win-win-win.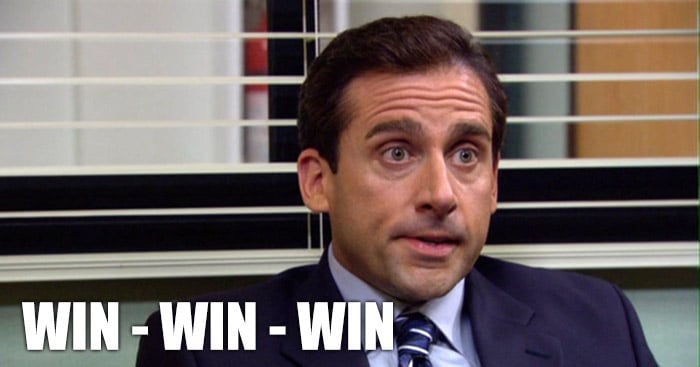 More Awesome Custom Experts Projects
This year we doubled our Experts team with no shortage of shop owners looking to get custom design and development work done on their stores. Not only did we triple the size of our Webmasters Program and continue to grow it to accommodate the increasing demand. We also completed a staggering 247 custom projects, which is more than a project every single working day! These projects consisted of everything from website tweaks to custom apps, integrations, and complete website redesigns. Every project that passes through our doors is definitely unique, but they always have one thing in common. They're always awesome! Plus it means we get to work with a lot of awesome people like the guys at Spikeball.
Added 6 Customer Care Account Managers
Early on in 2015, we decided to get proactive with the way we helped people start using our apps. If you have a Shopify store and have installed our Recurring Orders app, there's a good chance you've worked with Kevin. That's where it all started. Because of the success with having an account manager for one of our flagship apps, we decided to start rolling out the same idea to other apps as well. Now if you install Marketplace, Loyalty Points, Product Options, Recurring Memberships, or Customer Pricing you'll get the chance to talk with Graeme, MC, Tamer, Corey, or Michael!

Another Successful Black Friday and Cyber Monday
Every business has it's busy season and for us, there's not a single doubt that Black Friday and Cyber Monday (and the 2 months leading up to them) are when we are at our peak. From promotions to support requests and app installs, we have to be firing on all cylinders to make sure our clients are set up for success on their biggest days of the year. So I'm extremely happy to report that we managed to pull off another successful year!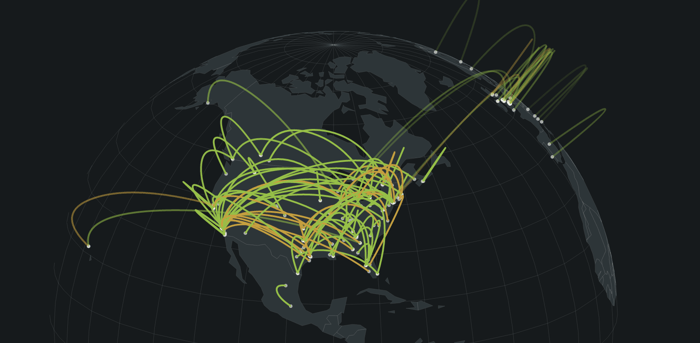 Bold Labs
---
A Fond Farewell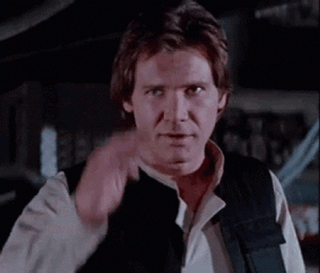 Along with all the new stuff we had going on last year, on September 15th it came time to say goodbye to one of our first attempts at developing outside of the Shopify platform, Picticipate. Now I know talking about failure and shutting things down doesn't sound very fun, but here at Bold we know how important learning is and Picticipate let us do just that. We were able to try many new things, and learned very quickly what did and didn't work. So as we take a look at all the new projects that we have on the go now, we will always be able to link parts of their successes back to what we learned with Picticipate.
Fishbowl Prizes

Fishbowl Prizes is a really fun project that melds online prize giveaways, with email marketing tools. It takes the classic concept of the fishbowl at the restaurant, that people drop cards into to enter a prize draw, and puts it on your website. It's already been really well received and hasn't shown any signs of slowing down! Check out how it works: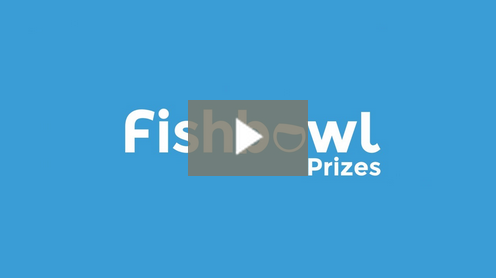 Kickbooster

Kickbooster is the world's first Affiliate Program for Kickstarter and other crowdfunding platforms. It allows campaign owners to give a commission to affiliates that successfully promote their campaign. That alone is a game changer for the crowdfunding scene, but it goes even further and eases campaign owners into a live store after they're done on Kickbooster. We've got a video for this one too: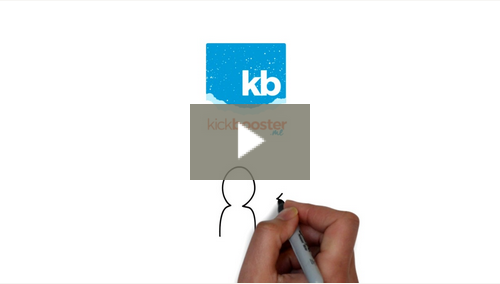 We also have an awesome Kickbooster podcast where we talk about trends and cool campaigns in the crowdfunding scene.
Inviid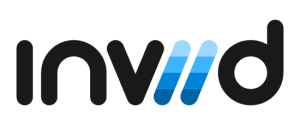 Inviid is unprecedented technology that allows you to click a video and add a "hot spot" with all sorts of information, relevant links, and images. With it, you can now watch a video online and click on products to see what they are, or get more information – maybe a dress some celebrity is wearing, or a scenic location, or a certain person or character in the video. And that's only scratching the surface! We're also working on tying in eCommerce so you can buy items directly through the video hotspot. Pretty cool!
Proximity Innovations

In a nutshell, Proximity Innovations helps businesses connect with their customers through an interactive, highly relevant and targeted experience on their phones. It's not just an app for a business either. What we do is give the consumer a guided experience of the business or location that they're in, through a custom developed hardware and software combination using beacons, wi-fi, and our proprietary software.
Awards
---
Spirit of Winnipeg Startup Business of the Year Winner
We were thrilled when we found out we had been nominated for this award earlier in the year. We were among great company and up against some serious competition in SageTea inc. and Skip the Dishes. So when we attended the gala and heard our names called as the winners, I'm sure you can imagine how excited we were. It was a big win for every single person here at Bold, and it was awesome validation that our hard work was paying off.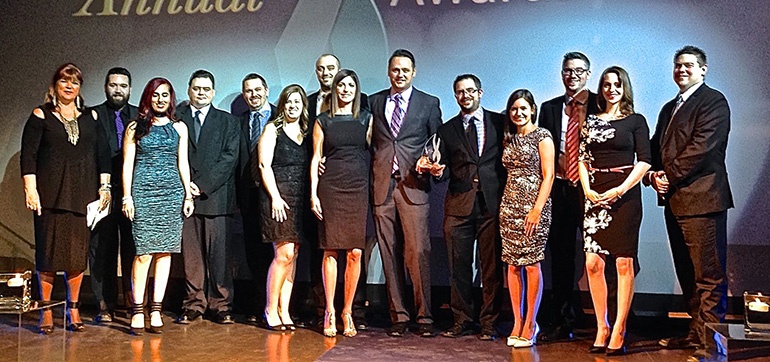 Manitoba Chamber of Commerce Outstanding Medium Business Nominee
If that first award wasn't enough, we were excited all over again when we were nominated for this Manitoba Chamber of Commerce award. This time we were in the medium sized business category though, which meant going up against competitors like Red River Mutual and Peak of the Market. Although we weren't able to take this one home, just being mentioned in the same group as those other great Manitoban companies was another huge step for us.
Ritchot Chamber of Commerce Corporate Volunteer Engagement Award Winner
Now this is an award that was really important to us. Early on at Bold, we decided to take up the 1/1/1 pledge where we donate 1% of our profits, 1% of our products, and 1% of our time. This year, we decided to donate our "products" at Wildlife Haven Rehabilitation Centre by helping them set up their system networks. We volunteered our time at Siloam Mission and Winnipeg Harvest helping in their kitchen and packing centre. We also donated 1% of our profits to Cancer Care Canada and the Children's Wish Foundation. So receiving this award was an awesome way to reflect on why this pledge is so important to us, and how we're able to help others in our community.
Ace Burpee's 44th, 45th, 46th, and 47th Most Fascinating Manitobans for 2015
This one was completely unexpected and a pretty nice little surprise leading up to the holidays this year. Every year Ace Burpee writes an article listing his top 100 most fascinating Manitobans for the year, and every year the list is full of inspirational stories, brave Manitobans, local celebrities, entrepreneurs, and all sorts of interesting people. To not only make the list, but to be put in the top 50 was exciting to say the least!

Fun Facts
---
We Joined a Bootcamp
After stepping on the scale for one of our "Boldest Loser" contests, there were a few of us who weren't too happy with that we saw. Luckily, one of the directors had a family member willing to whip us into shape in a bootcamp. A few brave souls joined the program, and some of them even made it all the way through to the end! They liked it so much that it will be picking back up again (hopefully with a few new people too) in the new year.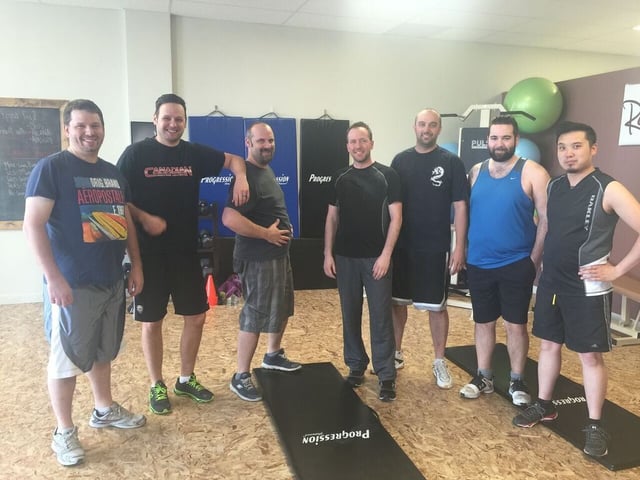 We Had Some Pretty Cool Videos
Build at Bold

MTS Feature

Spirit of Winnipeg Awards Feature

Hosted Code Retreat
Last year we hosted Code Retreat Day and loved it, so when the opportunity to host it again this year came up, we jumped at it. Like last year, it didn't disappoint. We ended up with over 20 local developers who came out to our office for a full day of intensive coding and problem solving. It's always a great way to meet new people interested in developing right here in Manitoba.

Innovate or Die Days Were Even Better
Last year we started holding Innovate or Die Days where we take 48 hours to build the coolest project we can think of, start to finish. Last year we had things like holograms, a racing game, artwork for around the office, and lots of other awesome stuff. But this year it was taken to a whole new level when one team created a remote controlled sandwich maker. You read that right, the future is now! All in all, this was an awesome couple of days where we got to do a lot of cool things that you wouldn't ever get to do at any other job.
Plenty of Other Milestones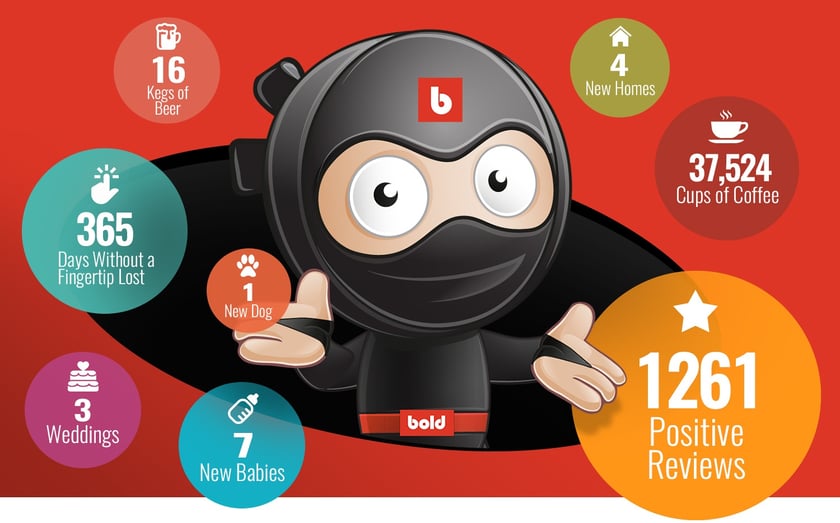 An Epic Nerf Fight
When you work at Bold, you have to be ready for absolutely anything. Including a spontaneous Nerf war breaking out in the middle of the day!
Golden Tee Died...
It was a sad sad day, but we knew it had to happen eventually. On April 27th we lost our original Golden Tee arcade machine.
Let's take a moment of silence...
We all paid our respects, and then quickly set out to find a way to play Golden Tee again. It didn't take long for us to track down a brand new arcade machine that not only had Golden Tee, but also had multiple versions of it as well as plenty of other awesome games too!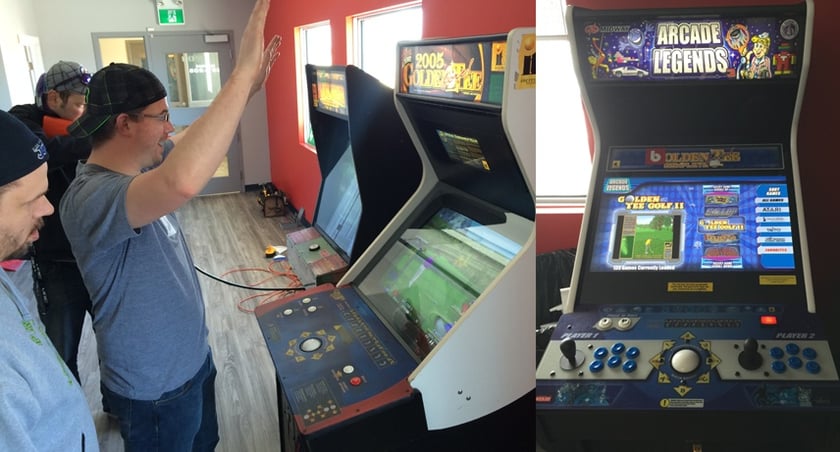 Awesome Summer Party at Adrenaline Adventures
At Bold, we're lucky enough as it is that we get to do so many fun things on a daily basis, but during the summer our Directors decided to throw a party to get us all out of the office and having even more fun. They took the entire team to an activity centre called Adrenaline Adventures where we played paintball, beach volleyball, wake boarded, climbed a rope course, and obviously had a few beverages in between. Simply put, it was a blast.

Crazy Potlucks
These potlucks are a bit of a tradition around here, and every time we have one, it seems like everyone brings their A game to try and outdo everyone else. It was no different this year either with headliners like bacon wrapped turkey and cream cheese chocolate monkey bread. They're always a great time for everyone to get together, hang out, and have a good time with great food and drinks.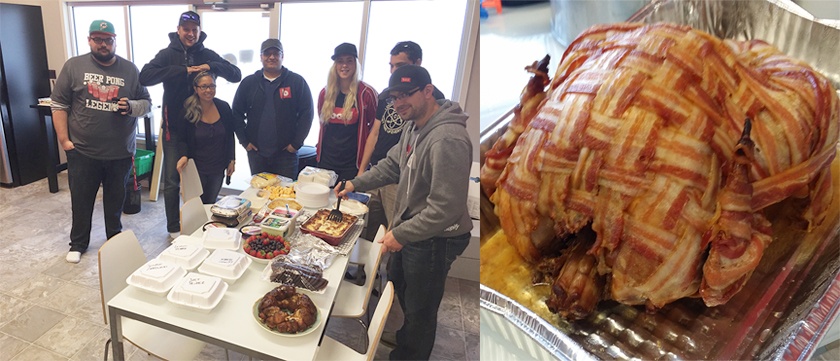 The Biggest Christmas Party Ever
If you thought the picture from last year's Christmas party was big, check this one out. It was massive! Not only that, but the Directors once again went way beyond where they needed to and supplied food, drinks, games, prizes, and presents to everyone throughout the night. Oh, and did I mention there was a poutine bar for a late night snack? Everyone had an amazing time, and there will be plenty of stories we'll all have to talk about for a long time. It was the perfect way to close out the year.

Thank You
---
When looking back over the year, there are lots of great and exciting things that have happened, and we have a ton to be thankful for. Our families, our friends, our co-workers, our business partners, our Manitoba support, and probably about 100 other businesses and people. But when it comes down to it, we really wouldn't be here if it wasn't for all our awesome clients who use our apps, are part of our Webmasters program, bring custom development jobs to us, jump on the opportunity to try out our newest labs projects, and all together help support us and let us continue to grow.
So this is a big thank you to everyone involved with Bold in any way shape or form! You're all the reason we've had so much success, that we get to have so much fun at work, and that we get to keep looking for ways to grow and improve. If what we managed to do together in 2015 is any indication, I can't wait to see what we manage to pull off this year.
Here's to a great new year, we'll see you in 2016!