The BIGGEST Shopify Plus & Bold Black Friday Sale EVER!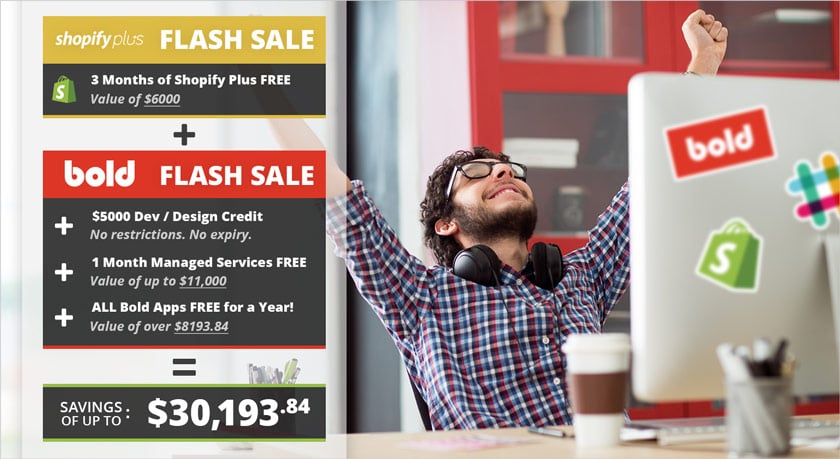 If you've ever considered moving to Shopify Plus, now might be the PERFECT time to do so! From Friday at 12:01am CST, until Monday at 11:59pm, Shopify Plus is offering THREE MONTHS FREE with a 15 month contract when you migrate your store over to Shopify and use Shopify payments! Even without this offer, there are SO many reasons to consider Shopify Plus.
NOTE: This is for new stores to Shopify, Plus plans start at $2,000 a month, so this would a savings of $6,000.
If you're already on a Shopify plan, the Plus upgrade price is $1,200/month and this offer does not apply. HOWEVER, all the promotions from us directly below still apply :-)
Here's what we're offering!
We thought it was awesome that Shopify made this offer, so we thought we'd join the fun and give a Black Friday / Cyber Monday offer of our own!
For any stores that make the switch through us, we'll also include a $5,000 dev credit for new stores to Shopify, and $3,000 to existing. We're one of Shopify's largest design and development agencies, and this money can be used for anything from custom design to, development, integrations, and themes. We're a full stack Professional Services agency, so if you need it, we can do it!
To take advantage of this amazing sale, all you have to do is move your store over to Shopify Plus.*
So far that's a value of $11,000, but it gets even better!
We're also Shopify's largest app partner, with a full suite of apps that just about any store could use. This weekend, if you sign up for Shopify plus through the form below, we'll also throw in a FULL YEAR subscription to any, and all of our apps, for free! From Upsells, to Memberships, Subscriptions, Product Bundles, Wholesale Pricing, and more, we have an app that does just about everything. If you make use of them all, that's a value of $8,193! *
So far that's a value of $19,173
Right now you might be thinking "MIND BLOWN"... But it gets even better!
We also have a Managed Services department that offers full store management, SEO, CRO, Social Media services, and just recently added email marketing as well. The stores that have joined the program are raving about it, and it's one of our fastest growing departments. With this same Black Friday promotion, we're offering one month FREE of all our managed services (with a one year contract). Our Managed Services packages start at around $1,200/month, but can go up to $11K. So if you utilize all the services, that's roughly an $11,000 value! *
Add it all up, and this is the BIGGEST offering we've given to date! The offer is worth $30,193 if used to the fullest.
Ready to move to Shopify Plus, or at least a little interested?
If you've decided you want to move to Plus and take advantage of all this Black Friday goodness, fill out the form below. Don't worry, you're in no way obligated. This form just lets us know you're interested, and submitting it qualifies you for the sale.
Remember, it MUST be submitted before 11:59pm, Monday November 28th.
*In order to redeem this offer AND get three months of Shopify Plus for free, you must migrate your store over to Shopify and commit to a 15 month Shopify Plus contract.