Five major new releases for your Returns Manager app
A returns app is a great way to keep your store organized.
It keeps you and your customers updated throughout the entire returns process, giving them more flexibility and control over how the return is handled while keeping everything organized on the back end.
But we decided to shake things up! With our latest release, we're taking our Returns Manager app for Shopify to the next level by annoucing 5 new features that, believe it or not, make it even better!
Automated pre-paid UPS return shipping labels.

When your customers submit a return give them the option to print a UPS shipping label for the return that is charged to your account.

Ability for you to charge restocking fees.

If you need, now you can set restocking fee that get's applied to a refund on a return.

Improved emails for better communication with your customers.

We added a whack more emails to keep your customers updated every step of the way during the return, refund or exchange process.

Integrated the refund process directly into the app.

Now you can refund your customersright in the app! No need to go back and forth between Shopify and the app to manage returns.

Automatic inventory restocking.

When managing a return that is going back into stock, now it will update your Shopify inventory automatically. No more need to manually update it.


Plus check out our fancy new look💁🏻


Spend less time on returns, and more time growing your business
Our newest release integrates seamlessly with Shopify to give your customers a painless experience during the return process.
Why is this so important? A happy customer is more likely to return to your store, and with repeat customers generating 40% of a stores revenue, you'd be crazy to throw that money away!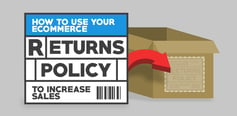 Not only that, but a good return policy is a great way to market your store. 67% of shoppers check the returns page before making a purchase. So if you can make your policy as attractive as possible (think free return shipping, printable return labels, generous timelines), you already have a leg up over your competitors who don't have these awesome features. We even wrote a whole blog on the topic👆🏼
That's enough about return policies for now. Let's dive right into the reason you're all reading this blog to start with and talk about our new releases!


The #1 most requested feature: Shipping labels are here!

This is a brand new feature that almost no other app on Shopify has.

Remember before when we were talking about using your return policy to set your store apart from your competitors? THIS is the feature that will do that for your store.

When a customer starts a return through the app, Returns Manager will generate and send a UPS shipping label that they can print for free at home.
Not only is it user friendly on the customer side of the app, but it completely automates the process on the admin side, giving you some of your time back.
It's not as amazing as this, but a close second.

Also new to the app? Restocking fees!
There's currently no way to charge for shipping labels right now, but you do have the option to charge a one time re-stocking fee if you can't afford to offer free returns just yet. (Restocking fees are also new to the Shopify admin AND Returns Manager).

It's also a great way to re-coup some of the money lost from re-packaging returned items, or by accepting a return on an item that is no longer considered brand new, like electronics.


Increase repeat purchases
Returns have always had a bad rap. Someone has bought something from your store, decided that they don't like it (which always kinda hurts, doesn't it?), and then you have to take money out of your own pocket and give it back to them.
But with our new email functions, you can turn the return process into a money-making opportunity.

And our newest update has transaction emails galore! You can send emails every step of the way: When the return process is initiated, when you receive the item, when the refund it issued, or a new item is sent.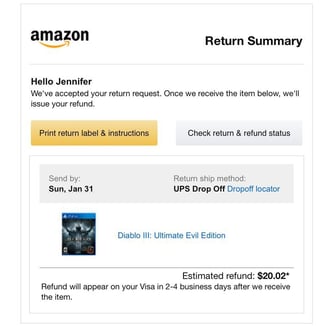 We love the layout of Amazons return emails
And like we talked about in our last blog post, automatic emails give you the opportunity to promote new or similar products with a discount code.
They may have returned one product, but that doesn't mean you can't sell them another!


Save hours of extra work
With one step you can automatically refund a customers full payment without leaving the app.

Before: When a customer returned an item and requested a refund, you would have to:
Accept the return on the back end of the app

Leave the app, navigating to the order in the Shopify Admin
Request the refund through Shopify
Now? There's only one step:
Click 'refund' on the back end of the app
A lot easier, right? We've taken the app from a simplified back-end organizer to the best returns app on Shopify with the most robust features available.

Click play below to see it in action below, or click here to read the directions on the new way to process refunds.


While we were updating the refunds process, we decided to automate the re-stocking process for you too.
We integrated with Shopify's return API to automatically adjust inventory levels when products are being returned on your store. No need to navigate back to your Shopify admin and manually add the item back into your inventory: it's all automated through the app!


---

We can't wait to hear what you guys think of our new features, so make sure to leave your comments below!