How to use your eCommerce return policy to increase sales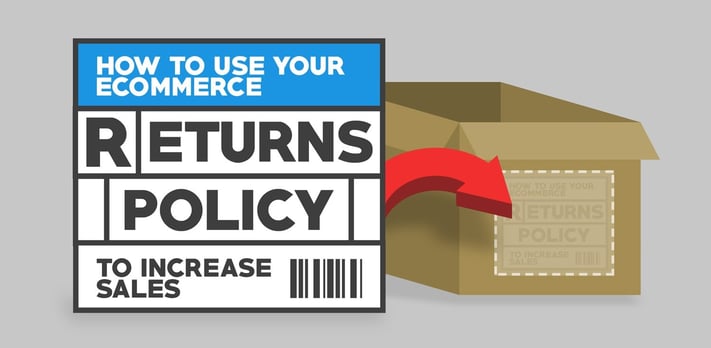 When was the last time you revised your return policy?
Hell, when was the last time you even looked at it?
An eCommerce return policy is often an afterthought when building your website. "Oh crap, we need a return policy! Let's just generate a generic one and put our name on it, it'll be fine."
If you've done this (and don't worry, you're not alone - I did it for three of my online stores) you're leaving money on the table.
Here's why: Roughly 67% of shoppers say they normally check the return page before making a purchase. If they don't like what they see, they won't buy.
Not only that, but a consumer-driven, convenient return policy can actually increase sales by 25%. Plus, 96% of shoppers say they'd shop with a retailer again if they offer up an easy or very easy return policy. Boosted sales and customer retention? Those sound like two very good reasons to follow ecommerce return policy best practices.
That's why we're writing this post: To teach you how to write a return policy that sells your products for you.
---

10 Ways to use a return policy as a sales tool
Why bother creating a great eCommerce return policy?
Your return and exchange policy, when done well, means:
More people will buy if given the option to return a product.
People are willing to pay more for the option to return a product.
Customers will come back after a good return experience, but a bad experience will turn them into a hater, costing you sales and hurting your reputation.
Your return policy will become a marketing tool. Word of your awesome policy will spread across the internet like a marketing virus.
How do we know this?
I'll start with the numbers. With so many people looking at return policies before making a purchase, there has to be some statistical data to this, right?
Actually, there is. For you statistics nerds, I have something you'll love. (And don't worry, if you're not a statistic-minded person, I'll explain it in layman's terms as well.)
Eric Anderson and company performed a study to find out exactly how a return policy affected online sales. Here's what they found:
Look confusing? Let me explain…
According to the study, "the model works by calculating the base probability of purchases customers will make (based on their past history), and then recalculates how this probability will change given the option to return the purchase."
"For example, there is an 8.7 percent chance that an average customer will buy a pair of women's shoes in a given month if she is allowed to return them. But the probability that she will buy those shoes decreases by 0.030 if she cannot return the item (Figure 1). This translates to a 53 percent increase in demand for women's shoes if the buyer can return them."
That's not all. Listen to what else the study found:
"They calculated that while men were only willing to pay $3.19 for the option to return tops, women were willing to pay $5. But the real surprise lay in footwear. Women were willing to pay an extra $15.81 per pair of shoes if they had the option to return them later when the average price for shoes was around $50."
People will pay more for the option to return an item!
Now, let me ask you...
Have you ever returned an item you bought online? How was that experience?
Chances are, if you had a good experience, you bought from them again. But, if your experience sucked, you avoided them… and probably talked some trash about them to your friends.
The bottom line is this:
It may be tempting to make it as difficult as possible for your customers to make a return. After all, you don't want them to return anything since it would mean a loss of money.
However, allowing returns (and making them stupidly easy) will net you customers for life, and will win you competitor's customers who had a bad return experience.
Make the return process easy, friendly, and downright fun to make more sales long-term.
In fact, you should want your customers to return stuff! Zappos has found that its best customers have the highest return rates, and still they come back for more.
These shoppers are "the ones that spend the most money with us and are our most profitable customers," says Craig Adkins, Zappos VP of services and operations.
Now that you're convinced, let's start building your return policy.
---
10 ways to use a return policy as a sales tool
While we're not going to cover exactly how to write your policy word for word, I'll give you a few tips on what to include in your policy.
Stay tuned, because I'll also show you some examples of great policies to give you some inspiration.
So, let's start with...
#1: Offer free returns
Every great return policy offers free returns. Think about it - have you ever had to pay to return an item? It friggin' sucks!
Having to pay to return the wrong size shirt or a gift you got for Christmas is like...
Well, it's just not fun. Don't make your customers go through that experience.
Listen, I get it - whether your store is just starting our or growing rapidly, you want to keep overhead as low as possible. But is that $10 really worth losing that customer - potentially worth hundreds or even thousands of dollars over their lifetime - forever?
In fact, free returns or exchanges are the number two motivator that would encourage consumers to shop online. That includes shopping at your store.
And look - if the costs are really piling up, meet customers halfway. Offer a flat rate return cost that's simply deducted from their refund amount.
#2: Offer a free trial
Free trials take free returns to a whole new level. It's like going to a car dealership; If you're serious about buying, they'll let you take the car home for a weekend to see if you like it.
Let me give you an eCommerce example…
Glasses Direct is a UK based online prescription glasses retailer. They have two excellent return and refund strategies to get buyers to commit.
One of them is offering a 7-day free trial of their glasses.
By allowing their customers to trial their products, they're ensuring two things:
The customer gets the pair they truly love, reducing the chance of a return (despite the customer easily being able to do so).
The customer won't be afraid to order the wrong pair and be stuck with them because they have that guarantee, making it easier for the customer to commit to buying.
Short trials like this give customers peace of mind, while also tightening up the timeline for you knowing whether you actually scored a sale or not.
But longer trials can work well too. DTC mattress brands like Casper and Endy offer whopping 100 night trials. The idea is to give you time to actually break in and get used to the mattress, instead of basing your feelings on those first few nights of sleeping on something different. And it totally works - Casper has reported return rates of under 10%.
#3: Utilize automation
There are two keys to business success: Delegation and automation.
Automating a process frees up your valuable time to work on the things you can't delegate or automate - the things that really move the needle for your business.
How can you automate a return policy?
Make it easy for the customer to track their own order status and request a refund without contacting customer support. (You can easily do that with the Returns Manager app!)
Send emails at every step of the way - when you receive their item, when the refund is issued or a new item is sent.
These two small steps can save you (or your service department) hours of time, which translates to money in the bank.
Additionally, automatic emails give you the opportunity to promote new or similar products with a discount code.
Think, "Sorry you didn't enjoy our beard comb! You might like our new beard balm that makes your beard fuller and softer. Here's an exclusive 10% off discount code if you're interested in a healthier, sexier beard!"
They may have returned one product, but that doesn't mean you can't sell them another!
Related Reading: How to Offer One Click Upsells on Shopify
#4: Evoke emotions
People are emotional creatures. Even if we don't all admit it, we do things based off of feelings and gut reactions, not logic.
The main emotion we're looking for in a return policy is empathy.
People can tell if you care about them based off of how your returns page looks.
Get this: A 10-year study found that brands that could evoke a strong emotional response from customers can sell more, drive customer loyalty, and successfully charge 20% to 200% more than competitors.
I know you want to be able to charge more than your competitors without losing customers.
So the question becomes, how do you bring something as drab as a return policy to life with emotions?
Be funny! Try to make your customers laugh. For example, Man Crate does this well on their FAQ page (which includes covering their returns policies) with random subtle hints of humor:
"Man Crates doesn't have any wrapping paper in our warehouse, but we do have tons of duct tape. If you're dead-set on sending a gift he can unwrap like a kid on Christmas morning, choose the Diabolical Duct Tape Cocoon during checkout."
Be empathetic. Understand that returns happen, and don't make your customers feel bad for wanting to make a return. For example, Strong Suit Clothing says this in their return policy:
"Sometimes things don't quite work out. We understand and in the unfortunate circumstance that you need to return your Strong Suit, we'll make it easy. All unworn, unaltered clothing with tags still attached can be returned within 30 days of delivery for a full refund, no questions asked."
Follow step five...
#5: Make it look damn good
Here's what you don't want:
Ahh, my eyes! Who's going to read all that text that's seemingly on infinite scroll? No one, that's who.
Instead, try to do something like Simon's did with their return page:
Here's what I love about it:
They provide reassurance that their return policy will always remain in effect by highlighting how it's part of their DNA
There's an incentive for returning your item in-store and making another purchase the same day
You can choose between a refund or an exchange
Making an online return doesn't even require you to log in (no hunting for passwords!)
A little formatting, some color, and a few images can completely reinvigorate an ugly return and exchange page. It's like a fresh coat of paint - it's not hard to do, but it makes a world of difference.
#6: Make your policy easy to find
If you bury your return policy in tiny font at the bottom of the page, you could lose some of the 67% of people that check the policy before they buy merely because they couldn't find it!
Instead, I propose you promote your return policy on your homepage.
Use it as a marketing tool! That sucker will bring you more sales! Why hide it?
For example, Hyphen showcases their 100% satisfaction guaranteed return policy front and center (more than once!):
Spoke is another brand that does a great job of highlighting their return policy as part of their three core brand promises on their home page.


They're another brand that does a great job of accepting the fact their product might not be right for you - and asking for feedback: "

Our policy lasts 100 days. You don't have to explain yourself. If you're not happy with the product - that's all we need to know. Ideally you'll tell us why, so we can improve things - but that's your call."




#7: Shoot a return demonstration video
Just because people tend to look at the return-ability of a product before they purchase, doesn't guarantee they'll buy.
One survey found that 27% of consumers are put off ordering something online in the first place because they don't want the hassle of returning it if it's not right.
Shooting a video allows you to make returns as hassle-free as possible, and you'll capture the one in four people who would have left had the return looked too difficult.
Zappos' old return page used to have a video entitled "How to Complete a Return at Zappos.com:"
It doesn't get much simpler than that! To create a video, you can use a free screen capture tool like CamStudio.
#8: Provide a longer return period
Zappo, IKEA, and L.L. Bean are just a few retailers that offer legendary 365-day return policies. Nordstrom handles returns "on a case-by-case basis with the ultimate objective of making our customers happy." Costco gives its customers a generous 90 days, while Spoke, mentioned above, does 100 days.
A longer return period gives your customers the confidence to buy from you without fear of needing to return the item right away.
Here's the kicker: fewer people claim returns when given a longer window.
It comes down to psychology. People tend to prefer items they own over items they don't, something consumer psychologists call the endowment effect.
As an item sits in their home, gathering dust and becoming a part of their usual environment, the chance they'll return it goes way down.
Try to offer a 90-day return policy to take full advantage of this psychology.

#9: Provide great customer service
Providing amazing customer service should be part of your business goals, anyway. The cost of bad customer service is massive, affecting much more than mere returns.
Here's why: Of the 60% of online shoppers that make at least one return or exchange per year, 95% will make another purchase if the return experience is positive.
That means you won't lose the customers who make returns as long as you provide them with a great experience.
How do you do that? Simple:
Be kind, courteous, and empathetic. Don't make it sound like returning their item is a hassle for you.
Smile! People can literally hear if you're smiling by the sound of your voice. Hell, smile when you write emails, too - it will affect the language you use.
Thank them for shopping with you and be sure to let them know how much you appreciate them.
Try to remember your customers. People want to feel important, and when you're remembered, you feel important.
For example, Zappos actually encourages customers to order two sizes of shoes to make sure they end up with one pair that fits. Their use of logistics as a competitive service advantage is one reason 75% of the retailer's shoppers are repeat customers.
While this policy drives up return volumes and shipping costs, it reduces customers' hesitancy to place an order and results in more sales overall.
Just remember the golden rule: Treat your customers how you'd like to be treated when you do business with someone!
#10: Bring customers in store
If you have a bricks and mortar presence, be sure to create a seamless returns experience from an online purchase to an in-store return. Nothing is more frustrating than having to drop a parcel off at the post office...in the same mall where one of your retail outlets actually exists.
It might take a little bit of coordination, especially if you manage your online and store inventory separately, but encouraging in-store returns is a win/win.
Not only will you save money on return shipping costs, you'll entice customers into your store to potentially make another purchase.
---
Great return policy examples
I promised you a return policy sample - but instead here are five examples from stores (big and small) to inspire your writing.
Now you have some ideas for what to include in your return policy! Let's sum it all up.
---
Conclusion
Here's a quick recap. When writing a return policy:
Keep it simple
Don't use complicated legal jargon
Maintain your brand voice (especially if you use humor)
Don't make it hard to find
By following these few simple rules, you can turn your refund and exchange policy into a sales machine!
I challenge you to write a killer return policy - then share it in the comments below! The best one wins a cookie!
P.S. If you want to make returns quick and painless for you and your customers, don't forget to check out the Returns Manager app for Shopify.